As I may have mentioned, I recently made my first trip to Japan, landing in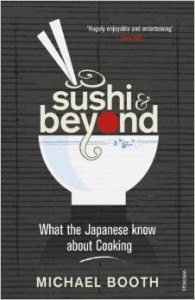 Tokyo with a clean slate, eager for new impressions. I must admit, I knew embarrassingly little about the country at that point, and I was feeling ridiculously unprepared. But I had a book, lent to me by a friend, and the book became my guide to Japan. "Sushi and Beyond," is Michael Booth's travel journal of four months eating though Japan. It was a godsend.
I began to read about Japan's most famous fish market, Tsukiji. I got tips on making dashi, a base stock and the cornerstone of Japanese cooking. I read about seaweed and bonito and wasabe and miso soup. It was all fascinating. It was mostly about fish. Then I realized I would have to put the book down, or miss out on having my own adventure.
So I flew down to Kochi, a small town on the island of Shikoku, just south of Osaka. Shikoku is dominated by a large mountain range, and the rest is predominantly rural. Until 1988, when a bridge was built from Honshu, Shikoku was quietly isolated from the rest of the country. There is still a sense of separation from the modern world of Tokyo and Osaka; a time lapse that is very endearing.
Shikoku is renowned for its 88-temple pilgrimage, a 760 mile circuit that skirts the island. Walking through four provinces, the pilgrim's journey is a symbolic path to enlightenment. These many tourists follow in the footsteps of the ascetics. Unfortunately I wouldn't have time this trip. I was in Kochi to meet my parents, attend a concert, and discover more about Japanese cuisine.
Our first meal together was at a sushi and sashimi bar in a narrow back lane in Kochi. For those unfamiliar with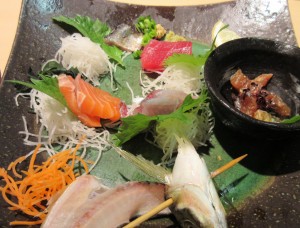 Japanese culinary terms, sashimi and sushi are not quite the same. Sashimi is raw, unadorned fish, simply sliced, simply presented, with soya sauce and wasabe seasonings. Sushi may use raw fish too, but it can also be cooked fish or even fish-less, but it is always served on vinegared rice.
Our dinner that night was a set menu, much to the relief of those of us unable to read Japanese characters, and somewhat daunted by the extensive menu painted on a wooden palette on the wall. One plate followed another in rapid succession: lightly seared bonito shashimi; crunchy prawn tempura; bream sushi and and miso soup; tiny abalone that made me think of the baby oysters in 'The Walrus & the Carpenter.' I am drooling even now at the mere memory of that meal.
The etiquette of eating is quite simple. A hot or cold towel allows you to start with clean hands. While sashimi should be eaten with chopsticks, no one seems to have a problem if you need to use your fingers for the sushi, as some of the larger sushi can become a bit unwieldy when pinched between the tips of two knitting needles! (So speaks the expert at flinging fat, squelchy sushi to the floor.) And then afterwards, you can dab your fingers clean on the damp towel.
Sushi is traditionally served with a dab of wasabi and soy sauce, often already applied by the chef. If you want extra, just remember to dip sushi sparingly in the soy sauce, and remember to turn it fish side down or the rice will absorb the sauce and promptly collapse in a huff. Pickled ginger may be served in a side dish as a palate cleanser. In theory, the fish, even the cooked variety, should be so fresh it almost swims into your mouth.
We feasted well that night, gobbling up every offering with huge enthusiasm and finishing off with a chawanmushi miso soup topped with a savoury egg custard that is considered a good digestive at the end of the meal. At the bottom, as an added bonus, we found three minute cockles, the size of a baby's thumb nail. I was hooked.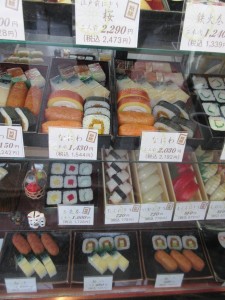 Wandering the streets of Kochi over the next few days, I found elaborate sushi stalls to fuel my new obsession. While sushi has existed in Japan in some shape or form for centuries, it only reached the west in the 20th century. In the 1960s, Japanese sushi chefs arrived in California. At the Tokyo Kaikan restaurant  in Los Angeles the first sushi bar was established, where one innovative chef, Ichiro Mashita, acknowledging the different tastes of his American clients, experimented with local ingredients and created the first California roll.  The California roll is sushi inside-out  filled with cucumber, crab meat and avocado. In Australia we prefer salmon or tuna and avocado, and I have even eaten them with chicken schnitzel. In the Philippines they are mostly made with mango and crabmeat. This fusion sushi has become popular world wide but it is very different to the sushi I found in Japan.
Back in Tokyo, where I met my husband, I wanted to share the experience with him. So that evening, we delved into the back streets of Shinjuku.
Shinjuku initially seems all about size and volume: broad, tree-lined streets framing stolid government buildings; huge department stores; a vast railway station; pavements seething with people. Then suddenly, you will come across an unexpected cluster of narrow side streets; a rabbit warren of restaurants and cafes. After dark, these areas are colonized by hungry workers all hunting for their favourite food.
It was here that we found a nifty little sushi bar, the sort where the plated sushi revolves around the counter on a conveyor belt, known in Australia as a sushi train. The conveyor belt was chock-a-block with beautifully presented, plated sushi. It was like a fashion show, and we dithered about where to start, there were just too many choices.
The most popular styles of sushi include Nigri sushi, a single piece of fish on a pillow of rice, Gunkan-maki: the rice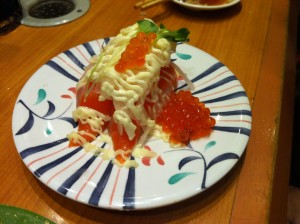 pillow has a seaweed sleeve (nori) to hold a looser topping in place, like salmon roe or sea urchin, and maki-zushi, or sushi rolls, that rice bolster stuffed with multiple fillings and tied in place with seaweed strips (nori again). Hosomaki are skinny maki-sushi cut into bite-sized pieces. Temaki sushi  are cones made of nori  filled with sushi rice, seafood and vegetables.
We watched the plates revolve for a bit before taking the plunge. Then we endeavoured to try them all – well, as many as we could swallow before our stomachs could notice they were filled to overflowing. Every mouthful of freshness, quality, flavour and texture, was bliss. When we were uncertain, our waiter would try to advise us, although often, he could only give us the Japanese name. But I copied them down assiduously to check later. A cooked piece of 'white fish' on its cushion of rice (bream I think) was melt-in-the-mouth "oishii" (delicious), but sadly I never caught another one – it was obviously popular with everybody.
Some fillets were simply and elegantly presented, reclining in naked glory on a cushion of rice, with maybe a thin slice of lemon to cover their modesty. Others were dressed for a party, bedecked in baubles of salmon roe and ribbons of mayonnaise. I thought the latter looked a little overdone (mutton dressed as lamb?), but in fact this was two or three magnificent mouthfuls of creamy salmon, a delicate, citrusy mayonnaise and the salty pop of orange roe.
In between, we nibbled on wafers of pickled ginger, and piled our empty plates neatly at the end of the counter, where our waiter could count up the cost of our feast. I wielded my chopsticks – mostly – with surprising efficiency. And we certainly did not go hungry, as any gaps we made in the display were quickly filled by the sushi chefs, surveying their realm haughtily from their dais in the middle. My only remaining question: when can I go back?
*Adapted from an article written for Inklings magazine, November 2014 issue.