A Thames Valley Journal: Part 3
"In it's unbroken loveliness this is, perhaps, the sweetest stretch of all the river…" ~ Jerome K. Jerome
Day 6: Marlow to Maidenhead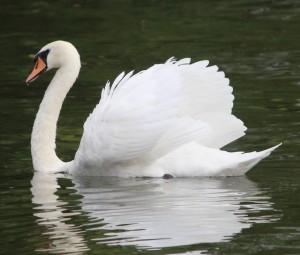 Before we left the Vicarage, we popped into the Church-next-door, All Saints at Bisham, thinking we might swell our lungs with some hymn singing. Sadly, the service had been postponed, but we chatted to the Lady Vicar and some members of her congregation eager to share the history of this ancient church. We found many splendid and well-garnished tombs dedicated to various local lords and ladies from the Hoby and Vansittart families, but the one we loved best was a memorial plaque to young Eliza who had 'most unfortunately drowned' during a riverbank picnic in 1810. This young lady of 'virtuous and amiable disposition' and 'graced with every refinement of feminine attraction,' sank before the eyes of her friends 'in the midst of gaiety and mirth'. It continues at some length about hearts being 'rent with anguish,' at that 'awful calamity, ' and is a splendid epitaph for a girl who chose to 'exchange this uncertain life for a glorious state of immortality.'
On that uplifting note, we bade farewell to our kind hosts and headed on down the river. We had divided the final lap in two, as blisters were beginning to burst forth ostentatiously upon our heels and toes, making the thought of an extra long day's hike decidedly daunting. Instead, we quickly inserted a last-minute layover in Maidenhead.
Feeling less anguished and lighter of heart, we trotted back to Marlowe to rejoin the Thames Path at the cemetery. For about half an hour private houses with ostentatiously exclusive front gates kept the river at bay, but eventually we were passing vast playing fields on the left, and the Thames had reappeared on the right. It was Sunday morning, and the river was churning with keen young rowers, their coaches and their parents shrieking encouragement from the banks.
We arrived at Bourne End, hot and thirsty, but sadly the Upper Thames Sailing Club was not offering refreshments
to plebeian passers-by, although they kindly allowed us to cut across the club lawn. Beyond the sailing club and the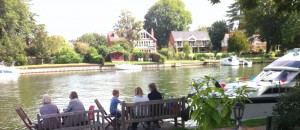 marina, we ducked down a narrow lane that cut between ample, handsome homes and their riverside gardens, with motor boats and canal boats snoozing against the bank. Crossing the railway bridge, where there is a special pedestrian footbridge adjoining the train part, we found a plaque for a bloke with a splendid record for counting the rivets. We then strolled back upriver to 'The Bounty,' a café we had seen from the marina. A sign above the door announced that this was "The People's Republic of Cockmarsh, where the laws of common sense apply," which amused us, along with a second sign announcing that it is twinned with Chernobyl. We rehydrated and headed on…
…through marshland and common grazing land that has existed since 1272. Wandering into our third church yard for the day, we followed the path that wound through gravestones bent with age, their memories blurred by centuries of rainy weather, or disguised behind long grass. Past the church, along the lane of obligatory yew trees. There are many theories on the ubiquitous presence of yews in British churchyards. I have been offered several suggestions: the evergreen yew was a symbol of eternal life; the poisonous foliage discouraged animals from wandering through the burial grounds; Ancient Greeks & Romans used yew branches to mark a house in mourning; it wards off the winter winds as parishioners enter the church…
… and out through the lych-gate into Cobham town centre. Now which of four pubs will have us for lunch? We ended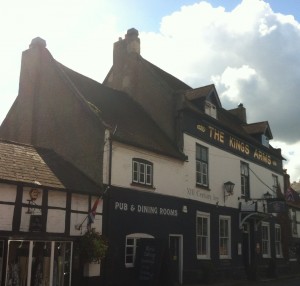 up in the garden of The Old Lion, gratefully kicking off our boots, sipping on cider and pumpkin soup and nibbling on sandwiches on a sunny, Sunday afternoon….
…then, refreshed and revitalized, we set off on  the last leg to Maidenhead, and wandered along a shady riverside path, past warning signs about fierce dogs that would chase us off the premises were we to inadvertently decide to clamber over the wrought iron fence onto private property. Canal boats drifted amiably by, charming us with dreams of Ratty's life on the river where 'there is nothing, absolutely nothing half so much worth doing simply messing about in boats.'
Eventually fields and woodland gave way to grandiose houses trimmed with topiary and flower beds, whispering of a faded past of elegant garden parties, broad brimmed hats and fine bone china. The Sunday walkers gathered force as we got closer to town, until we were suddenly thrust out into bustle and busy-ness, and our leave-strewn and peaceful woodland was replaced with tarred roads and the growl of traffic.
JKJ states that Maidenhead is 'too snobby to be pleasant…the haunt of the river swell and his overdressed female companion.' A swanky restaurant beside Boulter's Lock would suggest the same is true 125 years later. We certainly felt under-dressed to join the diners on the terrace for a beer, but this also meant the aesthetic delight of well-dressed diners in suits and high heels, glorious, colourful hanging baskets and pretty river boats. And if you happen to be walking the path in high heels and a short skirt (or long trousers and a tie), pop in. The Riverside Brasserie rates a mention in both the Michelin Guide and the Good Food Guide. We cheekily used the facilities, recognized our inappropriate attire, and wandered on…
… and at last crossed the bridge to our B&B, where we received a lovely welcome from our hosts. This particular B&B was the most business-like accommodation we had seen on our travels, and the clash of patterns and colours on carpet and wallpaper, curtain and quilt was truly a sight to behold. But despite a certain lack of homeliness, my feet were grateful to go no further today – or at least only as far as dinner.
Day 7: Maidenhead to Windsor through Rain
The next morning we took a short stroll through a light shower of rain into Windsor, where we were celebrating with
the swans at the bridge – I have never seen such a swarm of swans – by lunchtime. We had booked a night at The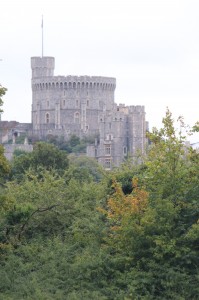 Christopher on Eton High Street, where once I had sat, surrounded by Eton mums delivering their sons to school. It is a charming hotel, a former coaching inn, dating back to 1711, and situated half way down the High Street.
Eton is a quiet little town, especially this week before school goes back. Windsor, on the other hand, was heaving with tourists, who crowded the pavements, and formed lengthy queues to see the castle.  We walked a scant two hundred metres of the Royal mile, then duck back into town, past allotments and houses muffled in shrubbery and trees…
And it's time to soak my blistered feet in a hot bath and lather up my aching muscles with Deep Heat. I was definitely out of practise for long-distance walking, but it was worth every step, for the joy of those glorious English villages, the delicious pub meals and the delights of dreaming along the riverbank. We may explore this romantic path further into London in a day or two, but in the meantime, as I relax over a chilled Rosé at the Waterman's Arms with an eclectic collection of locals and their canine companions, I leave the final words to Kenneth Graham:
"The Mole was bewitched, entranced, fascinated. By the side of the river he trotted as one trots, when very small, by the side of a man who holds one spellbound by exciting stories; and when tired at last, he sat on the bank, while the river still chattered on to him, a babbling procession of the best stories in the world, sent from the heart of the earth to be told at last to the insatiable sea."
*Thank you to my One & Only for yet again generously sharing his photos with me for all three parts of this story.