A Thames Valley Journal: Part 2
"Here today, up and off to somewhere else tomorrow…"  ~ Kenneth Graham
Day 4: Pangbourne via Bus and Sonning to Shiplake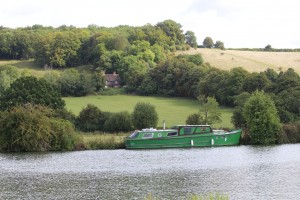 Day four of our walking adventure found us wandering through peaceful water meadows, talking to the ducks and laughing at the dogs, over-excited and exhuberant about their early morning freedom. In Purley, we clambered aboard a double-decker bus to ride to the far side of Reading, having decided that the stretch of Thames path along the railway line did not look overly inviting. Once out of Reading, however, we loped happily through riverside parks and woodland and past the amusingly named 'Reading Blue Coat School'. This 17th century school was originally located near the Church of St. Mary's Minster in Reading, where it 'provided education and bringing upp of twenty poore male children' whose original uniform was a 'Blue Coate and Cappe'. The school was relocated to the Park Holme estate on the outskirts of Sonning-on-Thames just after WWII, where its students now pay almost 5000 pounds per term.
Sonning itself is 'the most fairy-like little nook on the whole river' according to writer Jerome K. Jerome, who made a close study of the Thames and its towns in his 1889 journal, 'Three Men and A Boat.' This impression still stands today and likewise his description of the lovely old pub, The Bull, behind the churchyard – 'a veritable picture of an old country inn'. Here I indulged in a completely justifiable and totally delicious steak-and-kidney pie with a perfect crust. I just wish it hadn't made me somewhat soporific to face the last few miles to Shiplake, past banks of wild orchids with their heady scent.
Shiplake is a quiet, tree-lined village three miles upriver from Henley-on-Thames, with a quaint, old-fashioned station that is merely a platform just off the road. Shiplake also possesses a traditional English pub, The Baskerville.  Situated right on the Thames Path, it is also very much the local watering hole, its walls entertainingly decorated with local memorabilia, and the Friday night crowd spilling out into the garden. Although the town is only a few miles from Reading, it felt as if we were lost in the depths of the English countryside.
Thankfully, pub menus have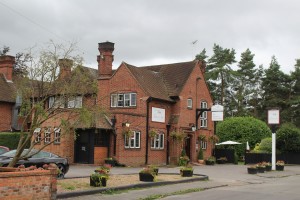 become much more sophisticated since we walked the Coast to Coast path across Yorkshire and the Lake District over twenty years ago. We no longer had to resort to a Shirley Valentine diet of steak and chips or egg and chips every night, but indulged merrily in a variety of gourmet offerings, tapas style and a very pleasant bottle of wine, before retiring gratefully to a comfortable bed. Also, much to my joy, the staff very kindly organized to have my washing done. (Don't laugh, our quaint little riverside villages are visually delightful but very few would – or should – spoil the landscape with a laundromat.)
Our most genial of hosts, Kevin, could barely wait to get us in the door, blister-bound and muddy though we were, to tell us that breakfast would be spectacular. The pub had just won another tourism award for its excellent breakfasts, and Hannah and Emma would be on hand in the morning to prove why.  When the time came, we decided to skip the traditional English breakfast. A week of those and we are gaining rather than losing inches. Instead, I opted for perfectly scrambled eggs served with Scotch salmon on a brioche, with lightly fried mushrooms on the side, while the One & Only chose an omelette garnished with every possible filling. All quite delicious, as promised – and calorie free of course – which we washed down with hot coffee and a fresh banana sliced into a bowl of beautifully creamy yoghurt, Greek style. Nectar of the gods.
Day 5: Shiplake to Marlowe via Henley-on-Thames & Hurley
We left Shiplake with clean clothes and full stomachs, and wandered on to an old and favoured haunt, Henley-on-Thames. It was Saturday morning, and the river was churning with keen young rowers, their coaches and their parents shrieking encouragement from the banks. The route into Henley travels down a long wooden bridge, or causeway, past the weir and the Marsh Lock situated in the middle of the river.  A second bridge delivered us into Mill Meadows where we found the path – rather to our annoyance, this was now, indisputably, our path – teeming with tourists, dog-walkers, young families with strollers and elderly couples, ambling along cautiously. There were also multitudes of waterfowl, encouraged by children armed with bags of bread.
I tried not to be judgmental about this avian junk food but sadly, it seems a fun, childhood memory for many of us leads to a lot of problems for the birds and the environment. The bread itself can create malnourished, overweight ducks. It can spread disease to the birds, kill the fish and clog the waterways. Leftovers will attract rats, mice and unwanted insects. And as the birds become accustomed to this abundant charity, they lose their natural foraging instincts and they may even become aggressive in order to get more food. So perhaps to keep our wildlife safe and happy, we must throw bread on the compost and not at the birds!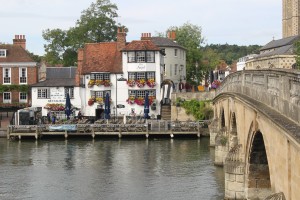 We paused for breath and a cold drink at  the Angel, that much photographed pub beside the elegant 18th century Henley Bridge. Perched at a picnic table by the water's edge we peered through the arches to the long stretch of river that hosts the Henley Royal Regatta each year. This was also the original location for the renowned rowing race between the Oxford and Cambridge. The tradition began in 1829 as a challenge by a Cambridge student to his childhood friend at Oxford. The race, held annually since 1856, barring the years of the two world wars, will continue as long as the annual loser challenges the winner to a rematch. The course still covers a four mile (7 km) stretch of the Thames, but it moved long ago from Henley to West London, where the two teams row from Putney to Mortlake. As a useless piece of trivia, you might like to know that British actor, Hugh Laurie, was a keen oarsman, and  also achieved a Blue while rowing for Cambridge University in the  1980 Oxford & Cambridge Boat Race – despite the fact that Cambridge lost the race by five feet that year. Laurie has been quoted as saying " it was a very bitter defeat."
The Royal Regatta, meanwhile, begins downstream at Temple Island, a miniature, midstream islet on which stands an elegant 18th century folly. On this particular Saturday afternoon it was being decorated for a wedding, and we stood aside to let a stream of walkers and cyclists go by, and to watch proceedings for a little. Unfortunately we were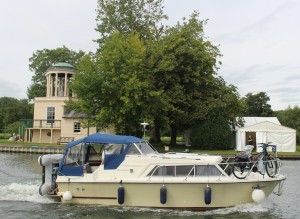 too early to spot the wedding party who would presumably arrive later by boat.
We eventually dropped into a quaint Edwardian pub called 'The Flowerpot' for lunch, one that was obviously immensely popular with weekend walkers. The large garden was full of picnic tables crammed with hungry kids, while the interior was crammed with box-framed fish. Perhaps 'The Anglers' would have been a better name. My One & Only christened it 'The Pub of Death.' We ate our quiche and salad rather nervously beneath the fierce glares of stuffed fish, foxes, weasels, wild boar and antlered deer. Some modern day wit had even framed a tin of sardines.
The next stretch to Hurley was across the deer park of Culham Court and through numerous kissing gates. Once we go back down on the river, we passed through acres of on-site vans and small summer cottages. We presumed, wrongly as it turned out, that these were holiday homes for the working classes. Then we spied the owners Jaguars, Mercedes and other equally illustrious vehicles lined up along the grass verges. Further down, large family groups were picnicking all along the riverbank, kids shrieking as they braved a dip in the chilly shallows of the Thames. At last we reached Hurley, where we discovered yet another summer wedding being set up in a large medieval tithe barn with its acres of red tiled roof. We stood to chat with the florist who was making up the most beautifully creative flower arrangements in old wire colanders, jam jars and jugs.
Our penultimate night on the Thames Path was an extra-special treat. We left the Thames path at Hurley after peeking into the ancient and charming 'Olde Bell' (reputedly 12th century), with its low, beamed ceilings and crooked stairs. A public footpath slipped down the side of the pub and its extensive garden to greet a field of chatty alpacas,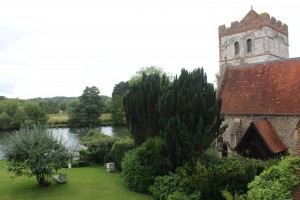 and on into Temple, past a row of charming little cottages that all contained 'Temple' on their name plaques. Our road then wound on through banks of blackberry bushes and stubbly fields, and past the once stately Bisham Abbey that is now a Sports complex.
The village of Bisham stretches along the Thames on the opposite side of the river from Marlow, and here we stayed in the lap of luxury at The Old Vicarage, a large Victorian house whose lawns run down to the river, and whose neighbour is, unsurprisingly, the Bisham parish church. I felt I was rather letting the side down in my hiking boots and trousers, as I tiptoed into the daintily creamy, dreamy sitting room, but our hostess was forgiving, and presented a substantial afternoon tea with homemade fruit cake despite my lack of sophistication.
To complete the day's march we walked the extra mile into Marlow for dinner, across the stunning suspension bridge, 'The Compleat Angler' pub standing guard at one end, the pinnacled spire of All Saints Anglican Church proudly welcoming us into Marlow on the other side.
'The River itself is at its best here' says JKJ and he is right. I also agree with him that while Marlow may not be one of the most picturesque towns on the river, it is nonetheless attractively, cheerfully bustling, with many 'quaint nooks.' It is also full of pubs. After circumnavigating the town, we chose one for our end-of-the-day-pint, and then filled our grumbling stomachs at Zizzi's, our family's favourite Italian restaurant chain, which we have loved for well over a decade. Their mozzarella is like the nectar of the gods. Despite weary feet, I drifted blissfully home to bed…