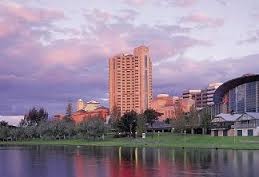 I had not even thought to bring my tiara to Adelaide (my 'must-have' accessory for afternoon tea ever since a trip to the Shangri-La with nine Travelling Tiaras), so I felt a bit wrong-footed when a young friend suggested an afternoon tea get-together just after we had arrived in town. In the end, we managed to have a lovely afternoon, despite my lack of glitter, and I got to revisit the Riverside Restaurant at the Intercontinental Hotel on the south bank of the Torrens River.
Probably the highest building in Adelaide, and boasting unhindered views across

the city and up to the Mount Lofty ranges to the east, the Intercontinental started life as a Hyatt Hotel back in June 1988. Now the 'I' in the sky dominates the skyline along North Terrace, and as we walked in, we had a clear view of the newly sculpted Adelaide Oval, like a hooded space ship squatting below the more traditional spires of St. Peter's Cathedral.
The Riverside Restaurant offers an unusual combination of high tea and lunch, traditional and indulgent, at 2.30pm from AUS$34-65.
So while the men tucked into hefty burgers to fill a gap, the ladies sipped on a welcome glass of sparkling wine and waited for the afternoon tea to arrive. Oddly, the cakes turned up first, on the ubiquitous three-tiered cake stand, but

we decided to sit and admire them until we had met the sandwiches. A plate of chunky cucumber sandwiches on white, crustless bread seasoned with chervil and sour cream were duly introduced, along with Tasmanian Smoked Salmon wraps, accessorized with watercress and horseradish. According to the menu we were short-changed a third plate of prosciutto with Bavarian mustard on sourdough, but the conversation had long since taken over, and no one even noticed until afterwards. To be honest, I'm not sure we could have eaten any more anyway, but I wouldn't have turned down a second glass of bubbles, if anyone had offered, or at least a share of the glass my son had refused.
Everything we ate was beautifully fresh, although unfortunately the well-endowed cucumber sandwiches,  which had obviously been made earlier, quickly got a bit dry. The scones – a mix of plain, sultana and blueberry – looked elegant

accompanied by a selection of three Beerenberg jams and a shot glass of thick whipped cream. And when we were eventually ready for something sweeter,the cake selection was divine: a mini slice of apricot crumble, thick with fresh apricots; a rich, fudgy, flourless chocolate cake; tiny slices of carrot cake with cream cheese icing; macaroons in a variety of Derwent pencil colours, and a mini lemon meringue pie that was rated highly by everyone. There was more than enough to go round, and upon request our waiter kindly packed up the few remaining pieces for us to take home – although these days in Australia you have to sign a disclaimer to do so.
I do have to add that the service wasn't overwhelmingly brilliant. While the staff were intially warm and welcoming, once we were settled there were long gaps, and refills were rare – or do I mean non-existent? Then again, we were neither rushed nor fussed, but left to meander through tea at our own pace, and as we had lots to talk about, that was fine with us. We relaxed into comfortable, cosy chat and felt sad when we eventually had to break up the party and head home, filled to the brim with delectable nibbles.
[Bonus: a little background research has uncovered a High Tea Society and a list of the best high teas across Australia. I am making a bucket list.