Continuing to explore international schools in Manila, I have met some truly inspiring educators in surprising corners of Manila…

The Australian International School (AIS)
'Like a seed, in every child lies the promise of a fruitful tomorrow' ~ E.P. Esteban, Founder
The Australian International School, formerly Esteban School, is a non-denominational, family-run, private school, the only international school in the Philippines to offer the Western Australian Certificate of Education (WACE), recognized by both the Australian and Philippine Departments of Education. AIS even observes the Australian school year  in Grades 11 and 12 (February to November), in order to make transition to Australian universities easier.
The Australian school was originally a pre-school born in Dasmariñas in 1964. Founded by educator Eleanor Esteban, she initially ran it from her front porch.   As the Eleanor Esteban Learning Center, it was one of the first schools in the Philippines to focus on early years education and it t ran exclusively as a preschool for over thirty years before opening its first Grade 1 class in the 1990s. In 2000 the school moved over to the current campus at 2332 Chino Roces Ave, Taguig in 2000 and since then has been growing up, one grade at a time.  Today there are 180 students from Kindergarten to Year 12, and the first Year 12 group graduated in 2012. The student cohort has strong representation from the Philippines, as well as an eclectic mix of Australians and Americans, Uzbeks and Koreans. There is even a family from Sierra Leone. Teachers are hired locally, so the staff is mostly Filipino.  Eleanor Esteban is still involved in the school as one of the Directors, but she leaves the day-to-day running of AIS in the capable hands of daughter Christine Norton (School Administrator), and sons David (coordinator of WACE), and Antonio (Business Manager).
For Australian expatriate Anastasia, AIS has been the best choice for her two daughters, Tyler and Sophia. The price was right, and they decided that following the Australian curriculum would be useful if they were to head home before the girls finished school. It also meant the sisters could stay together, while any available alternatives meant sending them to different schools.
Anastasia says she has a good relationship with Ms Norton, and always feels comfortable to approach her if they have any issues. "Tina listens to your concerns and addresses them well," she acknowledges.
Anastasia is also pleased that this family team has a vested interest in the school. She has watched closely as the school has developed over the past five years, and while she admits the location is not ideal, and 'the facilities are not at all impressive' compared with many larger schools, she is delighted with the high academic expectations, and says the girls have been very happy. They love the tiny, tight-knit school community, and feel safe here. And the smaller class sizes means greater individual attention from the teachers. Sometimes, Anastasia confesses, she worries that the small cohort can be a bit limiting, but says it has been a really caring environment for the girls.
Tina Norton and David Esteban, a warm and welcoming team, are also keen to promote the advantages of a smaller school: the family feel; the sense of belonging, and the one-on-one attention the children get from their teachers is a great bonus, they tell me.
And of course, AIS students, parents and staff are involved with community development projects that not only  provide help to those in need, but teach students about being generous and involved citizens.
The recent acquisition of extra buildings and a potential sports field will give them a lot more space and allow them to increase student population to around 250, but the school has grown slowly over the years, and they say firmly that there is no sense of urgency to expand any faster, and risk losing the intimacy of the campus.
The Esteban focus on achieving international standard teaching methods at AIS has developed over the years. It began when  they were establishing MBA programs from Australia and the UK here in Manila. In 2011 the school took on the Australian curriculum as a way of ensuring quality education and a clear pathway to university for their students.
"Australia is widely recognized as having one of the best educational systems in the world… and the [Australian] government ensures that quality is maintained and that research is continuously conducted to develop curriculums and best practices for learning."
david explains that the Perth link was an obvious choice,  as Perth is in the same time zone as Manila, and this allowed easy communication with curriculum moderators in WA, as well as allowing exams to run concurrently with high schools in Perth.
In 2014, AIS is not only celebrating fifty years of Esteban education, but has also received the AUSTRADE-Australia Business Alliance Award from ANZCHAM in recognition of its successful efforts to forge strong links with Australia.

The Beacon
Veritas et lumen ~ truth and light
The Beacon is an independent, non-profit, co-educational school, for both local and international students from Kindergarten to 8th grade that opened in 2001 just next door to AIS on Chino Roces avenue.
The founding trustees were a group of parents who wanted something different: they designed a small school to provide an innovative, inquiry-based global education within a community that would foster a love for Filipino values and culture, and service to society.
Thus the student cohort of 280 is largely Filipino, with less than 10% transient families. Yet there are still severeal expatriate families who, for a number of reasons, chose to send their children here, and have been pleased with their decision.
I spoke with Linda, a New Zealander who has already spent four year in Manila, and has a daughter at Beacon, in Grade 3. Waiting list issues originally led her to Beacon with her four year old, and she has never looked back.
Thanks to the small class sizes (limited to sixteen in the lower years, and a maximum of twenty in grades 6-8) her daughter, Teuila, settled in quickly. Linda likes the strong foundation of Filipino culture, and the fact that all the children learn Tagalog from Kindergarten to Grade 8. "I didn't want [Teulia] to grow up in bubble," she says honestly.
"Some people will make a judgement on looks," she admits, but she believes aesthetics is a Western hang-up and shouldn't be the deciding factor when choosing a school. Beacon "has everything, except swimming," she adds firmly, and she is happy to supplement when necessary with outside clubs.
The school is also very inclusive of parents, who were recently involved in a unit on migration, several parents coming to speak to the children about why they moved countries. In recognition of Manila's first migrant population, this unit also included a trip to Chinatown, the Chinese-Filipino museum, and a Chinese temple, as well as an opportunity to taste Chinese food. Beacon consciously seeks out the wider community for its students, and takes a number of classes off campus.
The school is non-secular, so all students study either world religion or Christian Living Education. The school can also prepare children for first communion and confirmation.  Given that we  are living in a Catholic country, Linda likes the fact that religious education is part of the curriculum. While she says there is no pressure on her daughter to follow Catholic strictures, she thinks 'it's nice to say a prayer,' and is happy that her daughter is learning different ways people celebrate Christianity 'without any judgement call.'
The gently spoken School Dean, Ms Mary Catherine Chua, explains later that students are taught sensitivity and awareness of differences, but also explore an awareness of commonality.
As I follow Community Relations Coordinator, Amaya Aboitiz, through corridors filled with bright and cheerful student artwork, she laughingly tells me she cannot stay away from the school. Amaya has worked at Beacon as both a teacher and in administration, and keeps coming back, after several stints abroad. She takes me on a tour of the school that finishes in the auditorium, where the year sixes (11-12 year olds) are completing a research project  in which the children may choose to research anyone who has made an impact on the world. Tonight they will all be making a presentation to staff and parents entitled Night of the Notables.
Long-term American expatriate, Mary Chua, arrived at Beacon in January 2012 to work as Assistant to the Headmaster. Just over eighteen months later, in August 2013, she was made Dean. Mary explains that Beacon celebrates learning, and firmly believes in expanding the children's capabilities. "Kids are more open to learning, and we cannot limit them by dictating what they can learn or telling them how much they will understand."
The IB based Primary Years and Middle Years Programs originated in Geneva and Singapore, and provides a curriculum framework based on eight subject areas, enhanced by concepts of intercultural awareness, integrated learning and communication. The program is rigorous, but inclusive, she explains, and there is no ranking, to avoid competitiveness. Nor is the curriculum content-driven, but is, instead, a conceptual linking of cross-disciplinary skills and knowledge which help the children to retain more and stay more enthusiastic and engaged.
At the end of Year 8, many students choose to move on to the High School. Beacon Academy, forty five minutes away in Laguna, travelling down on school buses to this beautiful, purpose-built campus.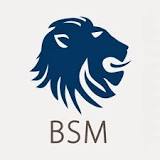 The British School Manila (BSM)
The British School began its life in the old Union Church in 1976. It travelled to Merville in 1980, and finally settled in Taguig in 2002, on a new, purpose-built campus. Almost forty years since its humble beginnings, BSM has grown exponentially from a tiny primary school of thirty six students to a thriving school of 930 students, aged 3-18. While BSM has always given priority to British passport holders and families from Commonwealth embassies, there is also a strong local cohort.
In 2013-14 it is full to capacity and sporting a smart new logo. Headmaster, Simon Mann, assured me that there is no desire to expand either the population or the school building any further, and risk losing its sense of a close-knit, family community. The building of a new library with learning support and multi-purpose space is currently underway, but any further growth will simply enhance what already exists, and while there are plans afoot to develop the site over the next two or three years, there will be no building on the existing recreational land. He acknowledges that the school is well-equipped with classrooms, but he wants to see existing classrooms adapted to reflect a far more open environment, to enhance opportunities for a more collaborative education style. And he admits he would also like to add an auditorium.
Simon Mann had already spent a decade in South East Asia when he took on the role of headmaster at BSM in 2012, and has proceeded to broaden the horizons of the school with the aid of staff, parents and students, with a firm eye on redesigning the school for the future. Students and parents have always cherished the sense of family and community that is an inherent part of life at BSM, and Mr Mann is keen to make the education as inclusive as the environment.
"It's not about facilities and it's not about image," Simon says, "it's about learning, and taking the children on a journey."
To this end, he has held forums with parents, including them in the process of developing the school, and has taken heed of the feedback. Already he has worked with staff and parents to broaden co-curricular opportunities, and integrate all the students into the various sports programs, previously considered a little exclusive.
Mr Mann believes the twenty first century will need to introduce a more skills-based curriculum, one that works at developing interpersonal skills, problem-solving and collaboration. "We need independent, problem solving, critical thinkers who have a breadth of opportunity previously unrealized."
He has therefore started introducing these concepts, already inherent in the IB curriculum in years 11 and 12, to all year groups, 'so that these things come naturally to the kids by the time they reach the top of the school.'
So why would parents choose BSM? I ask. "Why wouldn't you?" is his simple, smiling response.
Diana moved her daughter Aurora to BSM in Year 3 (2nd Grade).  She felt that the British school would provide a good education for their daughter, even though she will eventually go to the USA.
"We had heard BSM had an excellent primary department," she told me, and says they have been "pleasantly surprised and impressed by the quality of education, and continue to be impressed by quality of teachers and their credentials."
She tells me that in past couple of years there have been several positive developments at BSM. Firstly, the career counselling with Paul Yap and his team is great and it seems that BSM is no longer predominantly focused on British universities but is also happy to facilitate applications to American colleges.
Secondly, BSM has started to set up procedures and mechanisms to facilitate communication between parents and school about syllabi, marking guides, assessments and homework. It has a long way to go, Diana says, as it's still not consistent or updated regularly, but it is getting there.
She also praises the availability of teachers to discuss any issues, and the fact that they always respond immediately.
Her only real complaint is that parking continues to be a nightmare – "it is not getting better and it has yet to be properly addressed." She says she has watched the sudden growth of the school in the last couple of years and does worry that the higgledy-piggledy campus seems to have grown beyond its capacity.
Yet fifteen year old Aurora still believes the smaller size of BSM compares favourably to larger high schools. She says she loves the fact that the teachers know all their students so well, they give really good feedback. And it cannot have grown so large, she feels, as she still knows every kid in the school.