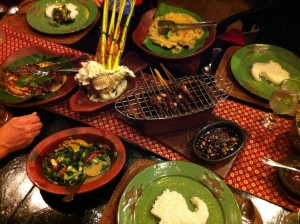 So there we were in Jakarta, hot, hoarse and exhausted after hours of cheering for the Athletics teams at the International School, in desperate need of sustenance and somewhere to celebrate our host's birthday. Where else would we go but to the restaurant touted as 'one of the best Indonesian restaurants in Jakarta?'
The Lara Djonggrang restaurant is named for a legendary Javanese Princess, who was immortalized by the gods after her father's murderer turned her to stone, furious when the beautiful princess rejected his advances.
It was dark when we pulled up in front of a large house that was set back from the road in the shade of a huge and ancient banyan tree that had been strung with welcoming blue and green lanterns. The courtyard entrance was full of Hindu statuary reflecting a time in centuries past when Java was ruled by Hindu kings.
Weaving together history, legend and culinary splendour, this upmarket and gracious restaurant dwells in an historic Indonesian house decorated with genuine antiques, artwork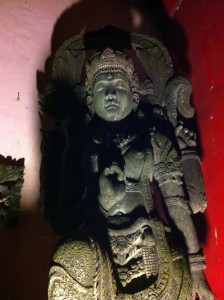 and statuary from all over Asia. As soon as we stepped out of the taxi it was like stepping into another world, or taking a journey back in time, far from the hue and cry of central Jakarta. There was an almost palpable sense of mystery and mysticism, as we wandered through the maze of lamplit rooms, atriums and gardens, each creating a different atmosphere. Through the air swam the hypnotic scent of musky incense. The artwork on the walls and the looming statues were eye-catching, often leering alarmingly and unexpectedly through the shadows. There was no loud music, and dinner table conversations were muted to match the peaceful serenity. It felt as if we were rambling through someone's private home, with its vast art collection reminiscent of Jim Thompson's house in Bangkok.
We were led to one of only two tables in a private room, and assigned a waitress who was happy to answer our questions and proffer advice. A large green leaf lay on the table cloth and welcomed us with the message "selamat datang" painted across it in white. Drinks arrive promptly. The menu was extensive – and heavy! I soon gave up trying to lift it and cheerfully left the ordering  to my companions, apart from a request for that popular favourite beef rendang served on a banana leaf, moist, rich and mouth-wateringly delicious.
At the Lara Djonggrang the chefs serve Imperial Indonesian cuisine. Each dish is carefully researched to reflect both the long history of Indonesian cuisine and the ninth century culinary expertise of the imperial kitchen staff of the Majapahit ruler Hayam Wuruk, who would accompany him on long processions across his kingdom.  The legend of Lara Djonggrang is reflected in the story of Hayam Wuruk and his betrothed, Sundanese princess Citra Rashmi, who committed suicide after Majapahit troops decimated the Sundanese royal wedding party as it arrived in Jakarta.
The menu contained a whole page of soups, intimately described: a bouquet of tempting flavours and spices. But we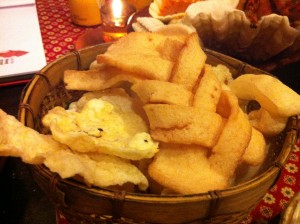 wanted to share the feast, and soup can get a bit messy to share, especially when I am involved, so we moved on swiftly to the appetizers. If you are used to placid Filipino flavours, be prepared for a shock. Indonesian food can be fiercely hot. The sambal (chilli sauce) we chose – on the recommendation of our helpful waitress – was accompanied by a basket of woven prawn crackers, spicy-hot enough to ignite your taste buds and send them to the moon and back. Gratifyingly moreish, if somewhat death-defying.
I did select one other dish – otak-otak ikan assam pedas – just because I liked the name. Sadly, despite the poetic turn of phrase, this turned out to be a rather lacklustre bowl of bite-sized fish cakes steamed in banana leaves, then fried in egg batter and served with a hot and sour sauce that tasted much the same as the deep-fried shrimp balls.
Then the culinary artistry kicked in. Our rice arrived, as individual serves, moulded into the shape of an elephant's head with the trunk up for luck, while crunchy lumpia tanu (tofu spring rolls) lay, sunbathing in a clam shell, served with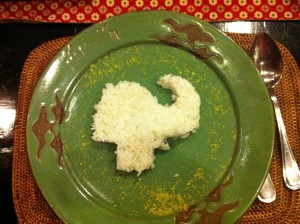 a zesty sweet 'n' sour chilli sauce. The red curry prawns (grilled individually, then inserted into a lemongrass stalk), were presented in a conch shell to look like a giant hermit crab. The tenderloin satays were marinated in caramel, tender and hot, presented on a mini grill and accompanied by the inviting aroma of the marinade dripping onto the hot coals. Less artistic, but appetizing  nonethless, was a bowl of soupy greens, spiced up by the stop-light red of whole chillis.
Our birthday banquet was perhaps more a feast for the eyes than the taste buds, as unfortunately the chefs seemed to have the same penchant for  cooking with aged palm oil as their Filipino counterparts, but then I would also thoroughly recommend taking your time to order and seeking advice from the staff for a higher success rate. We were hungry, and we rushed. We loved it, anyway, for the great service and the glorious setting, especially when visiting from a city of shopping mall franchises and standardized modern decor. And I must admit, none of us went home hungry!