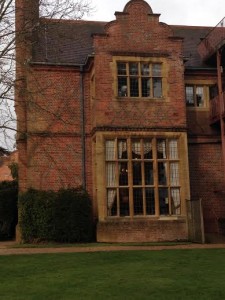 Hanbury Manor, Hertfordshire, once the home of English landed gentry, then a boarding school, it has entered the 21st century as a Marriott hotel and country club. Only a few miles north of Hertford, Hanbury Manor is a magnificent chapter of English baronial history set amongst huge blue cedars, manicureded lawns and wooded slopes now iced with daffodils.
The first house here was built in the 16th century by Reginald Pole, the last Catholic Archbishop of Canterbury. By the end of the 18th century, the house had been bought by brewer Samson Hanbury, and was handed down through the family for several generations until 1890, when the rambling, almost uninhabitable manor house on 2000 acres, was replaced with a red brick Jacobean style country house, the first house in the area to boast both electricity and central heating, at the debilitating cost of £30,000.
A service wing and stables were added in 1913, by which time the estate had shrunk to 100 acres thanks to the crippling costs of rebuilding. It was sold privately a year later, and sold on again in 1923 to be converted into a girls convent school, with the addition, a decade later, of a gym, classrooms, dormitories, a tower, and a new chapel. The school closed in 1986 and has since been redeveloped as a 5-star hotel and country club.
So what better place to spend a blustery March afternoon than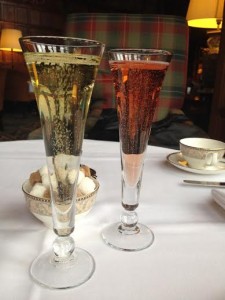 sitting at a table, burrowing into deep armchairs set in front of tall mullioned windows that overlooked a broad sweep of carpet-like lawn, sipping Darjeeling tea and nibbling at cucumber sandwiches and warm scones?
Oak Hall is just that: a long, oak lined drawing room, where the curtains hang thick and heavy, well-lined to keep out the cold. The chandeliers float like aerial croquembouche, casting shadowy light on the vast green tapestries that wallpaper the upper half of the long back wall, and two elegantly carved wooden griffins stand like sentries beside a large stone fireplace the colour of honeycomb. With inexplicable country house mystery, the carpet is a garish, clashing mash of colours and swirling patterns that would make any hangover increase a hundred-fold, but it's effect is blunted by a large and eclectic collection of armchairs, leather sofas and solid coffee tables.
Having absorbed the setting, we settled in to enjoy the afternoon, beginning with an extravagant glass of Moët et Chandon, one pink, one brut, as we awaited the arrival of afternoon tea. For a few minutes at least we sat stiff and ladylike, but we soon found our tartan covered armchairs a little deep for poise and leaned back luxuriously into the cushions.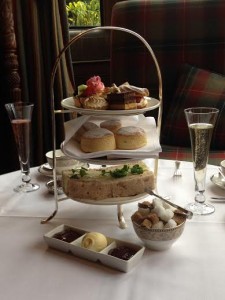 Our tiered plate eventually arrived – no rush, we were taking our time – laden with an attractive assortment of goodies: a bottom layer of neatly aligned sandwiches, the middle layer holding four warm scones swaddled in a white linen napkin, the top layer boasting a small assortment of decadent little cakes.
All the traditional sandwiches were in evidence: salmon and cream cheese on wholemeal bread; cucumber on white bread; thickly spread egg and chives, and fresh ham and Dijon mustard on walnut bread, all neatly clipped of their crusts, and scattered with delicate green pea shoots.
The scones, two plain, two with sultanas, came with homemade jam and a small pot of clotted cream, and I jumped on them eagerly while they were still warm.
I was happy to hand over the lion's share of amuse bouche to my friend of the sweeter tooth, but I nonetheless watched with interest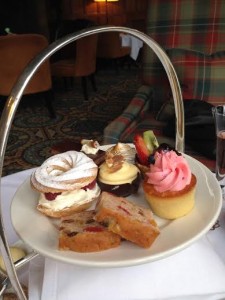 as she tasted a lemon cupcake topped with raspberry cream; a miniature lemon meringue pie; a dark chocolate teacup filled with white chocolate mousse and sprinkled in toasted almonds (I admit, I dipped a finger into that one), a fruit cup made of waffle cone lined with dark chocolate; a choux pastry filled with cream and luscious fresh raspberries and a two slices of light fruit cake filled with candied fruits and raisins. Not surprisingly, she was hard pushed to finish them all, so our maître d' kindly boxes up the remainder for our teenagers.
Then, replete with good things, we took a walk through the grounds, dotted with blue cedars, including the grande dame of the tree world spreading her full skirts like a ballerina in the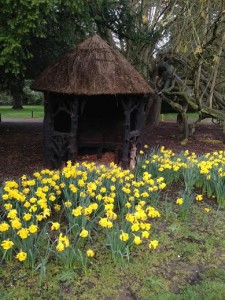 middle of the manicured front lawn. We sauntered past the golf course and found our way through a damp copse to a large walled garden to the right of the house, a regular destination for brides, and looking positively bridal itself on this crisp spring afternoon with its rows of fruit trees sprinkling pink and white blossom on the ground like confetti. We admired a clutch of stone statues, roman ladies with arms filled with blossom, leaves or moss, depending on their position, and of course the flowerbeds were boasting the ubiquitous bouquets of daffodils, primulas and we gratefully made it back to the car before another hailstorm…
*With thanks to the gorgeous Helen for her equally gorgeous photos.