We had an anniversary recently, and sadly it was a bit of a fizzle, as I wasn't feeling well and pretty much slept through it. So I am going to reminisce about a past anniversary instead, somewhere cool, as the temperatures in Makati trudge up into the mid-30s and the humidity weighs down  on weary heads. Although the sunrises have been glorious, an almost unearthly orange through the gentle pall of pollution.
Far from the heat and the hue and cry of Manila, I once discovered the perfect place for an anniversary dinner. Imagine a secluded English country hotel; a cloistered avenue of tables for two, set far enough apart to allow a little privacy; arched windows overlooking rolling hills, woodland and fields; candlelight, deep pile carpets and heavy wooden furnishings that encouraged voices to stay hushed and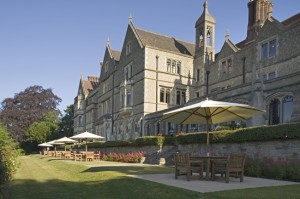 sensuous; an open fire you could roast a pig on; a menu so tempting I wanted to try everything on it, and of course a delectable selection of wines.
Nutfield Priory Hotel is a Victorian manor house in Redhill, Surrey – apparently inspired by the Neo-Gothic design of that Palace of Westminster that is no longer inhabited by princes, but by politicians. It is built on 12 acres high on a ridge overlooking the fields and woodlands of the Surrey and Sussex countryside.
Normally overdressed, overheated, and glowing like a good Shiraz before we reached the entrees, I had for once thought to bring a light evening dress and a thin wrap. We were staying for the weekend, and had arrived early so we could avail ourselves of the Spring gardens and still have time to make the most of the luxurious bathroom, away from the invasive interest of small children. My One & Only had ordered the champagne and brought me scented bubble bath as well.  The perfect setting for a romantic anniversary escape…
…but the curtain rose on quiet mayhem. The central heating had broken down earlier that day, and nobody had thought to warn us. Imagining the hot water would eventually kick in, I ended up washing my hair under an icy waterfall, before reception finally acknowledged there was a problem with the heating and the hot water they could do nothing about 'at present'.
The Cloisters Restaurant offers delicious modern British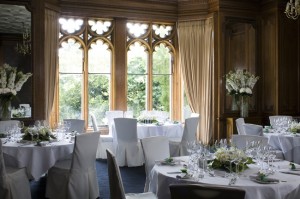 cuisine, but unfortunately the dining room was almost as icy as the water – especially in my summer frock and still shivering from the shower. By the time we reached dessert, my lips were blue and my teeth clenched to stop them chattering. "Could we perhaps do coffee in the lounge in front of the lovely big fire I had noticed when we came in?"  I asked desperately. "Certainly!" smiled our lovely attentive waitress. But oh dear, the fire had died down and was sulkily smouldering, and the draught from the corridor was arctic. My jaw was aching, my back cramped, I had had enough. I wrapped myself in a thick hotel bathrobe, feather duvet and blankets and hibernated till morning like a grumpy badger.
So there you have it: the beautiful promise of romance and luxury spoiled by a simple power cut. Just my luck! The hotel was sumptuous, the dining room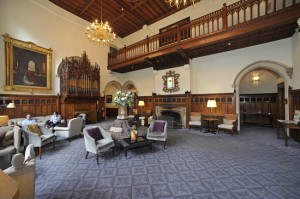 beautiful, the food quite superb, and the service excellent – except for the part where they failed to warn us about the cold.  It was a shame, because it is a real gem in the right temperature, and I really hope to visit again some day, with greater success.
My tip? Don't get married in Northern Europe until at least May, and always remember to take warm pyjamas, just in case. And definitely give this glorious hotel a chance… on a warmer night!