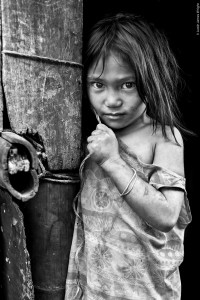 Welcome 2014, and with it, the inevitable string of resolutions, diets, and dramatic changes. My own resolutions included the inevitable weight loss, more time to read and write, and, most importantly, to remember to count my blessings.
This morning I passed our beautiful blue pool, where a small, determined toddler in designer swim suit was watering the paving stones with a brightly coloured plastic watering can. Later that morning I drove past another small toddler playing on the side of the road in the back of a barrow full of rubbish bags dressed only in an over-sized, very grubby t-shirt.
Passing regularly through poorer areas of Manila keeps my life in sharp perspective. According to the BBC News, Manila has one of the largest populations of squatters in the world, living in slums 'with no contracts, no rights, nothing.' Rivers are clogged with the flotsam and jetsam of modern urban life and pose a serious health risk to neighbouring communities. Many of the slum areas lack an adequate water supply. Housing is makeshift and prone to collapse and flooding. Sanitation, education, health and employment are barely there.  Almost thirty per cent of the population of the Philippines currently lives below the poverty line, and nearly 80% of those live in rural areas, most of whom depend on subsistence farming and fishing for their livelihoods. Yet the population continues to grow at the speed of sound. 
So any time that I am inclined to decry the traffic, the heat, or any of the daily pinpricks that make me edgy and impatient, I try to look around me and bless my lucky stars that I landed up in my life, and not trapped in a tin shack in Tondo, with no running water, no electricity and no future.
In my final year of high school, I studied an Australian poet named Bruce Dawe. His poem, The Not So Good Earth, was a play on the novel The Good Earth, by Pearl S. Buck, which tells a tale of family life in a rural Chinese village at the turn of the twentieth century. Bruce Dawe wrote this poem in the 1960s about a family watching a news report on starving families in China, a deeply satirical poem, condemning society's reliance on the media – even then – and how it was anaesthetizing our empathy for those caught up in global catastrophes, effectively removing us from the reality of human suffering.
Recently I met photographer Justin Wright, who introduced me to a community in the Philippines which reminded me of Dawe's poem, in that, over fifty years on, the media is quenching our empathy for others more than ever.
Isla Pulo is a community of fishermen, charcoal burners and their families on the edge of Manila Bay. Wright came across the community on Isla Pulo while working on a flood prevention scheme on Manila Bay.  Having spent twenty years in South East Asia, fifteen of those in the Philippines, Wright has an affinity with these gentle but hardy coastal families – about one hundred of them – and obviously enjoys the time he spends amongst them.
A British expatriate with a heart, this civil engineer turned professional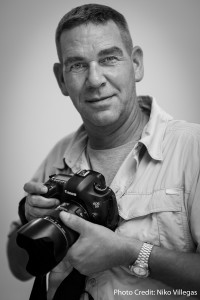 photographer, Wright has produced a sensitive exhibition of this impoverished but cohesive community.
Faced with the inevitable mix of luxury living and guilt that is the dilemma of every expat in a developing country, Wright has found a creative and effective way to help those in need. With the permission of the barangay leaders, he spent months in this isolated fishing village, photographing the lives and faces of these resilient families.
Wright was invited to exhibit his efforts at the ArtistSpace of the Ayala Museum in October, and again at the Asian Development Bank in November. He has also been invited to exhibit in New York. Yet he says he has had a mixed response from the Filipinos. While many locals admire him for his exposure of an aspect of life in the Philippines usually hidden from view, a small minority, he admits, criticizes his work and appears offended by what they see as interference.
The people of Isla Pulo are not amongst his critics. They have been willing models for his photographs and the results are superb. Wright takes you to a regular poor Filipino fishing village to illustrate an attitude of strength and solidarity amid squalor. Subtle but intense, the pictures depict, with touching empathy, both the poverty and the pride of a community determined to persevere against the odds. Hence the title of the exhibition: "Resilience".
Wright explained that he needed a theme to capture an exhibition space at the Ayala Museum, and the story of the Isla Pulo community was strong and emotive and very different from the usual post card appeal of street scenes or tropical island beaches. despite poverty, and above all, resolve to rise above and battle on.
He also had an added incentive: to bring this independent village to the attention of the outside world and provide the villagers with the support to survive. Presently they have no running water, sewage syatem or gas. Their only electricity source is a small generator shared by the whole village.
Wright and his partner Emely have introduced a feeding program, whereby they deliver an occasional breakfast to Isla Pulo of pan de sal and cauldrons of rice porridge, always gratefully received by the villagers.
The community worked together to build three classrooms for the children, and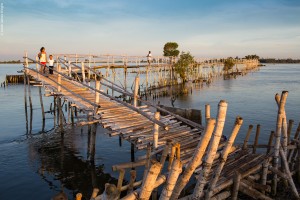 Wright is providing the flooring, furniture and school supplies. For Christmas, he and Emely are planning to coordinate a Christmas package for the whole village through various business contacts. They are also trying to encourage support to build a permanent bridge to the island. Currently it is only accessible by banca or on foot, along five hundred feet of brittle, and weather damaged bamboo.
Wright has done his best to put us back in touch with our emotions – and our sense of community – to see and acknowledge the strength of hope that is in all of us, to survive and adapt to the most impoverished, or most devastating circumstances.
 His exhibition came together at an extremely pertinent time, as the Philippines staggered under the weight of the devastation of Typhoon Yolanda, and is indeed a fitting tribute to the resilience of the Filipino spirit, despite a level of poverty that beggars belief for those of us lucky enough to have been born into the middle class luxury of a First World country. And a clear reminder to us all to count our blessings and appreciate all that we have: friends, family, wealth and health. It is bound to be more than most, on all counts.
*Adapted from an article written for ANZA magazine, January 2014, and with thanks to Justin Wright for allowing me to reproduce his photographs.