As a food writer and a foreigner in the Philippines, I have really tried to get to know the local cuisine. Quite different from any other South East Asian or pacific island cuisine I have come across, I knew very little about this archipelago nation before I moved here, beyond a vague knowledge of Imelda Marcos, her butterfly sleeves and her shoe fetish. Since I landed in Manila, I have read and researched as much as I can. I have spent my time dipping into and taste-testing dishes at various restaurants and food events, and have even tried cooking some popular Filipino recipes at home. This has made me plenty of friends among local chefs and foodies, keen to share their joy in Filipino food, delighted with my interest. Food is definitely the 'cultural language' of the Philippines; 'the best communicator.'
Still, after three years of exploring on my own, I felt I would really like someone to take me by the hand and show me the way through cooking a Filipino meal.
Yasmin Newman, a food and travel writer and TV presenter, does just that. In her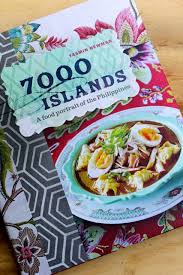 beautiful coffee table cookbook 7000 islands: a food portrait of the Philippines, this Australian Filipina (PinOz perhaps!?) takes us on a fascinating journey, describing in intimate detail how to work with sawsawan and why; the significance of soup, and the legend of the cashew. Mixing culinary history, mythology and memory, she has created an evocative illustration of a cuisine that has, as she says herself, long sat beneath 'the gastronomic radar'.
Suddenly I feel that my unmapped meander through Philippine cuisine has retrospectively fallen into line and it all makes so much more sense. Newman's accompanying text is poignant and poetic with a flavour reminiscent of Amy Besa and Doreen Fernandez, two renowned Filipina food historians.
Illustrated with beautiful photographs of both the food and the Philippines, it is a wonderful souvenir for resident expatriates, and a record of Philippine cuisine of which Filipinos can feel really proud. And as you flip through the pages, it is so easy to imagine Yasmin sitting at your kitchen table, cosy, informative, informal and chatty.
Newman dedicates her book to her mother 'who lent me her heritage and her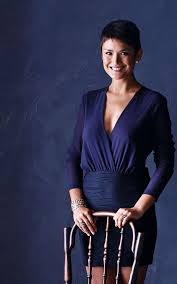 Philippines, which touched my heart.' And she goes on to say that 'the influences and events that shaped the cuisine were as captivating as the flavours that had initially stolen my heart.'
The book is not just a tribute to myriad Filipino chefs and cooks who have created the dishes and handed them down family lines over the centuries, but is also addressed to the beginner, with tips and tricks for creative cooking when perhaps native ingredients are not available. And it introduces the foreigner to the concept of communal dining, a concept of warm hospitality that 'underpins the Filipino psyche'.
Recipes run the gamut of Filipino culinary history: dishes flavoured by native fruits, others reminiscent of the spicier tastes of Muslim traders; noodles dishes originating in Hokkien and abundant fresh fish; sweet, creamy fiesta desserts adapted from three hundred years of Spanish rule; local pica pica perfect for a merienda snack; the ubiquitous soup and the flavourful barbecue.
The chapter on pork particularly left my mouth watering, as Newman first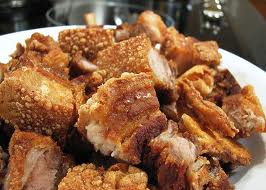 described the national passion for lechon – one which three centuries of Muslim influence did nothing to extinguish – and then proceeded to expand our horizons beyond the limited Australian vision of pork chops, with recipes that use every part of the pig but the squeak: traditional pork barbecue; crispy pata (deep fried pig knuckles served with a soy-vinegar sawsawan); chicharrón (deep fried pork rinds) and sisig (a sizzling dish made from parts of the pig's head and liver, seasoned with calamansi and chili peppers); pork belly and pork adobo, and that succulent and sumptuous fiesta spectacular, roast suckling pig.
The latter is popular across the Pacific, and we recently combined cultures in Metro Manila with a group of Fijians and a crispy, fleshy, moist piglet that came apart in our hands and covered our lips in glorious greasy juices like porcine lipgloss. "Deleesh-ouse."
So while I may find it difficult to reproduce the pork barbecue on the 39th floor, without a balcony or a barbecue, I am off to try out Yasmin's recipes for lechon liempo or lemon style roast pork. If it works, please come for dinner. It sounds irresistible.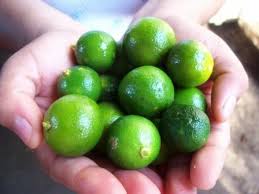 According to an Aussie interview, Yasmin's favourite flavour is calamansi, that tiny sour native citrus, with a surprising amount of juice and a lot of pips. Mine too, Yasmin, especially with gin shots, but I'll have the sugar syrup on the side, please…
* With thanks to Google Images and my copy of  '7000 Islands' for the photographs in this article.