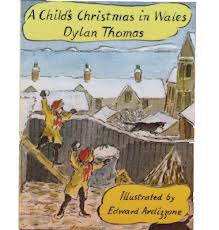 Welsh poet Dylan Thomas wrote 'it always snowed at Christmas.' Maybe this was the case in northern Europe, but not in the Antipodes, where the seasons are upside down, and Christmas arrives in the height of summer.  In Australia there is no snow, only water restrictions and a lawn baked brown and full of the bindis; Christmas lights barely visible in the unromantic light of daylight savings; sunburn and hair stiff with salt and sand from long afternoons at the beach; fans and cool flannels soothing hot bodies at bedtime…
Christmas is the Christian celebration of Christ's birth, a huge birthday bash on December 25th – a date set by a long-extinct Roman Emperor to coincide with the winter solstice and other mid-winter festivities, but accepted today by Christians on every continent as the date on which Jesus was born in a stable in Bethlehem. And since it was established over seven hundred years ago, every Christian country has had time to develop its own Christmas traditions.
The Santa Claus legend, for example, travelled across Europe and America from Myra in Turkey. Part historical figure, part folklore, the image of Santa Claus varies from a jolly old soul in white beard and Coca Cola colours to Saint Nicholas, a charitable 4th century bishop tossing gold coins through open windows, to Befana, an old Italian woman delivering presents to the children as she searched for the bambino Jesus. The modern image was invented by Clement C. Moore, the nineteenth century writer of that popular poem "The Night before Christmas," and institutionalized by twentieth century advertising, television, books and films.
My own childhood Christmas always began with arrival of Father Christmas at The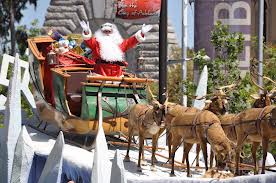 Magic Cave in John Martin's Rundle Street store in early November.  A local department store in South Australia, "Johnnies" established its iconic Christmas Pageant in 1933. Today it includes almost sixty floats, that travela two mile route, culminating with Father Christmas and his reindeer.
Another popular western Christmas tradition is that of decorating an evergreen tree. The fir tree was originally a pagan symbol of life and hope during mid-winter bleakness, with its evergreen foliage. Prussian mercenaries brought the idea of decorating a whole tree to America in the late eighteenth century, and Queen Victoria's German husband Prince Albert introduced it to the English in 1840, when he erected a Christmas tree at Windsor Castle.
The smell of a freshly cut pine tree wilting in the heat will live on forever in my olfactory memory. Propped precariously in a bucket in the back room – my parents had a knack for finding the spindliest, most unattractive underdog of trees, least likely to grace Christmas – it would be strewn in odd pieces of tinsel and covered in the strangest assortment of homemade decorations. Ours was never the perfect tree you see in Hollywood movies, where every perfect bauble hangs exactly in the centre of the branch, exactly the same length as all the neighbouring baubles, as if they had grown there. But ours had more character! Today we have 'built' our colour coded Christmas tree on the thirty ninth floor, and must search for the decorations that we have gathered across eight or nine countries, now hiding somewhere amongst all the packing cases…
Across the world, Christmas is a blend of public and personal traditions.
Christmas was barely celebrated when Australia first colonized.  For those first settlers, there were too many food restrictions to allow for any feasting or treats. Gradually, as times changed, special rations were delivered for Christmas and by the nineteenth century, Australians were enjoying Christmas Day picnics outdoors under shady trees.
The now popularized sentimentalization of Christmas happened in late nineteenth century in Victorian England:
Charles Dickens wrote A Christmas Carol, the novel that has come to epitomize the spirit of Christmas;  Prince Albert set a trend for decorating fir trees; British Post introduced the penny stamp and a penchant for sending Christmas cards, and turkey – that large native American bird – replaced the smaller, traditional British goose.
In Australia, at about the same time, we forsook our own early customs in attempt to distance ourselves from an embarrassing convict past and develop a higher degree of British middle-class respectability. An inexplicable devotion to anything British persisted until well into the 70s. For generations, Anglo-Australians – even native born  –  referred to England as 'home.' As a result, Christmas moved indoors and we blindly aped Britain with hot roast dinners cooked in steaming hot kitchens and carried to the dining room to be eaten in sweltering forty degree heat.
It wasn't until the 1980s that Australians began to shrug off a long standing cultural cringe and accept that such feasting in the middle of summer was ridiculously incongruous. Anglo-Australians began to see the sense of escaping a sauna-like kitchen and a heavy meal of steaming turkey and baked veggies that left you bloated as it sank like a stone to the pit of your stomach. At last, we began to adapt to the climate and adopt new traditions from the post war influx of non-British immigrants with different ideas on how to celebrate Christmas. Christmas lunch moved back outside to be eaten on garden furniture under a shady tree, and the traditional British roast was accented with salads and seafood, pasta and patisseries.
For the 'Skippys' amongst us, however, one tradition that could never be forestalled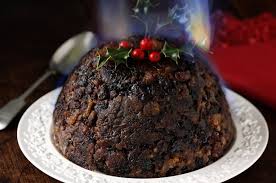 by modern rationale was the Christmas pudding. The good old British Christmas pud is prepared several months before Christmas, hung in its calico hammock in the cellar to age like a good wine, then steamed in the huge marmalade pot. The finishing touch comes on Christmas Day, when it is doused in brandy, blue flames licking up the sides of a breast-like mound of currents, sultanas and orange peel, the holly on the top burning merrily to a crisp.
Over the next two generations, an Australian Christmas would become a fascinating potpourri of cultures and customs, experiences and enthusiasm mixed up with current trends.
Doreen Fernandez, the late Filipina food historian, shares mixed memories of a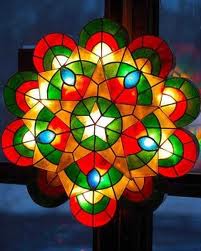 Filipino Christmas: of purple puto and parols (star shaped lanterns) creating kaleidoscopes of colour, of thrilling church music and delicious noche buona (midnight feasts).  Here in the Philippines, despite a history of colonization and adaptation, Christmas food is overwhelmingly Pinoy, "an emphatic example of the oddness of gastronomic life in this idiosyncratic Asian republic." Rellenos and lechon, jamon China and gallantina, chorizo and thick, hot tsokolade all sound so deliciously poetic!  Fernandez finishes by saying:
No wonder Christmas is so unforgettable. We all, it seems, borrow from and contribute to each other's Christmas – personal and communal, and the fusion enters the collective unconscious.
And finally, in the words of Charles Dickens' infamous character Scrooge:
I am as light as a feather, I am as happy as an angel, I am as merry as a school-boy, I am as giddy as a drunken man. A merry Christmas to every-body!  A happy New Year to all the world!

*Written for the ANZA News, November 2013.