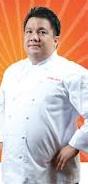 Robby Goco has a magic touch when it comes to restaurants:  owner and Head Chef of Cyma (eight outlets across the Philippines); Charlie's Grind & Grill; Achiote, and now, his latest venture, Green Pastures.
Green Pastures opened in September, in the new East Wing of the Shangri-La Plaza, Ortigas. Farm-to-fork (paddock-to-plate in my lingo), back-to-basics, organic, and locally sourced ingredients, Goco has covered all the latest trends in dining, a backlash against all the sophisticated but expensive dining trends of recent years . 
Its name is a lovely play on the idiom, "greener pastures," –  a hint that Goco has moved on to create a restaurant where we can eat healthier food than is found in the average Filipino restaurant. It is not Robby's first attempt to follow a trend for organic cuisine. Of his restaurant Cyma, Goco once said: "Good, natural, healthy food is a right to be enjoyed. It is not a privilege for just a few lucky ones, " and this quote applies equally well to Green Pastures.
And it's certainly not an original concept, even in the Philippines. Grace Park in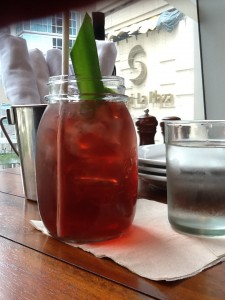 Rockwell, Sau del Rosario's short-lived Bistro Vert and Sugar Leaf on Buendia are amongst a number of restaurants with a growing awareness of the need for healthier, environmentally friendly dining, but this doesn't detract from the fact that Goco has jumped on the back of a current trend and has made a great job of it.
I found Green Pastures in the bright, light, new East wing of the Shang Plaza in Ortigas, only a week after it had opened, and Robby was off to a flying start – I was just glad I had thought to book a table! Accompanied by two girlfriends, we were greeted at the entrance by Betty Sue and Mary Kate in plaid shirts, jeans and braids like characters from Petticoat Junction or The Waltons. It's all terribly twee, as my grandfather would say, but the food is well worth braving a little kitsch for. Also, the décor – booths by the window, intimate wooden tables with and brightly coloured metal chairs, if not exactly rustic, creates a warm, inviting atmosphere. And the smiles on the waiters' faces seem genuine.
The menu is an odd but tempting mix of Pinoy and international dishes, many of which are vegetarian.  In fact, we lunched entirely without meat, and it was all delicious. Robby has cleverly catered to everyone's favourite tastes: carbonara and braised suckling pig; fish and chips and bangus sardines; fiddlehead ferns and Mykonos salad, and a spaghetti with crab meat and sea urchin sauce –  a dish that every previous reviewer has been racing to sample, so I will leave it to them!
Sticking with the 'down home' theme, many dishes are served on wooden boards, while flavoured butters, mustards and mayos arrive in small tin tubs, a la Grace Park.
We began with a delicious bowl of minestrone just like my father-in-law makes (and he is the connoisseur of minestrone).  Flavourful and fresh, the vegetables were still al dente, and my only complaint is that the broad shallow bowl in which it was served looked effective, but cooled the soup too fast! I guess that is probably not something Filipinos would complain about, but I prefer blistering hot soup!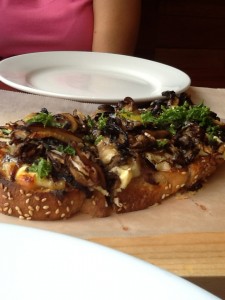 The next course was a little staggered – I do prefer it when we can all be served together, but I always forget to say it when we order – but the Veggie burger and chips sprinkled in parmesan had us all reaching to 'share' and dip chips into the cumin  flavoured mayonnaise. And apparently the burger was great and – as the menu suggested – definitely  didn't 'suck!'
A large, soft seeded bread roll stuffed with caramelized onions, and served with a surprisingly effective honey and dijon mustard flavoured butter was also shared around the table with enthusiasm.
 And the mushroom bruschetta – a mix of Asian and European mushrooms arrived on really crunchy toast and as the menu had promised, it was teeming with  great flavours.
 We debated dipping into the make-your-own salad bar, but decided that would be over-doing it and we would save that experience till next time.
Assuming that every dish is as successful as the ones we tried, we loved it! There is a whole page of healthy 'liquid provisions,' where you can choose from organic teas, fruit smoothies, and cold pressed elixirs designed to satisfy, detoxify, purify and energize.
As for the desserts, Robbie himself delivered his two favourites for us to sample: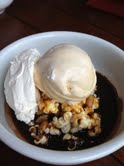 salted caramel icecream with popcorn crunch and homemade chocolate sauce, and honey comb topped with lemon curd and Greek yoghurt. Totally scrumptious!
Another popular trend that Robbie has engineered? An open kitchen, so you can watch your meal being prepared through the hatch. Satisfying AND entertaining…
*Adapted from an article written for Newsflash, November 2013. With thanks to June Vann for her ice cream, and to Google Images for the photo of Robby.