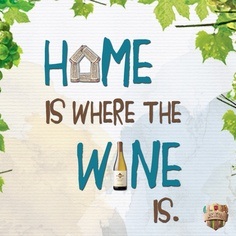 "Wine is one of the most civilized things in the world and one of the most natural things of the world that has been brought to the greatest perfection, and it offers a greater range for enjoyment and appreciation than, possibly, any other purely sensory thing."   – Ernest Hemingway
 Wine has been on the scene since mankind discovered the grape. A gift from nature – and the winemakers – wine lovers will agree that it is the spice of life. We drink wine to get drunk, or to grow poetic, to mould our moods or to brighten a dinner table. It can be appreciated by the glass or used to enhance our food. It has played a role in everything from politics and religion, to love and literature, and it 'evokes images of romance, culture and sophistication.'
I was lucky enough to grow up in South Australia, with world famous wine regions such as the Barossa Valley and the Coonawarra right on the doorstep – an excellent place to start an education in all things vinous.
Like all college student back in the eighties, I was drinking cheap wine out of casks with no knowledge of grape variety, beyond red or white.  A wine course at Hospitality School introduced me to the nuances and some better quality wines, and I began to explore Australian wine in greater depth, discovering that wine does not taste like grapes at all, but can be earthy, herbaceous, fruity, floral or spicy.
Over the years I have slowly developed a reasonable knowledge of Australian wines. Yet the more I learn, the more I realize I still have a long way to go to become a real connoisseur.  Ever eager to continue my education, I love exploring local wineries and wine shops wherever I come across them.
Twenty years ago, however, wine was not on the radar of most Asians. Any wines we could find in SE Asia had been imported and so heavily taxed as to place them in a different fiscal universe.
The Philippines is not traditionally a nation of wine drinkers either: grapes grow best in temperate climates, so the Philippines, with its tropical climate, is unlikely to be able to produce top quality wines.   Nonetheless there has been an emerging interest in this beverage over the last decade, as a plethora of wine bars and wine shops have opened in the larger metropolitan cities of Manila, Cebu and Davao. To increase their consumer base, distributors capitalize on the health benefits of wine, such as the reduction in heart disease with moderate wine consumption. Wine has also gained a footing as a hobby amongst wealthier drinkers. Initially it was the sweeter wines that attracted attention – as it is with all beginners – but step by step the Filipinos are learning more and developing a taste for drier varieties.
Over the past century, modern technology, growing expertise, and a higher degree of professionalism have improved the quality of wine making everywhere. Add the effects of international marketing, the development of a multitude of new wine regions, and greater disposable income for the average household and the wine industry has expanded exponentially.
Once the preserve of Old World wineries in central Europe, over the past fifty years New World winemakers have burst onto the scene, swamping the market with affordable, good quality, comprehensible wine for the masses.  While I was still trying to get a grasp on the wines of France, Germany, Italy and Spain, countries such as Chile and New Zealand, Canada, South Africa, Uruguay and even China were racing Australia and the United States to plant acres of vineyards across field and hillside and develop thriving wine industries.
This has also made wine a great travel theme: meandering through all the glorious wine regions of the world is a sensual delight. What landscape is not improved by neat rows of vines bordered with rose bushes? What meal is not enhanced by a bottle of the local vino? What travel tales with which to regale your friends…
The key to understanding wine is to become familiar with the different varieties and their unique characteristics in color, aroma and taste – and which ones you like. The wine industry will always contain a large element of snobbery and pretentiousness, but don't feel intimidated, just pour a glass and take a sip. It is that simple. And it doesn't matter where you start, it's sure to be an entertaining journey to discover your favourite wine. There is plenty of choice: Chardonnay and Shiraz, Tempranillo and Grenache, Rioja, Riesling and Gewurtztraminer are just the tip of the corkscrew!
Learn to match wines with your favourite food. As a starting point, fresh, fruity, aromatic wines like a Riesling or a Gewurtztraminer go well with spicy Asian dishes, while Semillon and Sauvignon Blanc are good with citrus and lemon grass sauces. The delicate flavours of Chinese cuisine match well with a dry or semi-dry sparkling wine, and dry, fruity whites or lightly chilled Pinot Noir are great accompaniments for Thai cuisine. 
Then try cooking with wine. It can help produce some fabulous meals. French and Italian dishes are particularly receptive to adding wine – think Coq au Vin or Spaghetti Bolognese. Wine is also good for poaching fruit and fish of all varieties.
See what you can find in your recipe books and have some fun… and feel free to pour yourself a glass while you cook, it's a simple pleasure and all part of the experience! I have a sign above my stove to remind me that:
"Wine is better with age, and I age better with wine!"
* Adapted from an article I wrote for COOK magazine, October 2013, and with thanks to Google images.