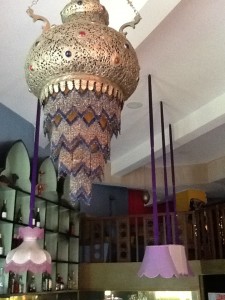 The Kasbah is an attractive Moroccan restaurant at the Strip in Fort Bonifacio, and also in Borocay, apparently. I have dined there on several occasions, for lunch, dinner and even as a supper theatre venue, with mixed results. This weekend we were invited to celebrate a friend's birthday, and it proved to be the best meal we had ever eaten there.
Stepping up to the broad, carved, wooden doors framed by Middle Eastern keyhole windows, we were greeted by smiling staff, who ushered us through to a bar bristling with bottles. At night time, the first thing you notice is the aesthetic décor.  There is a warm, relaxing ambience of exotic, sultry-coloured fabrics and Middle Eastern furniture: hanging glass lanterns and tasseled lampshades create a seductive, intimate mood; vibrant cushions are tossed over curvaceous chaises longs; electric blue and lime green floor tiles look like rugs on the wooden floorboards, and heavy wooden tables are huddled into nooks. There is also a lovely outdoor deck area, particularly enticing in the evening, to sit and smoke a fruity sheesha with friends.
We began the evening upstairs on the mezzanine floor, and it was like our own private dining room. Needing to squeeze one more person onto our table, we felt no compunction about re-arranging the furniture a little, and no one seemed to mind. Ice buckets were laden with a variety of BYO wines, and the waiters stood aside and gave us time to settle.
It is tapas style eating at the Kasbah, and I love to graze. Our bubbly hostess had chosen the set menu with plenty of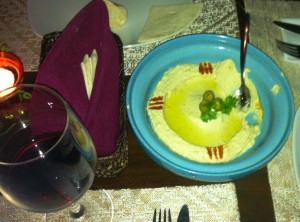 vegetarian options. The Kasbah has a poor reputation for rather sleepy service, but tonight the staff was prompt and efficient. With a homemade look to them that I really enjoyed, bowls of creamy, smooth hummus (chick peas and tahini), Zaalouk (a delectable smoky eggplant and tomato dip) and a roughly chopped salad of cucumber, coriander and cherry tomatoes arrived in rapid succession. These were served with warm pizza-slices of pita bread wrapped in cloth and tucked into small baskets, which was a really nice touch.
And then – so much tastier than the ones made with tobacco! – a platter of deliciously moreish 'Moroccan Cigars': filo pastry spring rolls filled with soft, mushy eggplant, zucchini and pistachio nuts to add a satisfying crunch, served with a light yoghurt sauce, a firm favourite with everyone at our table.
The somewhat oddly named 'brochette' (a French term for kebabs) reflect the history of this north African country, that has hobnobbed with France for centuries, and was a French protectorate in the first half of the twentieth century. Long skewers of tender, gently spiced fish, the brochette had a perfect, firm texture, and were definitely worth a second glance.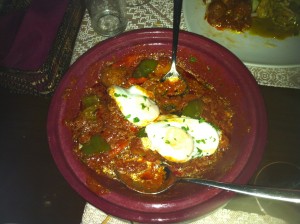 The Chicken Tagine or tajine is a dish named after the beautiful, glazed earthenware pots with chimney-like lids in which it duly arrived at the table, brimming with chicken and olives, potatoes and preserved lemon. To misquote Eloise "ooooo, I looooove preserved lemon!"
And finally, a platter of juicy lamb meatballs, Kefta Tagine, drenched in a rich, spicy tomato sauce.
Tables had been cleared and we had all begun to move about, visiting friends at different tables, when plates with morsels of baklava suddenly appeared before us. Manna from heaven – and courtesy of the Ottoman Empire –  these sticky, sweet pastries were thick with walnuts, pistachios and almond, held together with honey and a subtle splash of cardamom. Despite the sky-high levels of sweetness, I found my fingers creeping back for more.
The one problem with a restaurant party is that wine and convivial conversations can distract from the glory of the food, but the Kasbah did an amazing job of forcing us to focus on what we were eating, and for a little while at least, we talked only about the wonderful food… I only hope our gorgeous and garrulous hostess had time for a mouthful too! Happy Birthday!