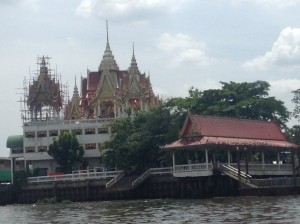 Bangkok – or Krung Thep, its Thai name – began as a small trading post on the west bank of the Chao Phraya River in the fifteenth century. Today, the capital city of Siam – now Thailand – has grown beyond belief, covering over 1,500 square kilometres of the Chao Phraya River delta, and supporting a population of over eight million: almost 13% of the country's population.  The city lights, as we fly in at midnight, stretch to distant horizons.
Landing at the vast new Suvarnabhumi airport, my memories of crawling, noisy traffic and constant activity are belied by empty streets and a ten minute gallop to our hotel. Luckily, while the streets are bare, the bars and restaurants are still humming. At 1am we smile upon a huge bowl of tom yum, thick with tender calamari, lemongrass and lime leaves, prawns and mushrooms, the spices creating a tongue biting heat only dimmed by a large bottle of cold Tiger beer… and I know I am back in Thailand…
It is almost twenty years since we lived in Bangkok, in the mid-1990s, and since then it seems that little has changed, except the taxis that glimmer like iridescent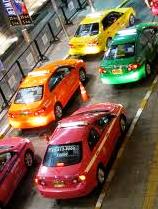 dragonflies, the sky train making road traffic a little lighter, and they have bulldozed my favourite shopping mall, Naraya Phand! Cranes, however, are still a prominent part of the skyline, motor cyclists will mow you down on the pavements – which are as cracked and lethal as ever for unwary pedestrians – the sois still flood after every tropical storm, and the khlongs, to quote Shakespeare, are 'the rankest compound of villainous smell that ever offended nostril.' Bangkok's rapid economic growth over the last fifty years has been undermined by inadequate infrastructure, lack of planning, suffocating air pollution and 'chronic, crippling traffic congestion.'
Nonetheless it is a city full of fascinating contrast. In Bangkok, slums squat clumsily beside glamorous five star hotels, up-market shopping malls are flanked by messy, chaotic street markets, eye-catching modern high-rises exist cheek-by-jowl with dazzling golden wats and palaces that reflect the grandeur of a glorious past. It is a twenty-first century Asian city, warts and all, smothered in concrete and billboards, yet somehow, indisputably, retaining its unique culture, its charm and exoticism, and its vibe!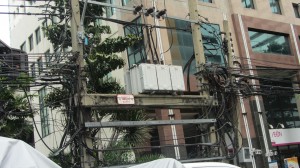 The next morning we clamber into tuk-tuks, breathing in those delectable petrol fumes and the arousing aroma of fetid drains, gawping at the knotted lengths of electricity cables, like varicose veins, winding sinuously above our heads, peering into the bumper-to-bumper street stalls wrapped in pink tarpaulins, shrieking 'whiplash!' as our driver jerks his mighty beast into a gap between two lorries …
Strolling past the Erewan Shrine on the corner of Rajdamri and Ploenchit, melting away like candles in the midday heat, we listen to the musicians thrumming their discordant notes on khim and lute, while the dancers, their hands bending and twisting at unnatural angles, dip their heads graciously beneath the weight of their high, conical head-dresses…
Later we sit on the terrace as the mid-afternoon downpour drowns out any hope of conversation and the thunder grumbles querulously, constantly, above our heads, spitefully spitting lightening shards into the clouds. We watch the soi fill with water like a bath tub – which we will have to wade through later to reach the shops…
We spend a day at the whim of a bossy tuk tuk driver, ducking between buses and weaving around the those iridescent pink taxis, to Jim Thompson's House. I used to bring guests here when the heat was so enervating we felt our eyelids perspiring
and our lungs struggled to breath the heavy, humid air, but the tourists were minimal, the value-added attractions non-existent and there was no newly built, air-conditioned restaurant and bar or over-priced gift shop. Today the courtyard is packed with tourists and the fish in the urn rise to the surface to have their heads scratched. We watch the weavers strip bright yellow silkworm cocoons on a tiny spindle as we wait in a queue for the next English tour, then dodge three other tour groups through the overcrowded museum that was once Jim Thompson's house, which he constructed from six old Thai teak houses just across the klong from where his Thai weavers worked on their looms.
Jim Thompson was an American architect who first came to Thailand during WWII. When he left the army he returned to Bangkok, where he became fascinated with the locally manufactured silk. He took samples back to the States and had soon established a thriving business in Thai silks, now recognized and adored around the world. Also an avid collector of SE Asian art, antiques and artifacts, Thompson's erstwhile home exhibits samples of Bencharong earthenware, blue and white Ming porcelain, Chinese garden stools, Cambodian carvings, Thai statues and Burmese furniture, Belgian chandeliers, and a dining table once used by King Rama V of Thailand.
Saying kop khun kah to our sweet, softly-spoken guide, we hopped aboard our waiting tuk tuks and headed down to the river for a ride along the Chao Praya River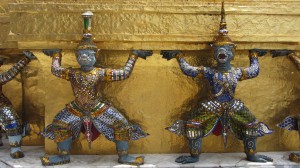 and through the khlongs, or canals, which always remind me how lucky I was to be born in Australia.  The poverty and grime eventually starts to catch in our throats, as we chug past garbage piled on the banks and the stilt houses lining these filthy waterways leaning crazily as the wooden stilts rot beneath the corrugated iron walls. High, spiked walls protect richer residents from the grislier sights, while the odd temple adds colour and welcome glamour to the scenery. We are mobbed by old women in canoes, who want to sell us tacky souvenirs that have not been updated since the eighties. The high point of the trip was seeing two huge lizards – water monitors – swimming past us within arm's reach, and clambering heavily onto the banks. We pass through the huge lock gates, built to protect the villages from flooding, and bounce back down the river on the frothing wake of the enormous rice barges and passenger ferries.
It's Friday night and we are heading out into the rush hour for dinner. Yet why would anyone sit on Sukhumvit in the notorious Bangkok traffic – it took our friends 3 ½ hours to get into town from the airport – when these days you can rise above – literally – to the sky train and swoop over the immobile cars in air conditioned splendour? The sky train, like a mighty aqueduct, is the main artery through the city, a tip of the cap to Roman invention. It's a great way to travel through central Bangkok. So we do…
Alighting at the corner of Sukhumvit and Asoke, we wander down Soi 14 to Suda,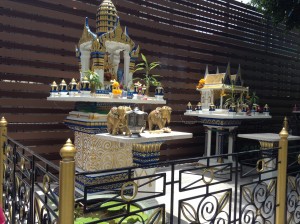 an open air, street café that would have had my friend Helen reaching for a monster bag of wipes, but for me it has a comfortable familiarity. Stray cats hover on the periphery as we sit down at a battered but sturdy 1950s Formica table wrapped in a plastic table cloth and decorated with pink melamine plates and a container of toilet paper for napkins. There are no frills, but the service is prompt and friendly, once you have learned to helicopter your arms about to catch someone's attention. It is a popular place for tourists: reliable, good quality street food at a good price. We drain eight bottles of water, and leave our host in charge of ordering, with a mild request for something green in the mix. He goes wild. To our original order of three appetizers – the requisite spring rolls and pandan chicken, and some delicious fish cakes – he enthusiastically adds: a huge dish of crab fried rice; a tasty chilli and basil chicken; satays; chicken and cashews; fabulous fried prawns and beans; a mild larb gai and a garlic-soaked dish of morning glory (a nod to my need for 'green'), all for the princely sum of 2000 pesos (or AUS$15 per head). Replete to bursting point, we head home in a psychedelic orange taxi…
…And we complete our visit with a blissful foot massage to sooth aching, shopping-weary feet. Surely that wasn't a whole hour? It felt like 10 minutes, I must have dozed off…
* With heartfelt thanks to John Reed and Fergus Gregori for their terrific photos, and to Google images for the psychedelic taxis!