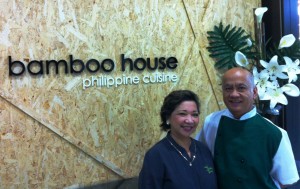 I have spent the past three years in the Philippines exploring the history and flavours of Filipino cuisine, so I was delighted to discover a Filipino restaurant in my own home town of Adelaide, in South Australia. Map book in hand – it was located in a corner of town I didn't know – I headed out to the north eastern suburb of Ingle Farm, to find the Bamboo House.
The only Filipino restaurant in South Australia, the Bamboo House is tucked into a busy corner of the local shopping mall. This now spacious restaurant began life in 1994 as a tiny 100 square metre café and grocery store. As I glanced into the display counter, I noticed many of the dishes were Chinese, but the menu was well endowed with Filipino favourites, and around the side of the counter I came upon a selection of popular Filipino snacks, including salted eggs, balut (now produced in Sydney) and a real buko pie.
Rosalie and Ramon Racela migrated to Australia in 1988: she a qualified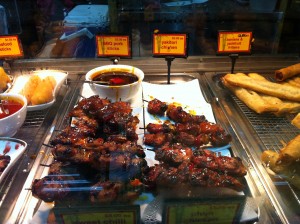 accountant; he a Mechanical Engineer.  They immediately began bridging courses to acquire recognition for their qualifications, but the pressures of work and family began to take their toll, and Ramon was soon bored with the process work he relied on to support his growing family. They decided to rethink their future. Ramon headed out to do a vocational cooking course, and on returning from a family funeral in the Philippines, they passed a vacant shop at their local mall. The rest is history.
Both Rosalie and Ramon knew the restaurant business through their respective families, and quickly displayed an instinctive knowledge for running one of their own. Rosalie's accounting background also came into play as she worked on feasibility studies and an effective business strategy.
Realizing there was not a single Filipino restaurant in Adelaide, they decided to provide some home cooking for local Filipino families, while introducing the Aussies to the unique flavours of Philippine cuisine. As the Filipino community at the time was very small, however, they decided to begin as a Chinese/Filipino restaurant.
Ramon's cooking course had provided a basic knowledge of Chinese cooking. The Filipino recipes came from his home kitchen in Ilocos Norte. Their first 'double' menu was originally 60-70% Chinese, but they had a long-term goal to reverse this in favour of their own Filipino food.
'We started from a single spoon and a single fork,' the diminutive, but energetic Rosalie tells me – and every new immigrant she meets – 'and everything was second hand.' Today it is a thriving business and a home-away-from-home for many migrant Filipinos, who throng to the restaurant for familiar flavours and advice on life in Australia from Rosalie, Adelaide's unofficial Filipina ambassador.
The first five years, however, were not so promising, and proved to be a challenging
time, especially when they threw a small daughter into the equation.  Rosalie was doing a bit of everything – cooking, cleaning, serving and book-keeping – but she knew they had to keep working to earn a living. Initially, the emphasis was on take-away and the small grocery of imported Filipino products, with just a few tables for eat-in clientele, but they always hoped to expand one day.
'Our daughter grew up in this restaurant' she says proudly, describing how Zarah would do her homework on Table 8 every afternoon, and help behind the counter in her spare time. Today Zarah is a fully-fledged Pharmacist who knows the value of working hard to secure a decent life. Watching her parents has been her inspiration, she said, at the opening of the recently renovated restaurant.
About five years ago, Adelaide had opened up to Filipino migration and word-of-mouth has helped to enlarge their clientele. 'Since we started the business, the local Filipino population has grown by about forty percent.'  The Racelas decided the time had come to expand, and started to explore their options. When the shop next door became available, Rosalie began negotiations with mall management.
Enlarging the Bamboo House meant hours of research and planning. There was
also a long search for an architect who understood what they wanted. When they finally found him, he listened to Rosalie's ideas and went off to prepare plans 'that were absolutely perfect the first time.' Their daughter got involved too, creating a photo board menu to hang above the counter, which has proved a really effective way of introducing Filipino dishes to their Australian customers.
The new store was designed to retain the original concept of a combined restaurant and grocery store, but this time they made the determined decision to cook primarily Filipino food, retaining a small selection of Chinese dishes for western clientele. 'I really wanted the ambience to be Filipino,' Rosalie explained.
Scanning the Filipino menu, I was thrilled to discover that it reflects many of the classic dishes I have enjoyed in the Philippines, and began explaining them to my family. We chose half a dozen dishes, before turning to the back of the menu to find, amongst other desserts,  halo halo, cassava cake and leche flan. A feast indeed!
The adobo had already sold out, but I ordered a soothing chicken tinola soup and a
wonderfully spicy goat caldereta. The kids loved the moreish bistik, the kari kari with its strong peanut flavour, and the perfectly crispy lechon kawali. My mother enjoyed the tasty rellenong bangus, fascinated to know how it was made, while I went back again and again to the laing, which Ramon makes from dried taro leaves that have been soaked for hours until they taste just like fresh ones. Each dish arrived, steaming hot, in  aluminium pots set over tea candles to keep them warm, and I suddenly realized how well these tropical Filipino comfort foods warm the stomach on a cold winter's day.
Rosalie explained that while they buy quality Australian meat and fresh fruit and vegetable from the local market, many ingredients are imported from the Philippines to ensure that the Filipino flavours are authentic. Fish, such as bangus, are unavailable in Adelaide, so they buy it frozen and ship it out from the Philippines.  And although they can access products such as canned sardines and canned tomatoes in Australia, Rosalie insists they taste different from the ones she grew up with in Romblon, so they too are imported, along with such items as dried taro leaves, noodles and bagoong. A bakery in Melbourne provides them with fresh Filipino breads.
As we were leaving, Ramon put in a brief appearance – it was lunchtime and he was busy in the kitchen – to pose proudly with his wife in front of the shop sign. I asked about the large trophies sitting on the open shelving between the grocery shelves and the restaurant. Apparently, there is even a local Filipino basketball league of twenty teams and the Bamboo House sponsors one of the teams, which has won the last two years in a row. A real taste of the Philippines in South Australia indeed!
*Adapted from an article first published in COOK magazine, Vol.4 No4. in the  Philippines.