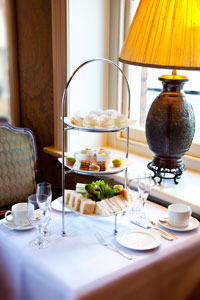 Anyone for scones?
Yes, I do realize it is starting to look as my life is nothing but clotted cream and champagne, but there you are, that's just the way it goes… for some! This tea was for a very special occasion, as the nine Shire Princesses I had hosted at the Shangri La, Makati last year were returning the favour, and had arranged afternoon tea at the Sir Stamford Hotel in Sydney, just above Circular Quay.
 So there I was, dragging my heavy suitcase from the bus depot at Central Station around the circle line to Circular Quay, where I caught an elevator and trudged up Macquarie Street to the red carpeted entrance of the hotel. Feeling decidedly hot and bothered, I was a little put out when no one rushed to greet me or help with my case, until I realized the entire staff was distracted by the Miss Universe competitors gathering in the lounge. Sparkling dresses in a rainbow of colours and styles hugged tall, narrow frames, topped off with billowing curls and ringlets. I felt suddenly understated, despite the twinkling tiara I had donned to meet up again with the princesses.
Still lugging my case, I found my way to the bar, and sank down, exhausted, onto a heavily cushioned sofa before an open fire. The Sir Stamford Bar was a haven of old-fashioned elegance:  large oil paintings and portraits hung on walls upholstered in smoky-blue and silvery-grey flock fabric. Deep tapestry sofas faced tall, narrow windows overlooking the botanic gardens. A modern take on the traditional Russian samovar stood in stately splendour beside the long, polished, dark wood bar. Lamp light gave the whole room a cozy ambience.
As I waited amongst pots of white orchids, I read the menu, which told the oft-repeated tale of the Duchess of Bedford and her social experiment to introduce merienda or afternoon tea to entertain her girlfriends and indulge in small talk at the family estate, Belvoir Castle, during the long gap between luncheon and dinner.
Just like the Duchess and her friends, the Princesses and I happily followed the request to 'indulge in a timeless tradition,' as we took our places at the table for an hour or two of girly chit chat. I was somewhat bemused by a midday 'high tea,' but as I had come off a three hour bus trip from Canberra and hauled a heavy suitcase across Sydney, I was not about to complain when the three-tiered tea tray that arrived in time for lunch. Our waiter was full of old-fashioned courtesy, like the family butler, and suggested in polite and unhurried fashion that we might like a glass of champagne while we waited for the tea to arrive. The idea was greeted with alacrity.
There were various options for tea listed on the menu:  Traditional High Tea; a Deluxe Devonshire, and even a special high tea for children with 'a fluffy homemade scone… mini desserts and traditional finger sandwiches served with a glass of juice or hot chocolate', but the princesses had already ordered the 'Elegance High Tea, with all the usual delicacies, as well as a flute (or two) of Moet & Chandon. I simply sat back and prepared to be gastronomically pampered.
Too often I find the savoury options are overshadowed by the sweeter offerings, but much to my delight this was not the case today: fresh ham and Dijon mustard sandwiches; a delicate slice of smoked salmon rolled in caviar and horseradish on a baguette slice; a roast chicken and tomato roulade; the deliciously famous Stamford curry puff; minced pastrami with tomato salsa in a pastry cup, and Mediterranean roast vegetables served on an oatcake spread with goat's cheese that I saved to the end. It was undoubtedly my  favourite and left me utterly satiated (that's a polite term for 'stuffed!'). I would have been perfectly happy to finish there, but of course, one feels obliged to taste the cakes, too.
The macaron – no "double-o" apparently – is a melt-in-the-mouth French confection of eggs, ground almonds and icing sugar, in a wide range of flavours and filled with ganache or buttercream. The name comes from the Italian word for meringue, macaroni, and is often mistakenly spelled macaroon, which is, in fact, a small snowball of egg whites, almonds and coconut my mother used to make on baking paper that would add a certain gluey chewiness to the finished product. Our macarons were much more élégante and there was fortunately no sign of baking paper .
A chocolate mousse slice filled with caramel on ginger bread was far too rich for me, but the royal ladies loved it. I found a little room for the strawberry and vanilla financier (a rich almond cake, traditionally baked in the shape of a gold bar), and the  'blue velvet': a white chocolate mound with a jammy, blueberry centre, but as always I preferred the light, fluffy scones served with whipped King Island double cream and jam. and these were the best I have tasted in a long time. To complete the banquet there was, of course, a choice of teas or coffee.
I will refrain from complaining yet again about the difference between high tea and afternoon tea, as 'High Tea' appears to have crept indelibly into the vernacular. So be it. I admit defeat, albeit ungraciously. Anyway, whatever you want to call it, Afternoon or High, it creates the perfect excuse for An Occasion or A Girly Gathering, complete with the sort of treats few of us would bother to prepare at home…not to mention the sheer indulgence of Moet in the early afternoon. And my sincerest thanks to the Princesses for a deeply decadent afternoon…
 Photo borrowed from http://www.stamford.com.au/ with thanks.
Click here to

Reply

or

Forward
24% full
Using 2.5 GB of your 10.1 GB
Last account activity: 17 hours ago
Details