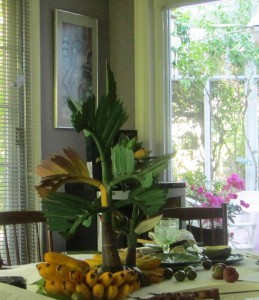 Since I arrived in the Philippines almost two and a half years ago, finding someone to teach me Filipino cooking has been like an endless game of hunt-the-thimble, but I have finally found the treasure: an everyday Filipino cooking class with Frieda. And please note it was one of the best cooking classes I have ever attended. Frieda presented us with recipes for half a dozen dishes and proceeded to make it look like a piece of cake to recreate them.
We were welcomed with a glass of cold, refreshing calamansi juice, the Filipino version of homemade lemonade, before we gathered round the stove to watch Frieda prepare a simple feast of traditional Filipino dishes: pork barbecue skewers, chicken tinola soup, chicken adobo with rice, fried lumpia and a fruit platter with a delicious mango dip. Every dish delighted our taste buds and we learned a few useful cooking tips , as well as getting a lesson on tropical fruits, many of which we hadn't seen before.
Frieda has a real skill for entertaining cooking and we laughed as we learned. Each recipe was an interesting mix of traditional cuisine and modern convenience. The pork skewers – a fiesta favourite – were marinated in the ever-present soy sauce with a can of lemonade to combine sweet, sour and salty in one fell swoop. And I really appreciated the tip to pre-bake the pork before grilling on the barbecue to avoid burning the meat. In fact, we learned that the skewers can actually be baked from start to finish, and you need never turn on the grill at all. As I do not have a barbecue on the thirty second floor, but only a petulant oven with dubious grilling skills, I was much cheered by this alternative.
Chicken Tinola, the national soup, also seemed remarkably straightforward in Frieda's capable hands. A basic chicken broth flavoured with ginger to which she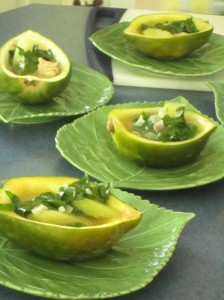 added green papaya that looked like sliced apple. It seemed a peculiar choice with its rubbery texture and uneventful taste, and yet, cooked in the chicken broth it softened and soaked up the chicken flavours beautifully – more effectively even than potatoes, as it maintained a firmer texture. Replacing the more traditional malunggay and chili leaves with spinach, Frieda tossed in a handful at the last minute for a splash of colour. Served up in the scooped out skins of the papaya, the soup looked really pretty and fresh and tasted light and soothing on a hot day.  Chicken Tinola soup is a traditional comfort food that many Filipinos grew up on, and it is also well-known as a restorative.
The fried lumpia is the Filipino version of a south eastern Chinese egg roll. A filling of pre-cooked minced (ground) pork, cabbage, onions and carrots is bundled up neatly in a lumpia wrap (like a small crepe), and fried until golden brown. It would be the perfect finger food for a drinks party, served with sweet chili sauce or a thick, sweet sauce.
And at last, we watched Frieda create a wonderful chicken adobo. Local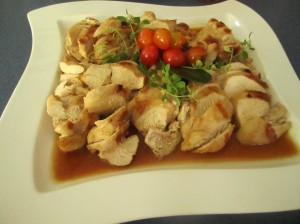 restaurants tend to chop up a whole chicken, tossing in bone and greasy skin willy-nilly, which might add to the flavour, but does nothing for the texture as you pick splintered bones from between your teeth. Frieda used boneless chicken thighs, which are far more flavoursome than the breast, covering them in a marinade of peppercorns, garlic, vinegar and soy sauce. The chicken was then simmered briefly in water, before being lightly sautéed in garlic. Finally Frieda sliced up the chicken and served it in the deglazed marinade, adding a final, delicious caramelized flavour that had us all tripping back surreptitiously for seconds.
Our dessert was simple, easy and effective: a beautifully arranged platter of tropical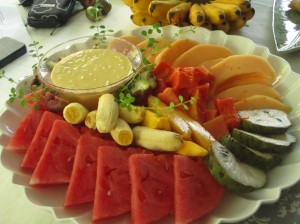 fruits, served with a quick and creamy mango dip:  fresh mango whipped up with cream cheese, sugar and vanilla.  Watermelon and ripe red papaya, mango and melon, senorita (lady finger) bananas and small, crispy rose apples… and soursops: large, green tropical fruits with soft spines and shiny black seeds, and a custard-like, fibrous creamy centre that tastes like over-ripe bananas or pineapple.
Inspired and enlightened, I am now going to burrow amongst my recipe books for more Filipino recipes. Here's hoping it is all as easy as Frieda made it look!
*With thanks to Elise for her lovely photos – I was obviously too busy eating!