'Eating is, or should be, one of life's great pleasures,' says food writer Angela Crocombe.  Filipinos agree. In the Philippines, eating is a communal, convivial pastime.
In the provinces, regional cuisines have been influenced by hundreds of years of Chinese, Spanish and American colonization and trade, while maintaining their Filipino essence.  Metro Manila is a different scenario. Home to myriad cafés, bars and restaurants, nobody is ever more than two steps away from the next mouthful. The streets are packed with international restaurant chains; the supermarket shelves are stacked with largely imported produce. It is a city gone mad on processed junk food and the term globalization is a daunting reality. An example of where priorities lie? Dial 911 for pizza!
Amy Besa, Filipina food historian and co-owner of New York restaurant Purple Yam, is determined not to lose the old traditions and recipes.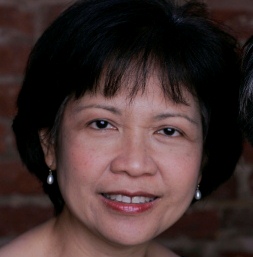 Our true palate …has been eroded during the last two decades of fast food and MSG-laden packaged mixes… Filipino food is getting commercial and artificial. The Filipino food landscape is vibrant.  We do not want to lose its value to commercially produced flavoring pastes and powders, mass produced traditional foods and other … convenience products.
Her book 'Memories of Philippine Kitchens' has been my bible on the road to understanding Philippine cuisine, and Amy Besa has all the vibrant fanaticism of a prophet.
Crocombe remains positive:
In recent years there has been a heartening rise in international movements that endorse traditional methods of small-scale [and] focus on the importance of eating fresh, local foods.
This global trend has spread to the Philippines, where there is a new urban food trend happening – a shift away from imported, processed food and back to regional, organic produce. A growing number of local chefs, often with overseas experience, have been trying to choreograph a cultural change in the Philippines by teaching the gospel of quality organic produce and encouraging national pride in regional Filipino cuisine.
Part of the process has been to draw in an increasing number of regional, entrepreneurial farmers to grow quality, organic produce and help them put the heart, health and sense of community back into Philippine cuisine.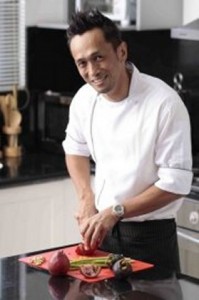 A third generation chef from Pampanga, Chef Sau del Rosario is a passionate advocate for sustainable, organic ingredients and regional cuisine. His interest began over 20 years ago. Back then, he says, it was almost impossible to source organic produce. Now it is gradually becoming main stream.
Chef Sau fervently believes that organic is not a trend, it is a choice, and the direction in which everyone is heading. His inner city menus, his sideline as the signature chef with TourFlair (a food safari that promotes regional Filipino cuisine) and his growing clout as a TV celebrity chef are all helping to spread the word.
Local chef and Slow Food advocate Sandralyn Hataway outlines the need to educate consumers as a critical part of changing consumption patterns. She is determined to teach Filipinos to be more than wannabe Americans and is a firm believer in the theory 'eat who you are'.
Her menus reflect this, in her use of fresh local produce rather than imported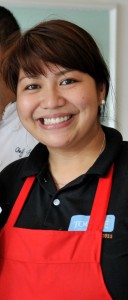 ingredients, which she claims, change the flavour of traditional dishes. On the wall of her last restaurant Tourné, Chef Sandra painted the words of iconic American restaurateur Alice Waters in eye-catching colours:
If you have the best and tastiest ingredients, you can cook very simply and the food will be extraordinary because it tastes like what it is.
In 2010 Chef Sau and his partner Pacita (Chit) Juan opened Le Bistro Vert in Makati City, a restaurant espousing the benefits of organic food. Chef Sau sourced many ingredients from local farmers and producers, with the underlying intention of educating their clients about sustainable, organic produce. In a recent interview for the Manila Bulletin Sau del Rosario stated:
People are becoming more aware about the food they eat. With a little more education, and dissemination of information, we will get there.
Other chefs and restaurateurs across Metro Manila are become noticeably more tuned in to healthy eating and marketing their menus with trendy catch phrases like 'organic,' 'anti-oxidants' and 'pro-biotic' (a dietary supplement containing beneficial live bacteria) that can make a meal feel more like a science experiment.
However, Makati newcomer Sugarleaf is managing to combine taste, health and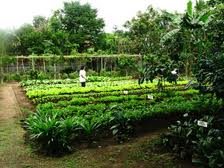 education. Strategically located at the crossroads of Paseo de Roxas and Buendia, above the MEDICard Lifestyle Center, the Sugarleaf menu claims to address your nutritional and energy requirements, as well as those grumbling tummies. The menu is full of light, healthy dishes, fresh and beautifully displayed, if sometimes inclined to overdose on lettuce, and skimp on flavour. It is certainly something different from the usual Filipino spread of high cholesterol local food with its heavy emphasis on the carnivorous.
Chef Tatung is renowned as the chef who uses local, sustainable ingredients to make world-class fusion and regional dishes for his eponymous restaurant in Taguig and it seems customers are thrilled with this distinctly Filipino cuisine. Chef Tatung calls it 'Filipino with a twist, but without taking away the essence and familiarity of the flavors.'
Chef Robby Goco is another Filipino chef on a mission. Executive Chef and owner of Greek chain Cyma and Mexican restaurant Achiote, amongst others, Chef Robby has organized his local suppliers to provide top quality produce to all his restaurants, and has joined forces with other local restaurateurs to ensure the farmers have a strong customer base. The consequent quality of the menu is remarkable.
It can be extremely difficult to get such innovative projects up and running in the Philippines, due to the lack of standardization, quality control and regulation enforcement. Chef Sandra also notes the lack of understanding, amongst small-scale producers for the term 'organic'. She tells a story about visiting a regional market where one stall holder had painted a sign proclaiming that his pork was organic. When asked what he meant by organic, the man replied proudly, 'It's oven-baked ma'am'.
This amusing anecdote illustrates a problem recognized by many restaurateurs who say many farmers and consumers still fail to understand what 'organic' means. It is 'a flexible terminology in the Philippines,' says Chef Sau, but he also believes it is simply a case of educating producers to protect consumers from misrepresentation.
When he and partner Chit Juan first opened Le Bistro Vert in Salcedo, they faced the problem of sourcing truly organic produce. So they set up a small farm in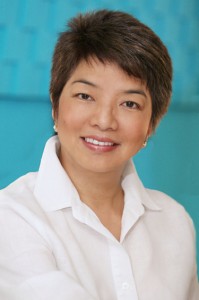 Cavite. The organic produce they grew supplied the restaurant, and also began to be sourced by friends. As more friends inquired, serial entrepreneur, Chit Juan, recognized the opportunity to expand into fresh produce.
Her latest venture, Echostore, is a retail outlet and café on Serendra Plaza espousing sustainable living, with organic produce sourced from small rural communities. She now has suppliers from all over the Philippines. Her entrepreneurial attitude has even inspired some of them to develop new initiatives. One tomato farmer, for example, was encouraged to invest in a solar drier to save excess tomatoes from rotting, and she now provides Echostore with a regular supply of sundried tomatoes.
Chit Juan believes that small producers are shaping the future with the aid of entrepreneurs like her. 'It is not a trend, but a growing consciousness,' she affirms. 'People are getting behind the cause, and word of mouth is very strong in the Philippines'.
And, as Chef Sandra says optimistically, 'It has to start somewhere!'
*An extended version of this paper was presented at the 2nd Australasian Regional Food Networks & Cultures Conference, Barossa Valley, South Australia, November 11-14, 2012, and also in the April issue of Inklings Magazine.