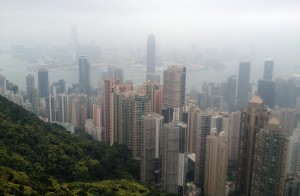 Hong Kong: tower blocks rising in stately splendour around the harbour as if reaching for the clouds, bedecked in brightly coloured light displays that have us craning backwards to gawp through the rear window of the taxi, mouths wide open like kids in a sweet shop; mammoth tankers cruising across the harbour, dark shadows on the water, while rows of enormous cranes cluster in orderly fashion along the wharfs, looking like some futuristic movie set; immense suspension bridges that would dwarf my beloved Sydney Harbour Bridge, and looming over all, the dark, peaked, green mountains.
We take taxis, just because we can, and it's a great way to see the city. Swooping between sea and jungle coated hills, we tear down motorways at an exhilarating pace. It is like a roller coaster ride, rocketing from one side of the taxi to the other, despite seat belts. A long, well lit tunnel races under Victoria Bay and the roads sweep and dip around buildings until my sense of direction is as confused as knotted wool. Narrow double decker trams that look like the Knight Bus in Harry Potter squeezing between the cars on Westminster Bridge, so skinny they might get blown sideways by a stiff wind. Double decker buses career past us on the bend – it seems no one drives slowly in Hong Kong – and we find ourselves gasping in expectation of disaster more often than we do in Manila. Yet we love every nerve racking minute, and our taxi driver is delighted with our enthusiasm for his city, and wishes us a wonderful stay, as we finally skid breathlessly to a halt in front of our hotel.
We have come to Hong Kong for a mere forty eight hours of fun. It is my sister-in-law's birthday and we are celebrating in style. Two nights in Hong Kong, we explained to my One & Only, 'just because we can'. It becomes the catch phrase of our stay. Let's take a taxi… just because we can! Let's get room service… just because we can! Afternoon tea at the Mandarin Oriental? Certainly… just because we can!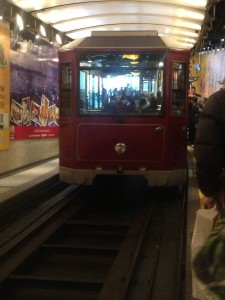 An unexpected sleep-in sends us scuttling off to the Peak much later than we had intended, but what the heck, breakfast 1200 metres above sea level will be fun! The small red train grinding up the mountain at a 60 degree angle is breath-taking – quite literally breath-taking on the way down, as we plunge down the mountainside – and eventually the cloud cover disperses so we can admire the view across this amazing, modern city. As we find a tiny corner table for coffee and a muffin, I comment to the waiter about the wonderful view. "Well it would be a darn sight better if the lazy buggers had cleaned the windows properly," he says scathingly. (OK, I don't think he actually said 'buggers' but that was the tone and the sentiment of it!)
We wander up and down the different levels of the Peak Mall, scaling escalators to admire the misty view from the roof top, meandering out onto the plaza to see the original peak train and a different view to the…umm… south? Descending – stomach lurching sickeningly – back down the mountain, we dip into designer stores, to try on jewels and dresses and shoes along the steep streets of the Mid-levels, loving the novelty of the escalators to drift up the hillside with minimum effort. And isn't it fun to watch the world going past as you are carried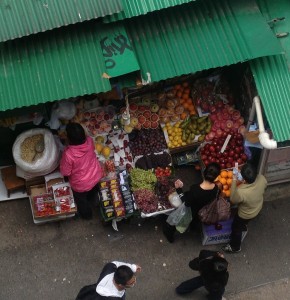 effortlessly uphill? We lean over the railing to see a street market below, and descend at an impetuous rate to walk past open air butchers, green grocers and florists. Sadly, little English is spoken here, so it proves impossible to discover the names of unknown flowers, greens or root vegetables, but we soak up the atmosphere, and sniff at the appetizing aromas wafting through the doors of the tiny noodle shops.
Awkwardly squished between the Chinese signs, grocery stores and cafés is the proof of a truly cosmopolitan city: a shop selling Italian olive oils and vinegars; a Lebanese cafe; an Indian fashion store full of multi-coloured fabrics and dangling earrings; a Thai restaurant; a British boutique… and at the bottom of the hill, Cartier and Porsche, and every other luxury designer you can imagine. We eat noodles and dumplings in a lime green booth on a tiny side street, and sip Singapore Slings at a five star hotel. Three piece suits mingle with barrow boys.
The sun goes down and we head across Victoria Bay on a ferry costing next-to-nothing, the only blonds on deck, to get a fabulous view of Hong Kong's lights from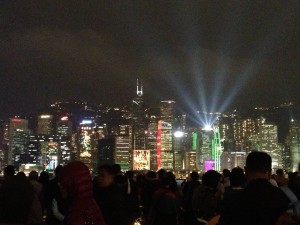 the water. The trip is over too quickly and we find ourselves rocking manically beside the quay in Kowloon. Staggering off, we find ourselves in a bus station with no idea where we are or where to go. At a convenient tourist information centre we are welcomed by a smiling lady who tries not to laugh at our ignorance as she waves us up the road to the boulevard where hundreds of people have already gathered quietly to watch the lights.
The evening is pleasantly cool, as we wait on the plaza overlooking the water. A group of tourists is singing somewhere in the park below. Cameras and phones in every hand work overtime to make movies and memories, as coloured lights pour like waterfalls down the side of the buildings, and green laser beams pin prick the clouds, all dancing in time to the music.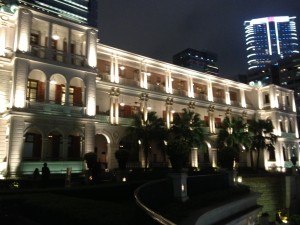 After this impressive display of modern technology we wander up the road to a piazza in Tsim-Sha-Tsui full of designer shops – Cartier, Tiffanys – that looks like Rodeo Drive. Up two flights of escalators is Hullett House, the former Marine Police Barracks that reminds us of some colonial Mississippi mansion. Dating from 1851, this heritage hotel also houses a number of restaurants and bars, including the Stables Grill.
Here, in the back corner of the hotel buildings, looking along the colonnade and side garden, we order the best pizzas we have ever eaten. Mine is mysteriously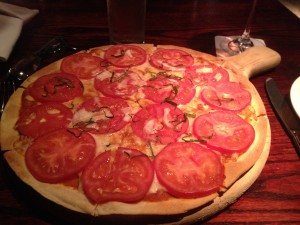 named Berenjena, a delightfully thin, crispy base topped with grilled bell peppers, olives, pesto and marinated eggplant. My sister-in-law orders a Margarita, and I am a little scathing about plebeian tastes – until it arrives. The same thin base is topped with cartwheel sized slices of fresh, sweet tomato, mozzarella and fresh basil. Unfortunately she cannot eat it all and needs my (greedy) assistance to clean the plate! The rosé is delicate and light, the service warm, the atmosphere cosy, with dark wooden planks quilting the walls, apparently salvaged from the decks of an old Chinese ship.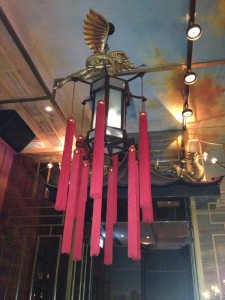 We are relaxed and blissful, and finish up floating to the front of the hotel, to sit precariously at a long, Pawn shop style bar with back lighting that makes all the bottles glow, gazing at a room full of art deco screens and European and Chinese dragons. There, the barman pours last drinks and tells us a useful piece of trivia: European dragons have wings, Chinese dragons do not.
It is a whirlwind, fairytale trip indeed, and just because we can…
*With thanks again to my sister-in-law for sharing her photos.