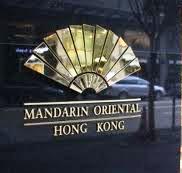 I know you have been to afternoon tea with me many times before, but not in Hong Kong. Yet. As a former British colony, one would expect a more polished job here than most other cities outside the UK, and indeed, the Mandarin Oriental puts on a splendid afternoon tea. We were greeted at the top of the stairs, and led to a table for two, with promises of service within 20 minutes – afternoon tea began at 3pm and we were early, apparently. So we waited patiently and in the meantime visited the comfort room to primp a little before following in the footsteps of the Duchess of Bedford.
According to our menu, Anna, The Duchess of Bedford had decided that 'eight hours was more than one woman should reasonably expect to wait for dinner and instructed her butler to bring tea, bread and butter to her drawing room at five o'clock.' And so a new social institution for the opulent aristocracy was born.

We were in the mood to enjoy a little opulence, and enjoy it we did. Our very sweet and smiley Chinese waiter was happy for us to start with cocktails (a Singapore Sling and a champagne cocktail, in shades of 'blush and bashful'). As we nibbled on
amuse bouche
, we practiced talking 'fashion and slander,' wreathed in the sparkling light of crystal chandeliers dripping icily above our heads and bejewelled in our glorious new
Swarovski
crystal earrings… but please don't draw attention to the Converse on my feet, we had been walking all day. We laughed a lot too, loud enough to scare off one delicate little Chinese lady who had ill-advisedly sat down at the next table.
Apparently English society hostesses would compete to own the best tea services and to serve the most elaborate teas. At the Oriental, they maintain this tradition. Our table was soon crowded with teatime paraphernalia: 2 silver tea pots, another for hot water, 2 cups and saucers, 2 glasses of warm water, 2 cocktails, a sugar bowl, silver salt and pepper shakers, an orchid in a small, square glass vase, a basket of scones and 2 silver dishes of jam and clotted cream, and of course, the pièce de resistance, the three-tiered tea tray.

So what decadent delicacies were laid before us? Both of us being more inclined to savoury, we were thrilled to see a good array of these, where other hotels offer largely cakes, chocolates and sweet patisseries. The top layer was filled with sandwiches: a tiny brioche filled with
foie gras
terrine (I
love, love , love
foie gras!); an open sandwich topped with coronation chicken and mango (a blast from the past); classic smoked salmon and sour cream crustless sandwich fingers and the same again filled with York ham and mustard (delightfully, deliciously simple). The menu also mentioned egg and cucumber sandwiches, instead we were served an interesting deconstruction of creamed egg wrapped in a wafer thin slice of cucumber.
The second layer offered a  light, melt-in-the-mouth bacon quiche and a 'corn fed' chicken vol au vent (of course we knew it had been corn fed from the first bite, and her name was obviously Mabel). We never quite worked out what the gougère was exactly, but I will Google when I get home and let you know. (NB: a gougère in French cuisine, is a lightly baked savory choux pastry mixed with cheese).
By this stage my cocktail was long gone and I was ready for tea. There was a wide selection of teas and the names and descriptions were poetically inspired. I can't remember the whole poem, but the last line describing my Taste of the Legend tea warned me that 'notes of citrus tease the palate'. And indeed they did!

While the tea tray had contained a selection of small
amuse bouche
, the scones were hefty, heavy and warm, studded with raisins and dusted generously in flour. We were given rose petal jam, which was an interesting flavour, but a little like eating potpourri, so I asked for a dish of blackberry jam as well. This was perfect and pure nostalgia, as I drifted back to my childhood of picking blackberries from wild blackberry bushes and creating jars of jam for friends and neighbours. However, after two such large scones, slathered in lashings of jam and clotted cream, neither of us felt up to the challenge of cheese cake, chocolate mousse cake or coffee eclairs, but we dipped our forks for a tiny taste, to be sure we had tried everything. Sated and sleepy, we headed home for a short siesta before travelling on to Kowloon…
*with thanks to my sister-in-law for sharing her photographs!