The Brett Tolhurst story began in the South Australian Riverland, where there is a strong family tradition of wine-making.  Brett, however, chose to break the mould to study Finance. He started out in business development in Hong Kong in the early 1990s, before moving to Manila, where he eventually returned to his roots by joining the Wine Warehouse, wholesaling wines to restaurants and hotels. Planning to stay only a couple of years, work kept him here until now, eighteen years later, he is firmly established in the Philippines with his family.
Today, Brett is owner of The Wine Depot, a leading wine importer, retailer and distributor of wines in Metro Manila, with outlets in Makati, Greenhills, and Alabang.  He set up the store eight years ago, and it has allowed him to reaffirm his Australian links. He is proud to say the products from Australia are better than most. Brett is first and foremost a business man (with the emphasis on 'busy'!) and a hard man to pin down for an interview, but I eventually made a mad dash back from Tagaytay to catch him as the rush hour hit Makati.
Polite and gently spoken, Brett initially struck me as a rather private person, and I wondered how forthcoming he would be. I soon discovered him to be surprisingly easy and comfortable to converse with: friendly; welcoming, and always smiling.

We met at the back of the wine store in Nicaragua Garcia Street, Makati, where there is a small, open kitchen and an L-shaped dining area. The place is simply decorated, with bench seats and rough concrete floors. On one wall is a large white board where visiting winemakers have left messages in black markers. On another, a large blackboard lists the menu, while a smaller one provides information about available wines. There is also plenty of light coming through the windows from the courtyard at the back, where we once enjoyed an alfresco wine dinner on a cool March evening. This space can be hired for private functions.
Each of the three Wine Depot outlets has a restaurant. Originally called Purple Feet  – 'you get purple feet from stomping grapes,' he told me, smiling broadly in response to my query – they are now known simply as The Café at the Depot. Monette Atilano, in charge of Marketing & Communications, explained that the business started with wine, and that the café 'grew organically' out of a love for wine. The restaurants have recently had a make-over and the menu has become simpler and more focused.
'We wanted a place where people who enjoy [the wine and food] we sell can stay and eat. The café is a showcase of all the things we offer in store – from wines to steaks to cheeses – as you can see in the menu which makes use of all these as ingredients. It's a very casual place. That's why we don't even feel the need to call it anything,' she said.
All three outlets have a delicatessen selling imported goods from around the world: meat and cheese from Australia; cheeses and dry goods from France, Spain and Italy, and snacks and condiments from everywhere! The homemade bread is a European style – with no sugar.  I asked if the local clientele appreciate this, and he nodded, saying 70% of his custom is local, and the bread sells. He also supplies many of Manila's top hotels and restaurants with Vittorio's, Australia's premier coffee.
Brett has a policy in his restaurants that there will be no corkage and no big price mark up on food. So you can choose your wine from the shelves and take it to your table for the retail price. For lunch or dinner, if you don't see anything you want on the menu, choose anything from the fridge that takes your fancy, and the chef will cook it to your specifications. This is an innovative method of running a restaurant, known aptly as 'freestyle'.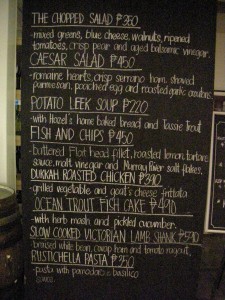 As every customer eating anywhere in Manila will have discovered – and Brett agreed – consistency can be problematic, and he admitted that the core competence is reduced when the owner is not there. I have to say, my personal experiences at the Wine Depot have been a bit hit-and-miss. That said, we have enjoyed some delicious meals that keep me coming back for more: I love the Wagyu burgers and the cheese platters. And the chopped salad, with walnuts, pear and blue cheese and a superb balsamic dressing is one of the best I have eaten in Manila. Of course there is always an excellent range of wines to accompany your meal!
The Wine Depot has an extensive list that, according to his website, includes around 500 notable and award-winning wine brands from all the major wine making countries in the world, both old and new world, including Australia, France, Chile, South Africa, New Zealand and the USA.  It is also the exclusive distributor for Constellation brands, the biggest wine group in the world.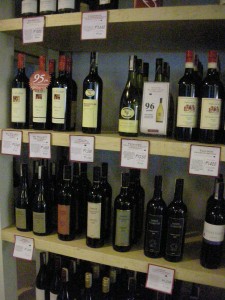 Eager to keep customers interested, Brett has introduced The Toast Club that brings together wine and food enthusiasts for events like the recent winemakers dinner at the New World Hotel, a successful and sociable way to market his products and build brand awareness in the Philippines. And the club now has more than 7,000 members.
Monette explained that 'there are no membership fees because we want people who are not necessarily "wine experts" to be able to enjoy and appreciate wine without the pretension or intimidation.' Monthly member's tastings and workshops are conducted free of charge, and weekly newsletters inform wine lovers about the latest events, promotions, best sellers and awards.
Call 889 4889 for more information or visit www.winedepot.com.ph
*This article is adapted from one published in the ANZA magazine, January/February 2013.