"Strange to see how a good dinner and feasting reconciles everybody."         ~Samuel Pepys
Christmas is a time for feasting, and there has certainly been plenty this year, as we have wined and dined on a daily basis with those of our large Manila expat 'family' who have chosen to stay in a strangely subdued Metro Manila for the Christmas season.
It is also a time for reminiscing, and one memory that has recurred this week is the ghost of cold Christmases past, as we sit in tropical heat by the resort style pool, and cringe at cooking turkey in a steaming kitchen… which inevitably leads to memories of comfort food and country pubs during our years in England.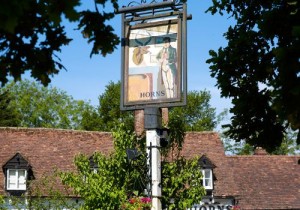 Country pubs are an integral part of British country life that we have sorely missed since we  moved on almost eight years ago. So, whenever we pop over for a visit, a pub meal is high on our list of 'must dos'.
The  public house or inn was the original modern day motel, and its history can be traced back to Roman taverns and Anglo-Saxon alehouses. For country folk, the 'local' was often the focal point of traditional village life. Twenty-odd years ago we walked across northern England on a pub diet of chicken and chips, sausages and chips, and egg and chips a la Shirley Valentine. Today many pubs have moved on from the beer and bar snacks in dim, smoky bars to gastro pubs with trendy gourmetdining and chic interior design.
Once a place for 'Adults Only', the British pub has become much more accommodating over the last thirty years. Kids no longer get left in the car park, lounging in the back of the car in their pyjamas, burping lemonade and spraying packets of Walkers crisps at each other, while Mum and Dad enjoy a 'swifty' at the bar with their friends. These days the whole family is welcome, including the family dog, and the atmosphere is relaxed and far less smoke-laden than it used to be, thank goodness.
 The Horns at Bull's Green, Datchworth sits on the edge of the village green at the crossroads of two quiet country lanes on the edge of Tewin Woods. It is said to have been built in 1543. To an antipodean, whose home state is not even two hundred years old, half a millennium is like ancient history.
This appealingly quaint old weatherboard inn is strung with climbing roses and embroidered with baskets of petunias. Inside you will find all sorts of antiquated delights: a broad wooden bar, rubbed smooth as silk by centuries of woollen-clad elbows; thick wooden doors made for Hobbits; sixteenth century wooden beams, supporting a surprisingly high arched ceiling that has been draped in hops or wheat sheafs or some such; an inglenook fireplace that whispers of Cinderella amongst the cinders, and a dartboard, into which fewer darts have been struck than into the surrounding wall.
 The atmosphere is convivial, and above the front door is inscribed the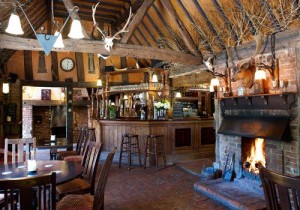 message: 'alcohol is good for preserving everything – except perhaps secrets!' The resident ghost, however, is no secret: his tale is printed on the menu and painted on a wall in the saloon bar. Apparently, so the story goes, Walter Clibbon was a notorious highwayman who terrorized the neighborhood in the eighteenth century. He was finally killed by one of his irate victims in 1782, and his body was laid out in the saloon bar at the Horns while the exultant . villagers celebrated his demise in the next room.
 Over the centuries, The Horns has played many roles in village life. As well as its renowned cameo performance as a mortuary, it has also been a farmhouse, a stable and an auction room. Now it is a cozy, friendly tavern in which the locals to gather, with a warm welcome for strangers.
 I wandered in around six on a bright summer evening, the sole adult in a pack of teenagers. We set ourselves up around a wobbly, wooden, picnic table on a lawn  fringed with flowerbeds of foxgloves and tulips, roses and daisies, sipping on lemonade or cider, depending on our tastes and ages, and perusing a menu full of nostalgic pub favourites.
 Dinner arrived as the temperature started to drop, so we carried our plates into the bar. A busy Saturday night, we found the main bar was packed, and every table reserved. So we sidled into the saloon bar, which we  had to share with the Wimbledon players competing on the telly. All was hushed, as ham and eggs, steak and chips and the Horns 8oz beef burgers disappeared, uninterrupted by conversation, down hungry throats.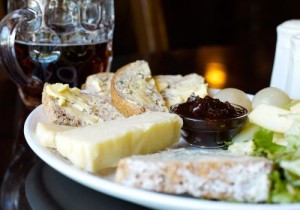 The Horns has created a traditional, but modern, pub menu. Traditional in content, modern in language, that is: no longer tinned soup with bread and butter, but 'homemade soup with crusty bread'; no more plain fish and chips but 'hand-battered haddock and chips'; no old-fashioned Ploughmans, but a 'Cheese Platter with Cropwell Bishop's Stilton, Somerset Brie and Old Shire Cheddar' and crusty bread. Simple old sausages and mash? Heaven forbid! Sample instead the Gareth's Butchers Oaklands sausages with creamy mash, peas and gravy'. I'm not sure the expanded descriptions really improved the taste, but it certainly made the old favourites sound more sophisticated. And the fact that all the ingredients were locally sourced was pleasing.
 The dessert menu was less high falutin', full of typical English puddings such as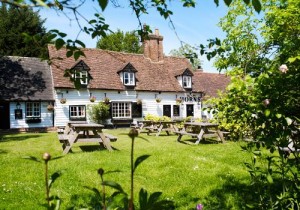 lemon tart, treacle tart, fruit crumble and custard. Back in the garden, in the softening twilight, I ignored the evening chill and sipped on my coffee. At the next table, the girls shared a chocolate fudge cake drowning in chocolate sauce, while the boys played footie with a thong – sorry, a flip flop or slipper – around the village green. Gentle voices from nearby tables mingled with the muted chirping of birds preparing for bed, and the scent of roses wafted gently through the air. Life is good in this best of all possible worlds.
* Adapted from an article written for the British Womens 'Association in Manila and with thanks to The Horns website for the photos, as I had forgotten my camera!