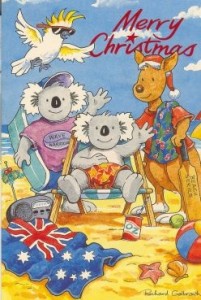 My first morning back in Australia I woke up to the feel of a warm breeze on my skin, the sound of magpies warbling, the scent of eucalyptus on the air and the sight of the hazy purple of jacaranda flowers smudging the skyline. And I suddenly realized that engaging all the senses at once like this is unusual for a life spent on the 32nd floor in a vast, concrete, South East Asian city where wildlife is almost non-existent. While I occasionally watch an Olympic team of pigeons doing looping laps around the apartment building opposite, a selection of stray cats in the streets, or the neighbours' pocket-sized dogs dressed in jackets and bootees, there is little evidence of the animal kingdom in Rockwell. So I have been overwhelmed by the myriad birds and beasts we have encountered since touching down at Tullamarine.
Stumpy lizards, with their heavily armoured, thick-set bodies, hide their eyes and pretend to be invisible amongst the rocks on Granite island. Woolly seals show off their circus tricks on the barrage at Goolwa. Koalas slump drunkenly in the gum trees at Brownhill Creek, oblivious to passing spectators. Multi-coloured rosellas swoop through suburban gardens, pink-chested galahs gather for an early morning chat on the football pitches in the parklands, while bossy Major Mitchells shriek and nag, dipping and diving over the lake at the back of Port Elliot, tossed about on the stiff wind circling up the coast. A solitary kookaburra contemplates its navel and round-shouldered ibis stalk possessively across the deck at a cafe on the Murray River. Tiny honey eaters, with their flash of golden-yellow feathers, sip briefly at the bottle brush flowers and dart away. And of course the magpies warble throatily at the dawn.
And with the sighting of each unique Australian bird or animal comes the memory of so many special Australian children's books I have given the kids over the years (Wombat Divine and the Twelve Days of Christmas, Aussie style, to name just two), providing images of a wombat curled up in a manger, or an emu up a gum tree, Santa in boardies on a surfboard, or in his sleigh pulled by Six White Boomers,  and of course the Brolgas dancing out on the plains (or down at Cockle Bay in Sydney)…
Yet there are still a plethora of images, songs and festive dishes reminiscent of a wintry European Christmas, rather than our own dry, dusty, hot, summer one by the beach with surf boards and bikinis, or on the back lawn with barbecues and swimming pools. I have snowflakes and snowmen hanging on our traditional Germanic Christmas pine tree, and despite the fact that we cooked up the Christmas roast on the barbie, it was still English winter fare with gallons of baked root vegetables and hot plum pudding. Amusingly, I have also found that many shops are still sprinkled with fake snow, and Santa still refuses to unbuckle his heavy red suit or take his fur-lined boots off in favour of shorts and thongs despite forty degrees and a north wind.
Christmas lights may not work be as effective in the southern hemisphere (where the sun does not set till after 9pm) as they are in Regent Street, where the sun ducks below Buckingham Palace before four in the afternoon, but fairy lights are delightfully festive wherever you are. And there is something especially Australian and nostalgic about skipping over burning sand under a deep blue sky, and feeling the bone-warming-summer-afternoon-sun, while watching hoards of giggling kids scrambling down the beach to ride the waves on their new boogie boards from Father Christmas.
A small seaside town at the southern end of the Fleurieu Peninsula is where we have chosen to spend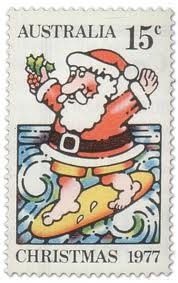 Christmas this year: an old-fashioned Christmas by the beach, armed with cricket bats and footballs, suncream and hats. One beach, stretching away in a long lean line, brow-beaten by boisterous surf, is empty and footprint-free in the early morning calm, ideal for long walks. The other beach is curved and gentle, wrapping its arms around the young family groups polka-dotting the sand and running the gamut of waves that are inclined to dump them unceremoniously back on the beach as they try enthusiastically to body surf.
Neat and pretty, stone, century-old houses with galvanized iron roofs and wrap-around verandas are tucked in behind imaginative modern structures boasting wide expanses of glass and wooden decks that overlook the sea from the edge of the sandy cliffs. A short, friendly high street is scattered with gift shops and coffee shops, bakeries and butchers, a dainty little Anglican church and an impressive town hall, cut in half by a railway line that meanders gently along the coast to the River Murray. Norfolk pines stand like sentinels at the back of the beach, once providing ship builders with instant masts for sailing ships broken and battered by storms off the rugged south coast of Australia.
Our first few days in town are quiet, and as we familiarize ourselves with our temporary home, we start – as we always do – to imagine a permanent base here, or a simple holiday home, fantasizing about regular visits and family gatherings at the beach. Gradually, as Christmas approaches, the beach houses and car parks fill with other holiday-makers keen to break free from mundane routines of school and work in the city, and escape to the sea. Now we fight for a table at 'our' coffee shop and queue half way down the street for pasties for lunch at the popular bakery on the main road.
Lamb chops on the barbie, salads and sunshine, beer, wine and bubbles, bare feet and bathers, family and friends, carols, candles and stars shining brightly in the clear, unpolluted heavens: it's a glorious way to celebrate Christmas.
* with thanks to Google images.