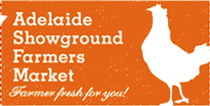 Weekend markets have long been popular sources of quality produce and family entertainment. In South Australia, the Sunday Farmer's Market has become an almost religious experience, as pilgrims flock to meet the farmers, orchardists, fishermen, cheese-makers, bakers, and cooks who collect in a corner of the Wayville Showgrounds every Sunday (except during Show Week in September) to sell their wares, armed with their recycled shopping bags and trolleys.
Located at Goodwood, the Adelaide Farmer's Market was originally set up by Zannie Flanagan in 2007, who had also established the highly successful Willunga Farmer's Market in 2002.

Over the past five years it has taken on a strong identity of its own. It is now home to between eighty and one hundred stallholders each week, and thus claims to be one of the largest regional markets in the southern hemisphere.  Open from 9am until 1pm, entrance is free, although there is a $3 charge for parking.The Market is a not-for-profit organisation to support the survival of small, South Australian family farms, agricultural diversity and fresh, regional and seasonal produce.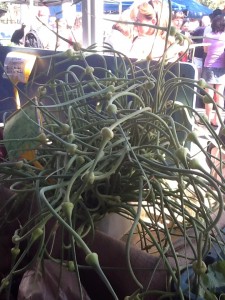 So don't expect to buy everything you want every week, but enjoy the seasonal variety, and the novelty of finding something new to cook. Stallholders can – and will! – provide recipes, especially for those unfamiliar ingredients you have never seen before. Garlic scapes, for example, that look like knobbly alien tendrils and one new friend told me is fantastic for wrapping around fish before baking.  "Every grower will give you a recipe whether you want it or not!" laughs CEO, Amanda Daniel.
Stallholders are also learning to grow for the market: heirloom, exotics, and unusual varietals not found in Woolworth's. A website – http://www.asfm.org.au/home.html- provides a map and a list of all the stallholders that is updated on a weekly basis. It also mentions highlights for the week and any favourite stallholders who will be absent.
Membership to the Adelaide Showground Farmers Market costs $62 a year, and entitles you, amongst other things, to 10% discount at all commercial Adelaide Showground Farmers Market stalls when you show your card, the opportunity to apply for a site at the market, and an annual parking permit for only $37.50.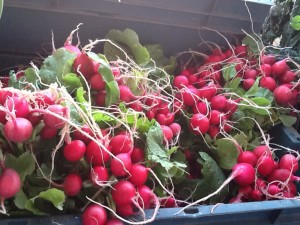 I have intended to drop in for a visit every time I have been in South Australia (at least a couple of times a year), but feebly, I never quite made it out of bed early enough, or have been distracted by offers of brunch at my favourite café, Duthy's. A trip to Adelaide earlier this month was essentially a business trip for Le Cordon Bleu's Regional Food Conference in the Barossa Valley. So what better place to kick-start the conference than the regional farmers market?
Ten of us met Amanda just before the gates opened. She greeted us with boxes of pastries, and piles of fresh apricots and strawberries, and a list of rules and regulations for stallholders as long as your arm. Coming from Manila, where organic is still a 'flexible terminology' or, like its road rules, a mere suggestion, it is quite confronting to see such a strict list of requirements and authentication, even if it means maximum information and security for buyers that they are not being misinformed or misled.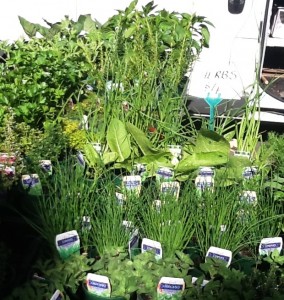 At nine o'clock on the dot we heard the bell ring and watched a plethora of shoppers suddenly materialize out of thin air, and surge forward en masse through the gate, where moments before there had been a smattering of sedentary Sunday morning coffee drinkers gazing gormlessly into the distance. Ready, steady, go! The market was open for business.
The Adelaide Sunday farmer's Market is lively and fun. A large area is under cover, housing mostly butchers and bakers and specialty products. There are banks of tables here too for gathering over coffee, and a section set up for kitchen demos and the Kids Club. This novel enterprise has been designed to promote market products, but also to teach kids about cooking and climate change, sustainability and life skills, and it is a huge success. I assumed it was a place to drop the kids while parents got on, undistracted, with the shopping, but in fact I saw plenty of parents taking up bench space too. And when the Kids' Club session finishes at 10am, guest chefs move in to illustrate 'how to use, prepare, store, and entertain with seasonal produce… [and] the story behind the food.'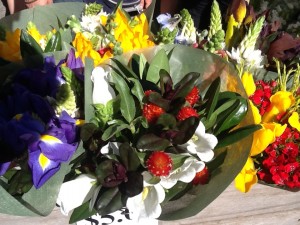 While Amanda wants to put the emphasis on 'shopping' rather than entertainment, it is obviously a great place for a family outing. Coffee stalls abound, and everyone I spoke to has his or her favourite. And then of course there is all that food to examine and enjoy. Stallholders are happy for you to try before you buy, and many have samples on display. Fresh herbs, fresh chestnuts, bush tucker ice cream, wild seafood, grass fed lamb, cheeses, honeys and flowers from every region in the State: the Barossa Valley and the Fleurieu Peninsula, the Limestone Coast and the Adelaide Hills, the Murray River plains and Kangaroo Island. It is a cornucopia of produce, and Adelaideans must count their blessings to have such a heavenly market on their doorsteps.