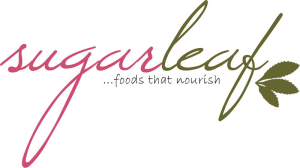 Chefs and restaurateurs across Metro Manila are become noticeably more tuned in to healthy eating and are marketing their menus with trendy catch phrases like 'organic' and 'pro-biotic' ('a  dietary supplement containing live bacteria, taken orally to restore beneficial bacteria to the body'), that can make a meal feel more like a science experiment.
Some, like Makati newcomer  Sugarleaf,   however, are managing to create an interesting blend of taste, health and education, and this one has the added bonus of being just around the corner. Strategically located above the MEDICARD Lifestyle Center, at the crossroads of Paseo de Roxas and Senator Gil Puyat Avenue (Buendia),  Sugarleaf also has an older sibling living at Greenhills, on the ground floor of the Health Cube building.
The Sugarleaf menu claims to address your nutritional and energy requirements as well as those grumbling tummies: the menu is full of light, healthy dishes, fresh and beautifully presented, if sometimes inclined to overdose on lettuce and skimp on flavour. It is certainly something different from the usual spread of high cholesterol local food with its heavy emphasis on the carnivorous.
As an entrée, I would recommend at least one solo visit to Sugarleaf, to give yourself  the opportunity to read the menu from cover to cover without interruption, as it not only provides food for the body, but food for the mind as well. There are paragraphs of information on super foods (nutrient rich food and medicine), organic foods, pro-biotics and low-glycemic dishes made without processing or refining, flavourings or preservatives, to control blood sugar levels. It's like 'A Dummy's Guide to Nutrition' that doesn't sound that dumb.
Alternatively, you could read an introduction to it at home on their website and just drop in with friends to enjoy the food: http://www.sugarleafph.com
I dropped in last month, for a working lunch, and then again, just this week, with a friend.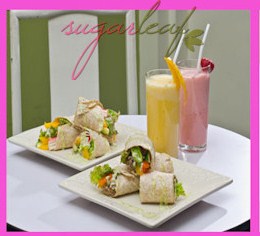 The menu sounds mouthwatering. Organic-all-you-can-eat salads, vegetables, dips, dressings, sauces, and delicious health drinks full of anti-oxidants and fibre, free from pesticides, genetic modification and chemicals. There are also daily soups, quiches and assorted wraps and sandwiches.
While the blurb espouses lashings of fruit and vegetables, meat eaters are not neglected. There is a wide range of sandwich fillings: chicken with basil, green apple and sour cream; Spanish sardine; chorizo and alfalfa; crabstick and mango; smoked marlin and dill; free range egg mayo, and Turkey Waldorf all served with sugar-free banana crisps (always good to know in the Philippines where sugar is often liberally added to everything). There is also some tasty homemade fettucini with your choice of sauce.
It is wonderful to indulge in fresh, high quality salads, and the juices are delicious combinations of fruit and vegetables, boasting names like 'Relax,' 'Detox' and 'Hangover Buster'. Unfortunately the practicalities behind this commendable product still  need ironing out a little. The staff definitely failed to cope comfortably with a party of nine, and we were served in a very erratic fashion. One woman received two courses and a drink almost at once, while the rest of us waited more than half an hour longer for our wraps, sandwiches and smoothies. It would have been nice if we could have eaten together!
However, when I returned with just one friend, the staff coped better. In true Filipino style, the dishes are likely to be served haphazardly. Everything either comes at once, or as today, our salad turned up in place of dessert – but I blame myself for forgetting to spell out how and when we want dishes brought out. Our juices were truly scrumptious, and the fillings for the sandwiches and wraps were tasty, although my crunchy baguette appeared to have morphed into a warm, slightly soggy (as in 'defrosted') focaccia.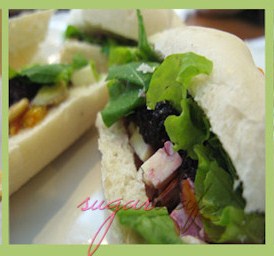 I do not have a very sweet tooth, and rarely eat desserts, but Sugarleaf almost tempted me, and I loved the catch phrase on the dessert menu: 'Desserts – guilt free indulgence!' These included such healthy delights as cranberry and pistachio biscotti, cashew sans rival, macadamia pie, organic carrot cake, and kefir cheesecake.
And I can highly recommend the coffee. Admittedly, I was dubious about the tiny jug of hot soy milk, but it was in fact a perfect match: nutty and ever-so-slightly creamy, flavours that mingled smoothly with my cup of Arabica coffee.
On the first visit, our nine diners at Sugarleaf had a mixed, somewhat muted reaction, largely due to the slapdash service. The second time around, and with only two of us at the table, I felt much more enthusiastic about this newcomer to the Makati restaurant scene.
It's definitely worth a try, as something different from the battalion of junk food franchises in Metro Manila. You certainly won't go hungry, and you have the added joy of feeling virtuous about eating a truly nourishing lunch.
*Adapted from article for ADBSA Newsflash, August 2011 with photos borrowed from Sugarleaf website.