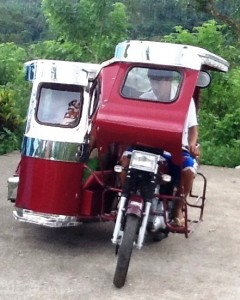 In the extreme heat that hit Manila last May, we drove south from the city to Los Baños, to meet a group of provinicial businessmen and women who benefit from a local micro-financing program, partially supported by a social welfare group with which I am involved. It is a community-based development project created to alleviate poverty in the countryside. First established in 2002, it was designed to provide small loans to self-employed individuals  with which they could develop their businesses. Some of the recipients include vegetable and flower farmers, pig farmers, owners of sari sari stores and jeepney services.
We were joined by a team from the head office in Los Baños, and we drove in convoy up a long and winding road to Nagcarlan, a tiny community high on the side of the mountain. When we got out of the car, my first impression was how much cooler life could be at this altitude. A group of locals was waiting for us in a dry, dusty yard scattered with washing lines and wire baskets of roosters. Seated on plastic chairs, and held by the unblinking gaze of a clutch of toddlers, we listened to several villagers explain how the micro-financing support had changed their lives. It was moving ceremony that ended with the presentation of a giant thank you card. Signed by a dozen local business people, it bore this touching message:
Thank you for working hand-in-hand in helping us overcome extraordinary odds and initiating change in our lives.
Through your kindness and sponsorship, there was a significant improvement in us and our family and able to bring self-reliance to step confidently into the future.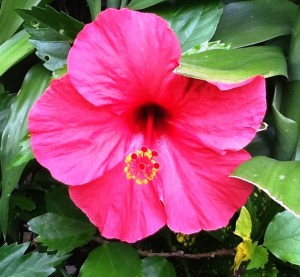 After the speeches, some needing translation as very few of us were fluent in Tagalog, villagers accompanied us further up the hill to where a 'vegetable bi-cable tramline' (it looked like a glorified flying fox) is used to transport produce down from the higher reaches of the mountain. The view from the cable-car platform was spectacular, and the lush vegetation at eye level grows wild, but look like a tropical garden, full of variegated leaves and bright tropical flowers.
In a small garden just off the road we stood like brides with bunches of pink anthuriums, and admired the family's livestock: a couple of flamboyantly feathered roosters; a caged owl, and a couple of surprisingly glossy and well-fed felines.
As we walked back to our cars, we passed ponies laden with woven panniers, and highly polished Jeepneys. These villagers may not own much, but they really look after the little they have. On the side of the road, flower farmers had placed blue buckets tightly packed with huge bunches of anthuriums, to be collected by dealers taking them into the city markets. Pink and red and waxy, with their boastful, phallic stamens, these glossy flowers really are a trick of nature in their ability disguise themselves as plastic.
Back in the village, young men were sorting crates of small green tomatoes. We bought several kilos between us for an embarrassingly small handful of coins. Our driver came back up the road, beaming, thrilled with a bag of fruit for which he had paid an equally tiny amount compared with city prices: the joy of dealing directly with the producer.
On the way back to Los Baños, we stopped at a roadside restaurant, for lunch. Kamayan sa Palaisdaan is a restaurant on a lagoon. A dozen or more bahay kubos (bamboo huts with thatched roofs and furnished with bamboo dining tables) were perched on the edge of the lagoon, seeming to float on the still water, teeming with tilapia and catfish. The path wove around the edge of the lagoon, through gardens bejewelled in topiary and life-sized concrete sculptures painted in garishly bright colours.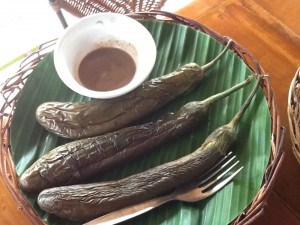 Tucked into our bahay kubo, we admired the intricate thatching and rehydrated on gallons of water, fresh buko and green mango juice. Then the banquet arrived. Baskets lined with banana leaves were filled with tantalizingly crispy, deep fried pork belly, grilled prawns and grilled squid. There was a light, local speciality, ensaladung pako (salad made with fiddlehead fern) which I have eaten before in Laguna. I love the unusual texture of the young ferns. Bowls of sinigang (traditional Filipino soup) appeared, along with all the little dishes of sawsawan – vinegar and soy sauce, bagoong (fish paste) and kalamansi (tiny local limes). Baked eggplant and steamed kangkong (water spinach) fought with the delicate Ginataang Tilapia (fish cooked in coconut milk) for space at the already crowded table. And of course there was rice. The tradition is to eat it with your fingers, and feed any scraps to the fish. I don't think those fish got much lunch from us! I was only sorry there wasn't time for a brief siesta under the trees, before we drove back to Manila, quietly contemplating a day well spent.
*Adapted from article submitted to ADBSA Newsflash, August 2012 issue.