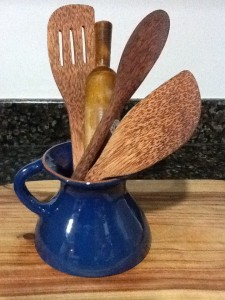 School went back in August, which means we are back to horrendously early starts, long afternoons of soccer practices and weekends chock-a-block with rugby. If there is a spare moment, the boys are out in the back room madly killing things on the PS3.
So what can I do with my teenage sons that doesn't involve shooting anything? No, don't laugh, it's really not funny. It's actually a tough question in Manila. I tried paint-balling with them last weekend, but it totally freaked me out. My mask misted up in seconds and I had no idea where all those lethally-armed teenagers were hiding. I also discovered why I should work on my lunges, when my thigh muscles almost collapsed from fifteen minutes of squatting behind trees. It was all absolutely ghastly.
One thought was to search out some good cooking classes, but that has proved difficult too. I can't find anyone who wants to teach me Filipino cooking, and I have no inclination to bake. Any other options have proved limited and expensive.

So imagine my delight to find that Dante Alighieri Manila was joining forces with Il Piccino's and offering a regional Italian cooking class. By pure fluke I discovered an email address on Tuesday and by Saturday we were wending our way with four friends, through Greenhills and San Juan, on a treasure hunt for a well-hidden restaurant.
The whole week had proved to be quite an obstacle course of dodging sports matches, climbing mountains to persuade reluctant teenagers to spend time with their mothers, and clambering through traffic in Makati to provide the funds for the ingredients, at the very last minute. And then we lost the restaurant! Don't worry, we finally it tracked down only fifteen minutes late: not a glass fronted restaurant on the main road, but an old Spanish hacienda, hidden behind a high wall and huge iron gates, disguised even from its neighbours. In fact, Il Piccino's is a beautiful private home converted into a restaurant and cooking school, where our chef was going to cook a four course Italian dinner with us. I bet you have never spent 'an evening in Italy' in a Spanish hacienda in deepest, darkest Manila!
Our hostess and chef is Nathalia Moran, a Filipina Italophile, was waiting in the kitchen of her ancestral home, with a team of sous-chefs and food historian Valerio Zecchini.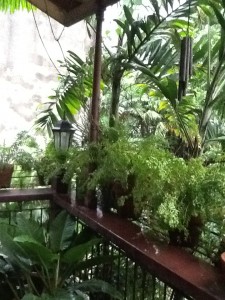 While Chef Nathalia organized her troops in the kitchen, Signor Zecchini gathered sixteen pasta enthusiasts around him for a crash course in the history of Italian cuisine. He described how wealthy Italians in the Middle Ages would provide extravagant, elaborate feasts cooked with rare, imported ingredients, for the sole purpose of showing off to their neighbours.
This changed during the Renaissance, when dishes became simpler, and people began to understand the relationship between health and diet. Table manners and cutlery were introduced, and Caterina de Medici took her Tuscan cooks to the French Court when she went to marry the King of France, and introduced this sophisticated city to spaghetti.
It seems that Italian food travels faster out of Italy than through it. Italians remain highly conservative and parochial in their eating habits (we struggled to find anything other than Italian restaurants in Firenze) and while pizza, Spaghetti Bolognese and gelato are now international staples, there were pizzerias in New York before they reached Milano!
And yet, there is a current oxymoron running through Italian cooking: orthodox tradition on the one hand and wild creativity on the other. Ingredients like polenta and chestnuts, staples of the poor for centuries, have been refined and glamorized for chic modern restaurants.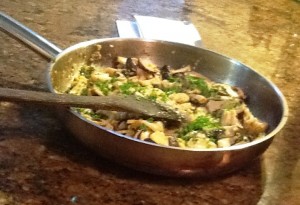 On that note, we donned our aprons and moved from cool historical theory to the heat of the kitchen. Chef Nathalia showed us how to make polenta, and from that, a bruschetta base of toasted polenta topped with fresh, sautéed mushrooms. Any mushrooms would do, she said, as long as they were fresh, as she introduced us to a bowl of shiitake, oyster and chicken mushrooms.
Polenta in the pot while it is cooking looks like creamy Clag glue – that sticky, messy white paste we used in kindergarten with the aid of a sticky, messy toothbrush-like thingy. Yet once it was cooked, cut and toasted, our antipasto appeared at the table looking firm and crispy and tasting fabulous with those mushrooms.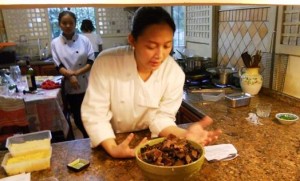 Then it was time to approach the secondo, or main course: slow-cooked Peposo, or braised beef with peppercorns and Chianti. Pepper, Zecchini informed us, was a spice commonly used by the poor to disguise cheap cuts of meat. Chef Nathalia suggested using loin, shank or short ribs. It was tasty, but quite fatty, and I am going home to try making the same dish with lean, top-of-the-shelf steak and compare them.
Tonight's dolce (dessert) would be profiteroles, which do not sound Italian, but Zecchini suggested that the recipe probably arrived in France with Caterina de Medici's chefs from northern Italy. Chef Nathalia had a huge plate of some she had prepared earlier, but took us through the process in case we felt like braving it at home. Apparently choux pastry has the sensitivity of a soufflé, so I am a little nervous about taking it on by myself, but the pastry cream and chocolate sauce seemed straightforward enough, there's just an awful lot of stirring.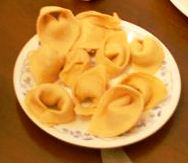 The biggest task of the afternoon was to prepare the primo or pasta course. Today this would be Tortelloni in Brodo. No, I haven't misspelled it: tortelloni is simply tortellini's bigger brother! Homemade pasta, unless you have had a lot of practice, is a lengthy, labour-intensive process, but fun with a friend. We messily mixed flour and egg together and took it in turns to pound and knead until we had created a small, glossy ball of dough. This was wrapped in cling film and ignored for a while, before taking it out and feeding it through the pasta machine. Last time I made fresh pasta, we used only a rolling pin, which is excellent for preventing tuck shop arms, but otherwise incredibly wearisome. This time it was a much more efficient process, although a few more machines might have been handy to speed it up a bit more, as ten couples queued for two machines!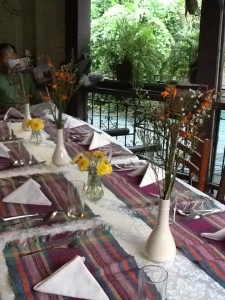 Filling and twisting the tortelloni is quite an art form – one we will need to practice – but our offerings didn't look too bad in the end, and most of them made it to the table in one piece, which we felt was quite an achievement!
Dinner was served on the balcony, amongst the pot plants and tropical flowers, and we were too delighted with the results, and far too hungry to spare a thought for the camera, so you will just have to imagine how good it all looked.
Buon Appetito!
*PS with thanks to Rebecca for her lovely photo of Chef Nathalia