Filipino food was prepared by Malay settlers, spiced by Chinese traders,
stewed in 300 years of Spanish rule and hamburgered by American influence…
Monina A. Mercado
 Filipina food historian Doreen Fernandez calls this culinary fusion 'indigenization' – the process of adapting alien dishes to Filipino tastes. It is epitomized by the ever-popular halo halo, which means mix-mix in Tagalog. Halo halo evolved from an early Filipino thirst quencher of gulaman or tapioca jelly, coconut milk and pinipig (think Rice Bubbles).  Over the years, the availability of Japanese, Chinese, Spanish and American ingredients provided inspiration for even greater flights of fancy.
But where did Filipino cuisine begin?
For centuries the original inhabitants of the Philippines were scattered across an archipelago of more than 7,000 islands. These hunter-gatherers of Malayo-Polynesian descent lived in isolated communities, separated from one another geographically, by sea, jungles and volcanic mountain ranges, and culturally by a wide variety of dialects and languages.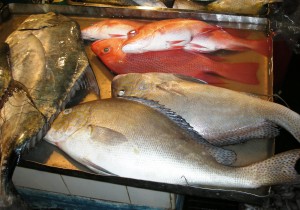 The one thing they had in common was an abundant food supply. This provided a simple, seasonal and healthy diet of fresh fruit and vegetables, rice, pork and fish. From these raw ingredients came such dishes as:
Kinilaw: seafood fresh from the sea and bathed in a sour dressing of vinegar or citrus juice, then seasoned with onions, garlic, chilies or coconut milk
Sinigang: a light broth soured with anything from tamarind and tomatoes to green mango and kalamansi, and containing almost any seasonal vegetables, and almost any meat except chicken
Adobo: a stew made from any meat – from pork to goat to duck – and laced with vinegar that flavours and tenderizes the meat.
With no aristocracy to refine it, would remain for centuries an unsophisticated peasant cuisine.
These islands, however, lay at a navigational crossroads in the Pacific, and provided a link between East and West trade routes. This was an advantage that would attract migrants, trading vessels and colonial powers. They came from Indonesia and East India, China, Malaysia and Arabia, and each new arrival brought new ingredients, new cooking methods, and new utensils that would, over the centuries, impact on this simple island cuisine. Arab traders established independent Muslim strongholds in the south where they introduced not only Islam, but ground spices and red hot chilies.
In the north, the Chinese had the most profound influence on Filipino food. Similar tastes and the same basic staples meant many Chinese dishes were rapidly absorbed into all classes of Filipino society, and are today branded deep in its culinary history: sia pao, lumpia and noodles to name but a few.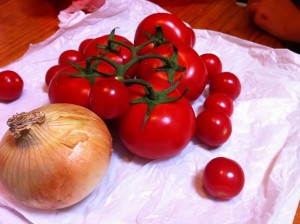 In the sixteenth century the Europeans arrived in the Pacific. In 1543 the Spanish laid claim to this string of Pacific islands, naming them collectively Las Islas Filipinas after their Crown Prince, Felipe. Initially, the colonizers relied heavily on foods imported from Spain and their Viceroyalty of Mexico. These included olive oil and tomatoes, corn and avocados, lemons and pineapples, garlic & onions, chorizo, ham and chocolate.
Some products were transplanted and grew prolifically in the lush landscape. Others became exotic commodities available only to the upper classes, or were adapted into 'fiesta fare' – dishes made only for special celebrations and festivals.  On the whole, Spanish cuisine made little impact on the Filipinos day-to-day cooking, although some cooking methods such as frying, sautéing and stewing in wine became widely used.
The Spanish ruled over the Filipinos until 1898, when they lost the Spanish-American war and were forced to cede their colony to the United States.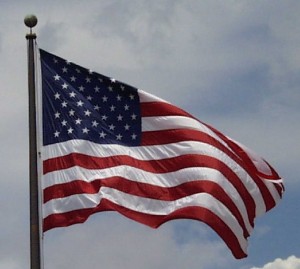 Within 50 years the Americans introduced English, nationalism, democracy and convenience foods: sandwiches and salads, fried chicken and hamburgers, canned food, instant foods and fast foods.
With astonishing colonial presumption, the new overlords dictated that dairy products, canned food, sugary cakes and desserts were dietary improvements on an inadequate island diet. Today these are firmly established on supermarket shelves, along with products from many other international companies.
In recent years there has also been a huge influx of international restaurant chains that have broadened Filipino tastes, at least in the cities.
Another big influence on Filipino cuisine is the ever-growing number of overseas workers. Several million Filipinos living abroad grow nostalgic for home cooking, and adapt traditional recipes using ingredients available in their host countries.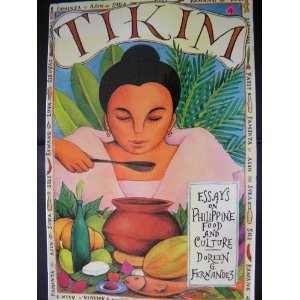 So we can see how trade, colonialism and migration have spiced up a simple island cuisine. And yet, despite a plethora of 'borrowings', Filipino cuisine has maintained its own distinct flavours, much loved by over 80 million Filipinos.
In the last thirty years, Fernandez and others like her have attempted to document and develop national pride in Filipino culinary heritage, and champion the survival of its foodways. Their research has raised awareness, and brought it to the attention of professional chefs who are trying to upgrade its status by standardizing cooking methods, using quality ingredients and adopting western methods of presentation. And thus the evolution continues.
*Excerpt from paper presented for 2011 Australian Gastronomic Symposium & published in ANZA Magazine 2012