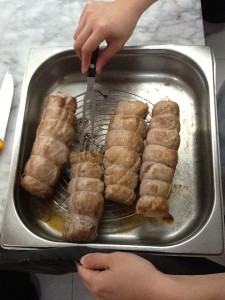 Fast forward through dissecting and trussing poultry, filleting a fish, and preparing squid and shrimp to our final cooking lesson.
As we assembled at our stations, our instructor this week, Chef Kyla Rosales, introduced each of  us to a large slab of lamb tenderloin and suggested that air drying the meat for 24 hours would make it easier to handle. Then she showed us how the loin is trimmed and trussed up in string like a parcel, with a simple blanket stitch. Neatly wrapped, it could then be seasoned and seared.
The trimmings were not wasted, but cubed or sliced against the grain for later use in a stew or stir fry. I was quite good at this part, if I do say so myself, and even helped my neighbor – largely thanks to having spent at least one student summer wrapping books in brown paper and string at John Martins.
Our second chore was to carve a rack of lamb into a crown roast, cutting 'neatly' around the bone and scraping away tendons and fat to produce clean white bones. 'Some people just don't have that eye for detail,' she observed politely, regarding my less-than-perfect exhibit – somewhat critically I felt! It had taken me an hour's hard labour – I would have appreciated a tad more enthusiasm for my efforts. However, after she had kindly, and with swift dexterity, tidied it up for me, I began to appreciate the added value on any work the butcher is prepared to do for me.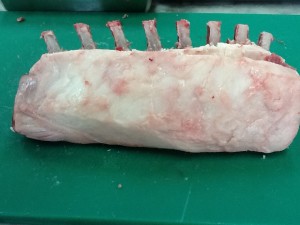 The staff then whisked our offerings off to the kitchens. We would get to taste them later, for this final class culminated in a four course lunch cooked by Chef Kyla.
Before the class wrapped up, a whole Australian lamb was placed, stiff and frozen, on the counter, so that Chef Kyla could run through the various cuts of meat.
Exhausted by our morning in the kitchen, we clambered up the stairs to the students cafeteria, where we dined on a tasty Seafood Vera Cruz: a glorified seafood cocktail of prawns, scallops and squid in a rich, sweet sauce. This was followed by a warm, thick onion soup topped with bread and melted cheese. The air-conditioning was causing frost-bite, so this decidedly wintry soup was more than welcome by the time it arrived!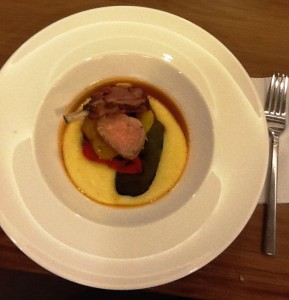 Of course the pièce de resistance was the lamb we had prepared earlier: a lamb chop presumably cut from our crown roasts and a slice of tenderloin fillet, cooked medium rare and served on a bed of creamy smooth mashed potato and  grilled pepper. The final flourish was an amuse bouche of cheese cake.
As we indulged our taste buds, I chatted with the other students about their reasons for attending the course. Ranging in age from late teens to forty-something, some explained that they were looking for a new challenge beyond the confines of the office. Others were interested in a career in cooking, some as a welcome sea change from past professions, but were testing the waters before they committed to a full diploma course. Several had tried other courses, or were contemplating further exploration. For me, it was simply the chance to upgrade my skills, and – hopefully – feel less of a klutz in the kitchen! After lunch, Chef Kyla presented every participant with an official certificate, and we all  came away feeling they had achieved something significant  over the past five weeks.
For those eager to move up the ladder, there are also more advanced short courses available. Courses begin every two months and class sizes are maximum 10 per instructor. Check out Enderun Colleges on Facebook, and the Enderun Extension website: www.enderunextension.com
As published in Inklings, Summer 2012.