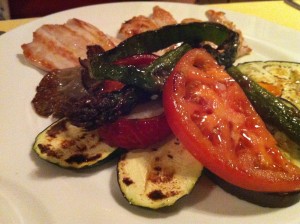 Growing up in a meat-and-three-veg kind of family, I have always enjoyed the novel concept of grazing, and to this end, tapas is the perfect way to travel: a light snack to share with friends, easy finger food, or pica pica as they say in the Philippines. I don't speak Spanish, but I was surprised by how many 'food' words were familiar, after two years in the Philippines.
I think I could probably spend the next five years in Madrid, eating every night at a different tapas bar, and there would still be some left to discover. The difficult decision, when you only have a few days, is where to pause and taste. In which case, advice from the locals can be useful.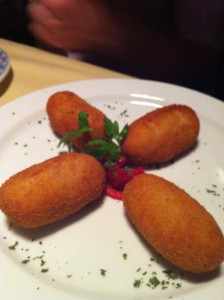 Yet if you walk into any tapas bar, a small plate of something to nibble on will arrive automatically with your drink: chunky slices of chorizo, a handful of croquettes, a dish of marinated olives – worst case scenario, a bowl of cheese biscuits. That may be all you need: a small beer and an hors d'oeuvre before heading off to a full dinner. In a good tapas bar, however, I usually find the temptation to order extra dishes from the menu too tempting to resist. Once you start dipping into a ración of patatas bravas (roast potatoes with spicy tomato sauce), a dish of lightly fried whitebait or a bowl of ensaladillas (hard-boiled egg mixed with carrot and homemade mayonnaise), I challenge anyone to stop before they are full to the brim and thoughts of an a la carte menu have been long forgotten.
I have found a café one hundred metres from our friend's apartment for a morning café con leche and a slice of toast and tomatoes – breakfast tapas? My mother might ask 'Why go out at all, such a short distance from home and the kettle?' For me, it is a joy because the morning air is cooler than it will be any time after the midday sun strikes the streets. And it's such simple fun to sit and people watch. In the same way, at the end of the day, it is relaxing to perch on a bar stool and sip rosé and watch the world go by.
And it does go by: people still walk everywhere in Madrid. Like the Italians passeggiata, an evening stroll is popular with the Spanish too, and the streets, parks and plazas fill with people of all ages, shapes and sizes. Sometimes it is fun to sit at a wobbly table on the pavement, but only if there are few smokers in the vicinity – a rare thing on the Mediterranean, where smoking is still incredibly popular.
Back in Madrid, some popular tapas might include the ubiquitous tortilla. In its simplest form, this is an omlette made from eggs and potatoes – and anything else you care to add. Jamon (pronounced hamon with a guttural hoik) is Spanish cured ham. Very thin slices are cut straight from the pig's leg, which you will notice immediately hanging over the bar.  Salchicha covers a range of sausage: dark red spicy chorizo (pronounced choritho), white salchichon, or blood sausage, called morcilla (morsiya).  Typically all these meats are served with slices of baguette. Revuelto literally means 'stirred' in Spanish, and this simple but delicious dish is a mix of scrambled eggs, potatoes and ham or bacon.  Gambas are prawns, and they come in many varieties, plainly grilled, with spicy sauces, hot or cold.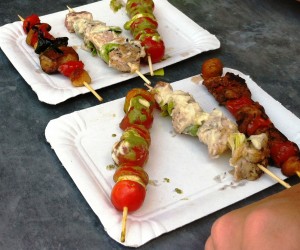 I am not going to provide a list of tapas bars to visit. Be brave! Find your own. Daggy and cheap or chic and expensive, you only have to drop in for one small beer and sample one plate of free tapas to decide if you like the place. There is always another one just round the corner…
…so find a space at the counter to eat and enjoy grazing. Buen apetito!