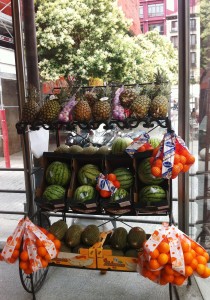 I  discovered a reference to the San Miguel Market during a web crawl for food tours and cooking classes in Madrid. The first are few and far between, the second are ruinously expensive and will have to wait until I win the lottery, but I love exploring local markets, and this seemed to be the central city market, so I added it quickly to my 'must do' list.
San Miguel proved surprising, a new venture in city markets. The beautiful iron and glass structure have been restored, polished up and modernized. Fruit and vegetable stands have been replaced by wine bars and counters full of up glamorous snacks and trays of extravagant tapas: Caesar salad or tandoori chicken on kebab sticks, shucked oysters, meatballs (albondigas), tortillas or toasts smothered in a variety of smoked or salted fish. There are shelves of amuse bouche – bite-sized desserts and sweet pastries – and an ice cream counter where a cup of yoghurt ice cream can be topped with an array of fruit jams, nuts and lollies, tempting kids and adults alike.
Initially trying to escape the mid afternoon heat, which is  overwhelming by 3pm, even in June, we wandered in to find, not the longed for air conditioning, but regular showers of cooling spray from exposed pipes under the roof. The clientele consisted largely of smartly dressed local business men and women popping in for a light lunch and a glass of wine, perching on high stools around a number of tall counter tops.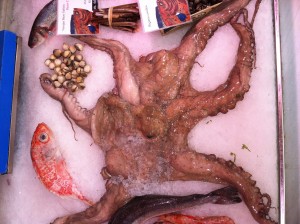 Life is relaxed and gracious in Madrid. Long broad avenues are shaded with leafy chestnuts and white sailcloth umbrellas shade an ever-flowing  river of pavement cafes and bars, providing a gentile elegance that is soothing even when the day is stifling. Stately palaces, domed churches, wide, open plazas, high colonnades, columned government ministries and  soaring statues meld with narrower residential roads that are trimmed with sophisticated apartment blocks fashionably dressed in tall  wooden shutters and wrought iron balconies.
Parks with wide sandy paths and heavily flowing fountains beckon us in to sit on comfy wooden benches and watch the world passing. Our teenage son judges us judgmental, but we are simply amusing ourselves observing the  broad array of humanity passing by,  everyone enjoying these luxurious oases regardless of size or stature, stilettos or comfy crocs. Mobile phones and iPods are prevalent with lone wanderers – heaven forbid they should find themselves looking like a Larry Loner  – and every tourist carries a camera and – wisely – a water bottle. Dogs are more prevalent than children, and are just as much a mix of the delightfully appealing and the downright appalling.
Spoken English is surprisingly rare in the country's capital. There is a quiet arrogance about the Spanish that suggests – possibly rightly – that as we are in their country, we should attempt to speak their language. But I have been in Italy for almost three weeks and find myself reverting to the more practiced Italian. Spanish is similar, but its lisping resonances are still unfamiliar to my ear, and my tongue. Nonetheless, its fun wandering through the little market we find three blocks up the road, using pointing fingers and querying eyebrows to ascertain the Spanish for cherries and capers and capsicums. Its also a great place to practice counting in Spanish.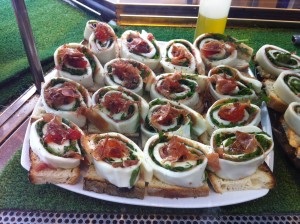 This is a proper little local
mercatino
– oops, Italian again! – secreted in a quiet nook of a shady residential street. Unlike its grander cousin on  San Miguel Square, fruit and vegetables, chicken and fish, cheeses and
jamon
lie tastily displayed across these more traditional market stalls. We load up with armloads of veggies for c
aponata
and a lunch of
kumato
tomatoes on toast, and collapse onto a roadside cafe for a reviving
cafe con leche
after a strenuous shopping expedition. I am quickly realizing that my foodie tours in Manila have provided a surprising amount of gastronomic Spanish!
Back in San Miguel Plaza we wolf down a shared selection of tapas, wishing there was room for more, reluctantly avoiding the wine bars. A cold white wine looks sorely tempting, but we know the heat outside will hit an alcohol infused body harder then normal – and that's hard enough! The air-conditioned underground trains send their siren song over the heat waves as we weave our way through the reams of fellow tourists and head home, replete and dozy, for the requisite siesta.