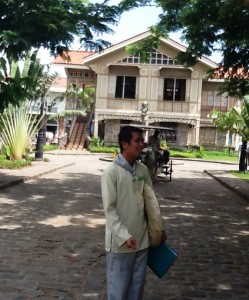 Philippine heritage is a mixed bag of cultures that is reflected in its people, its language, its food and its architecture. During three hundred years of Spanish colonization, Augustinian monks constructed grand European-style churches all over the archipelago, the conquistadors erected stately mansions on their estates, and noble Filipinos replaced the traditional bamboo nipa hut with large houses of stone and wood known as bahay na bato, which were a hybrid of architectural styles. Over the past century, many of these heritage houses have been bombed, or bulldozed to make way for modern development, or simply abandoned and left to decay.
In recent years local millionaire and art collector, José (Jerry) Acuzar, has bought a number of these glorious old buildings from all over Luzon and beyond. He has had them dismantled, brick by brick, and transported to his beachside property in the small town of Bagac, on the Bataan Peninsula. Here, they have been restored and reconstructed by craftsmen in a far-sighted attempt to preserve some of these national treasures.
Las Casas Filipinas de Acuzar is now a unique resort and heritage park: forty hectares of 18th to early 20th century Philippine houses. The project has caused some controversy amongst conservationists who dislike his methods, and claim he is stealing cultural and historical identity from the towns from where he takes these priceless heritage houses. However, if these wonderful old buildings would otherwise have been bulldozed or left to rot, I'm not sure their grievances hold much water.
This stunning spot by the sea is about 150 kilometres north of Manila (about a three hour drive) and currently provides sanctuary for twenty seven heritage houses:  palatial homes of the Principalia, or noble class, bahay na bato and wooden stilt houses, each with its own carefully preserved provenance. Further reconstructions and a number of replicas of period housing are currently being added to the collection, although OH&S is not visible to prevent us ducking and weaving under ladders and over cables, when we head out to explore.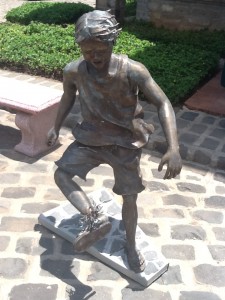 Arriving at Las Casas Filipinas it is like stepping back in time, or walking onto a movie set. Sure enough, there is a movie being filmed the day we visit, and our Filipina ladies get quite excited at the sight of a handful of famous Filipino actors. We wander across the cobblestoned piazzas and along shady, tree-lined streets. It is an enormous aesthetic improvement on the port at Subic and the Bataan Nuclear Power Plant! Beautiful bronze statues of children pose on the lawns. Occasionally a horse drawn carriage or caruaje passes by. The sea laps gently against the sea wall. Across the water the Power Plant squats on the promontory like a mediaeval fortress. It is a soothing and peaceful retreat from the mayhem of Manila.
Our first stop is lunch. The resort has two restaurants: the Marivent Café, which serves authentic Filipino dishes, and Taberna del Señor Pepe that offers a variety of Spanish tapas, cocktails and hand rolled cigars. We are taken upstairs to a private dining room with a beautiful stained glass window and air conditioning – an absolute blessing on this scorchingly hot summer day. We are promptly served a simple but tasty lunch consisting of Pinakol, a delicate and delicious chicken broth made with coconut juice, followed by fried pork and rice, with a fresh bean and corn salad, and finished off with a cooling, creamy taro ice cream with pinipig and nuts.
After lunch we are introduced to our cheery guide, Dexter, a very smiley young man dressed in 18th century costume, who talks to us about the houses we will see. He then shows us a trap door in the floor, used as an escape route in times of danger, before gathering us up to show off the rest of the houses.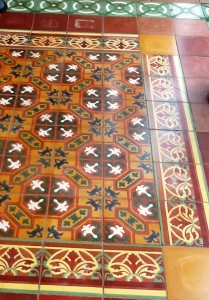 While our cameras work overtime, Dexter walks and talks us through the history of many of these alluring buildings.  Several houses can be hired for special events or have been set up as guesthouses, furnished with vast, carved wooden beds and modern bathrooms. Cool and inviting, the floors downstairs are made of large terracotta tiles, the furniture sparse, but appropriate to the setting. Upstairs, we admire embossed ceilings, broad wooden floorboards, and wonderful views across the green agricultural land to the mountains. In some of the more ornate houses, the upper floors have trompe l'oeil pillars painted on the wooden walls.
Casa Hidalgo is one of these, an eighteenth century mansion designed by the first Filipino architect, Felix Roxas y Arroyo. Considered to be the height of elegance, it was originally located in the Quiapo District, Manila. It became the first campus of the University of the Philippines School of Fine Arts in the early twentieth century. It also spent some time as the first school of Architecture, a bowling alley, a hostel and a club for live sex shows. Candaba House was originally built in 1780 by the Reyes family, one of the most prominent families in Pampanga. Today it will accommodate up to two hundred people for a wedding reception. One larger homestead was owned by a wealthy man with twenty one children, another by a Muslim chief, or Datu, with four wives.
The heat is occasionally dispersed by a strong sea breeze, but eventually it gets too much. I try paddling in the lovely lagoon pool, but the water is warm and sadly unrefreshing. Luckily there is a call to merienda and cold towels in our air conditioned dining room. I am too hot to face the chicken sandwich or more than a bite of the banana and jackfruit turon, but the cold towels are heaven sent and the iced water brings me back to life.
It was a lovely journey into this Hollywood style Filipino past. I will definitely go again – but in the cooler months, and armed with the new ice-gel necktie a friend has graciously given me to help me survive this enervating tropical heat.