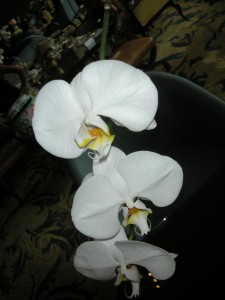 Last week I had afternoon tea  with nine princesses from Sydney. These gorgeous, sixty-something ladies travel with tiaras, so I thought the Makati Shangri-La was a fitting place to welcome them to Manila. Needless to say they arrived at the hotel in style, bedecked in their best jewels and, of course, their tiaras. I had brought mine along too (purchased from Market Market for the princely sum of 250 pesos) and promptly became an honorary duchess.
The Shangri-La did us proud. They won't usually take bookings for the Lobby Lounge, as guests just turn up and find a table… hopefully. I was not prepared to be quite so blasé with royalty in tow. Heaven forbid we couldn't find room at the inn! So the staff very kindly agreed to set up a table for ten on this special occasion.
Afternoon Tea in the Lobby Lounge of the Shangri La is an institution. Available daily from 3-6pm, there is a choice of three menus: the Classical Afternoon Tea with its scones and clotted cream, and selection of finger sandwiches; the Filipino version with such local specialties as bibingka, kaldereta and leche flan (both these menus cost around 650 pesos per head) and the slightly more luxurious Shangri-La Afternoon Tea for 800 pesos per head.
The list of teas to drink is long and varied: we perused the menu for black teas and green teas,  as well as fruit teas with luxurious names like Carribean Summer and Apple Dreams, and Roibosh, a South African herbal tea. Of course, the Princesses also wanted bubbles, so we ordered a couple of bottles of Australian Chandon to add some sparkle to the afternoon.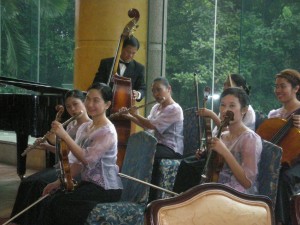 We arrived a little early, but had time to arrange ourselves before the prompt arrival of the orchestra, on the dot of 3p.m. A pianist, double bass player and cellist settled themselves on the dais, and smiled at everyone as a dozen violins and flutes came floating through the lounge in the hands of a dozen beautiful musicians, dressed in matching lemon or lilac chiffon blouses and long dark skirts, playing as they came. For two hours they entertained us, loud enough to be noticed and enjoyed,  but softly enough that conversation was still possible. We sipped on Chandon, hummed through various well-known tunes, and waited for our tea to arrive.
I have always chosen the Classical Tea, but today, inspired by my illustrious company, I decided to indulge in the extra special Shangri-La Afternoon tea. Every princess (and honorary duchess) gasped as ten three-tiered cake plates were delivered to our table. It was a truly sumptuous display.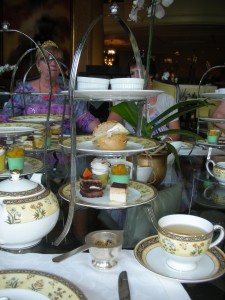 The top tier consisted of a dish of foie gras crème brulee and a roasted capsicum dip with olive focaccia chips. The dip was very tasty, but the foie gras was irresistible. Creamy duck  pâté topped with a crispy skin of caramelized sugar, an unusual combination of sweet and savoury that actually went beautifully together.
The second tier provided an array of rolls and quiches: two dainty vegetable quiches that disappeared in a mouthful; a zesty lobster ciabbata roll with saffron mayonnaise, and a brown sunflower seeded roll with turkey, brie and onion jam.
The finale, on the lowest tier, was a selection of sweet cakes and desserts. Again, there were some truly innovative combinations that went surprisingly well together. A deconstructed lemon meringue pie, served in a glass, and a mouthful of rich and creamy tiramisu were quickly recognized by the Princesses. Another amuse bouche of chocolate gateau was bewilderingly entitled 'sparkling sacher lolly pop', but if you like chocolate, you won't worry too much about its name! And finally, the pièce de resistance: a white chocolate and wasabi panacotta with mango relish. This extraordinarily green mousse, served in a shot glass, was discussed at length before anyone was brave enough to taste it.
It was, quite simply, divine. The panacotta was like velvet on the lips. The mere hint of wasabi was presumably not enough to provide the strong spearmint green colour, but did give an unexpected and pleasant tingle to the tongue as it passed by. A shot glass was not enough and I may never order a plain old scone again!
It was a glorious couple of hours in the cheerful company of nine effervescent princesses. They had just spent a week in Borocay and had been delighted with  the beautiful beaches and the wonderful service they had received. And they seemed more than happy with our decadent dining at the Shangri-La.