[As published in ANZA News this month]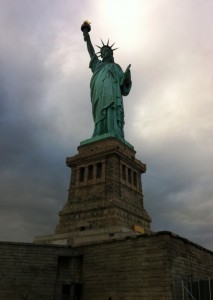 A cliché is defined as a hackneyed, trite or commonplace phrase.  As in:
New York New York, so nice they named it twice
I HEART NY
The Big Apple
Love at First Sight
I had very few expectations of falling for these platitudes, or for this over-subscribed city, but I did. Hook, line and sinker. Despite the clichés – which presumably become clichés for a reason – New York has a real vibe. It is:
energizing, enlivening, exciting, galvanizing, invigorating, stimulating; absorbing, engaging, engrossing, gripping, interesting, intriguing, involving; atypical, extraordinary, strange, unaccustomed… and unpredictable.
Yes, I copied this list straight from my thesaurus (except the last one) because every word applies. As for unpredictable, well, I certainly never meant to fall in love…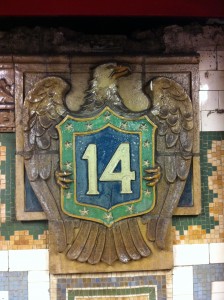 Last year I came across New York writer Helene Hanff in a second hand bookshop in Sydney.  Apple of My Eye (1977) is her idiosyncratic guide to New York City.  Although it was written more than thirty years ago, it was the first book to spark any real interest in me – well timed too, as we were planning a family trip to New York for Christmas.
Ms. Hanff had been given a dream assignment: to write copy for a book of photographs of New York City. As a life-long resident of Manhattan Island, she believed she was an expert on all things New Yorkish. Surprisingly, she was wrong.  Making a check list of all the main tourist sites, she realized she had visited very few and set off to explore every one with her best friend Patsy.
With my usual perversity, I did the opposite. While my sister-in-law spent months compiling her own list of 'must-sees,' I refused to participate. To my poor husband's never-ending frustration, I simply wouldn't play. And if anyone else told me how much I would love New York, I was going to spit.
We arrived at JFK airport in mid-December (ever notice how everything is an acronym in the USA?). The trees were bare, the sky was grey, and weatherboard houses lined the highway with barely a sprinkle of Christmas. Then we disappeared down a tunnel and reappeared in Wonderland.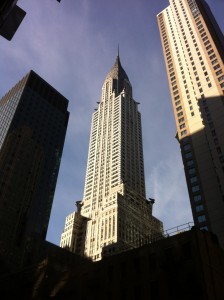 My husband had booked us into a block of old brownstone apartments in East Village. Our temporary home was a little cosy for six, sublet by Ukrainians with a taste for naked women on their walls and orange velour bedsheets, but it had everything we needed, except wine glasses. Shot glasses were prolific though: the local wine shop was wall-to-wall 'Wodka'. I love that!
Day One was short: we reached the apartment at 4pm. It was already dark. While the kids settled in, my husband and I headed out the door in our walking boots, (he was wearing shorts, but surprisingly no one batted an eye), and for two weeks we barely stopped moving.
Manhattan Island is approximately 2 miles wide by twelve miles long, and it is very accessible to pedestrians.  We were also incredibly lucky with the weather as it was remarkably mild for December. Particularly lucky, as the boys had refused to o bring coats, and survived the whole trip in their hoodies.
New York is thrumming with life from dusk to dusk. It is totally intoxicating. There is a positive energy in the air that is invigorating and makes you walk down the street with a big grin on your face, even though it's freezing cold and your ears hurt. I love that.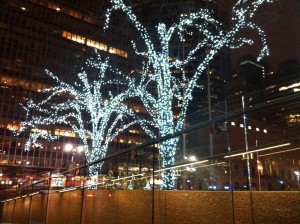 People won't catch your eye any more than they would in London or Sydney, but if you stop and speak to them, they will greet you with friendly smiles and polite responses. I love that. One kind gentleman, holding his big black umbrella over my head, advised that New York taxi cabs will not stop for you in a torrential downpour at rush hour on Fifth Avenue, and that I should run for the nearest hotel. I loved him too.
Another cliché: New York is the city that never sleeps. The sirens, horns, jack hammers and garbage trucks caused an endless cacophony of sound outside our window from midnight to 5am: a true New York welcome that made us roll over and smile, despite the ruckus. I loved it.
My mentor, Helene Hanff, advised me that I wouldn't see New York from the subway. Instead, I must take the bus. I spurned her advice and took to the sidewalks. Dodging many of the Must-See-Sights, I walked for hours through all the names on the map. It was the best way to meet New York.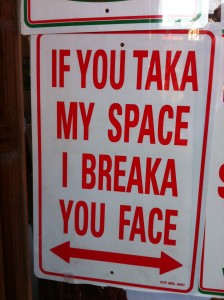 Catching the subway to Brooklyn, we walked back across the Brooklyn Bridge with hundreds of other pilgrims. We booked a Foodies tour through the winding streets of China Town and Little Italy, walking into Italian cake shops and Chinese noodle shops. I loved it all, the food, the narrow streets, the tenements, the history.
We walked back from the Staten Island Ferry Terminal where these amazing street dancers performed for us. Past Wall Street (surprisingly short – like 10 Downing Street), and the oldest church in Manhattan, St Paul's Chapel that once overlooked the Twin Towers and which has been touchingly and tastefully enshrined with all the global messages of love and support that poured in after that heart-stopping event of 9/11.
We strolled down Broadway, winding through the tree-lined streets of Greenwich Village (although 'Friends' was actually filmed on a lot in California, to my great disappointment), pausing at 'our' coffee shop on the corner of 4th Avenue and 12th Street, where the artistic gay barista welcomed us each morning as he redesigned the chalk board by the door. I loved him too.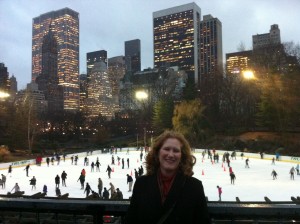 Another day we strode up Fifth Avenue, grabbing woolly hats from a kerbside stall as our ears froze, past the splendour of the city library and the mile long queues beside the skating rink at the Rockerfeller Centre, where we watched someone bravely proposing on bended knee, in the middle of the empty ice rink! We ducked into Tiffany's and gasping at the glorious Christmas windows at Bergdorf's. We skibbled in to see Eloise at the Plaza, all fraightfully pink and girly (not my idea of Eloise) and then traipsed on over the road into the deepening dusk of Central Park, to see the zoo lit up like a Christmas tree in reams of fairy lights. I love that!
On Christmas Day we headed north up Park Avenue, past all the beautiful apartment blocks with Christmas trees in the foyer and doormen stomping their feet on the pavement, and onwards around the Jacqueline Kennedy Onassis Reservoir with  frozen noses and stunning views of the Uptown skyline framing the park, then wind-blown and frost-bitten past Alice-in-Wonderland-in-bronze, and over several twee bridges back to the Central Park ice rink swarming with skating enthusiasts, more enthusiastic than skilled.
Wandering down Madison Avenue, we passed bumper-to-bumper 'Sex in the City' designer shops, desperate for a coffee shop not chock-a-block with designer-dressed-locals, and then over to the Met, austere and overflowing with tourists even in mid-winter. I was freezing, but I didn't care. I was in love.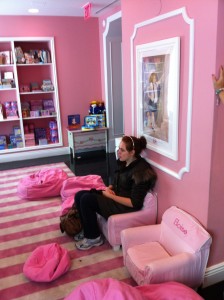 We trudged up Broadway to have 'dinner in a diner' and trekked through Times Square to munch on the best empanada I've ever tasted from a street vendor, but we decided not to hang about on New Year's Eve for the ball dropping – a tradition not our own that still seems just plain weird!
Then we dashed over to the Lincoln Centre on Boxing Day (I don't think they have Boxing Day in New York, just the-day-after-Christmas) for a spot of The Nutcracker ballet up in the gods, and the opportunity to eyeball Toni Colette at the coat check.
An early morning walk took us along the length of 14th Street from Union Square to the Meatpackers District (now a popular night club area), and up onto the state-of-the-art linear walk that floats blithely above the busy streets… on and on and on, feeling as if I am walking the New York Monopoly Board. I loved it!
It was great fun linking together all the areas that we knew in piecemeal from movies, musicals and novels. Apparently there is a tour of movie hot spots, but we had soon created our own. I still need to catch the subway to the end of the line and find Coney Island (Sandra Bullock, Two Weeks' Notice), but maybe that can wait till next time…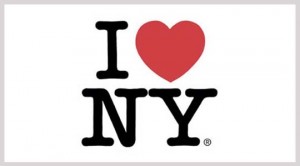 …along with riding to the top of the Rockefeller Centre and the Empire State Building, visiting the Statue of Liberty and Ellis Island, Ground Zero  and the United Nations, the art galleries and the museums and the famous department stores, and all those 'must-dos' that I didn't… this time. But I will return soon, singing silly love songs.
* with thanks to Enzo for his photography. I love him too!