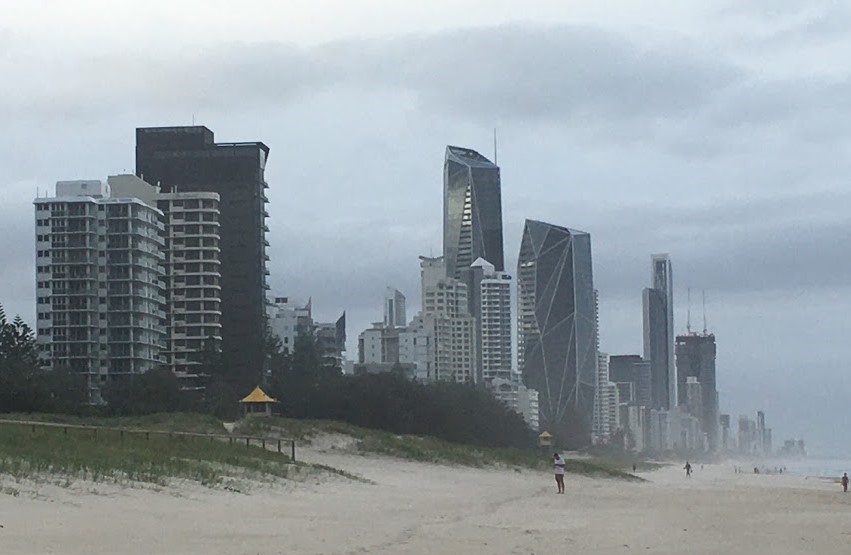 It's a modest block of flats, almost drowned out by the ostentatious and more glamorous towers that cluster along the beachfront. But from the balcony, the view over a long stretch of white sand that sinks beneath roiling, boiling Pacific is still a delight.
Last weekend, I took my first flight in eighteen months, and, despite a lifetime of airport procedure, completely forgot how to operate in the departure hall. Admittedly, this was not helped by the mask I must don to enter the haloed portals of the Adelaide Airport. Every breathe misted up my glasses. I didn't know if I were Arthur or Martha!
Somehow, despite distressingly blurred vision, I made it to Brisbane, a city I have not visited in almost thirty years, when we lived on the outer reaches of the city for almost a year, before absconding to Thailand. And boy has it changed! High rises cluster along the river banks and there are so many bridges! Were there really this many in 1994? I lost my bearings utterly. Culture shock indeed, after months in our sleepy little town by the sea.
Moist and sticky, the weather was also in stark contrast to the autumnal temperatures that have already descended upon South Australia this month. Yet the numbing humidity was so familiar after all those years in the Tropics that it felt like coming home, despite all the changes to the landscape.
The following morning, my dear friend and I head south down the M1 to Broadbeach for a couple of nights. Lying east of Mount Tambourine and south of Surfers, Broadbeach exudes a polished calm reminiscent of Rockwell, my stomping ground in the Philippines for six years. Shopping malls and wide streets are lined with palm trees, an abundance of restaurants and a plethora of soaring high-rise apartments. The palm trees are even decked out in fairy lights, just like those in Rockwell in the 'Ber' months leading up to Christmas. The only difference is the sea view. That, and a constant sea breeze kindly dispersing the heat. The next few days promises to be a walk down memory lane and a healthy dose of self-indulgence.
Broadbeach is casual and surprisingly cosmopolitan – surprising to me anyway. I was anticipating a surfer town full of shacks and cafes, year round suntans and white-blonde hair. Instead, the accents come from everywhere. (So are the tattoos). And there is almost every conceivable choice of cuisine. "What do you fancy for dinner? Yum Cha? Tapas? Japanese?" Or we could just stay in and watch Oprah's already infamous interview with Meghan & Harry, and order Uber Eats – a huge trend in this new Covid world, but unfamiliar to me.
Broadbeach moves at a leisurely pace (just like Manila) and we pottered about for three lazy days, strolling down the pedestrian mall on Victoria Street or along the walking track above the beach, or on the beach itself, to dip our toes in the Pacific Ocean, something else I have not done in a long time. The sand is pearly white, fine as fairy floss and soft as satin.
In a previous incarnation, Broadbeach and its environs were blessed with charcoal grey sand containing a multitude of useful minerals. Established as a township in 1934, during the 19th century, it was simply a harbour, where loggers shipped cedar, beech, ash and mahogany to Sydney. The grey/black sand dunes were denuded as early as 1945 for the mining of minerals – particularly zircon – to make the steel needed in wartime. It was reconstructed in the 1950s. An aboriginal burial ground (the Kombumerri) was unearthed in the sixties and relocated to community land nearby. And, in 2017, 3 million cubic metres of sand were delivered along this stretch of coastline to re-establish the dunes, to act as a buffer against coastal erosion. Apparently, this pristine white sand was largely dredged from the seabed just off the coast.
Walking here is easy. Eating becomes a perpetual problem. Would we go for Italian, Asian or Spanish? In the end we managed to try them all – although there was a predominance of seafood at every meal. Of course. We are beside the sea after all.
As we drive into town at midday, we pass a sign for the Grand Dynasty restaurant and its yum cha lunch menu. A foregone conclusion, then. We find our apartment, meet Trish, our friendly landlady and settle our belongings in our rooms before strolling around the corner for lunch. The only issue we have is that there were only two of us, so we can't order everything on the menu. Well, there's only so much two girls can eat! But the service is friendly, and we do the best we can. Prawn and coriander dumplings, salt and pepper squid, and san choy bau takes me straight back to memories of Asia. And in fact, we could quite easily have been sitting in the High Street Mall in Fort Bonifacio, Manila. So of course, when lunch is done, we must head off to get a mani-pedi in true Filipino style.
For dinner it is Uber Eats Italian with a sprinkling of Royal Gossip – but washing one's dirty family linen in public has never been attractive, so perhaps the less said about that slanderous and narcissistic little interview the better.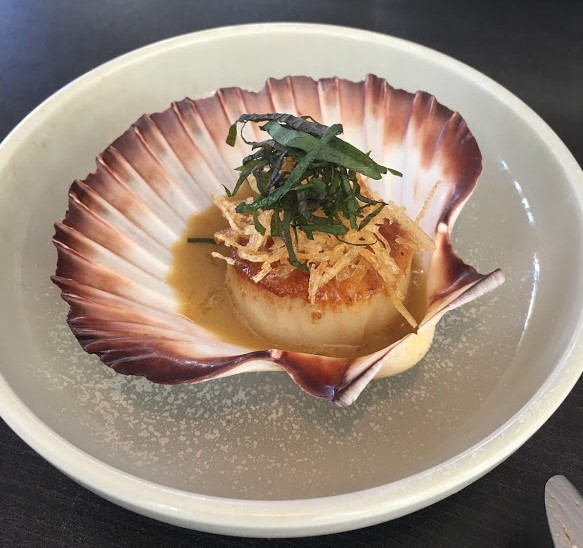 On Tuesday, after a morning spent catching up among the clouds with more old friends from Manila days, tapas is the order of the day at the Social Eating House. It has a fusion menu, Spanish tapas crossed with Asian flavours, and plenty of dishes for sharing. We nibble joyfully on delicious little lamb empanadas and seared scallops served simply in their shells. These were followed by Wagyu tartare and another serve of the delectable scallops.Finally, a bowl of Mooloolaba King Prawns in garlic, cider and herbs with chunks of bread for dipping, accompanied by a rather special glass of pink Louis Bouillot bubbles. Glorious!
Mamasan is an Asian Fusion restaurant on the Oracle Boulevard. Full to the brim with beautiful young people – staff and clients alike – this will be our grande finale before we head back to Brisbane. In the mood for Japanese cuisine, we dine on two rounds of trout tartare and kingfish sashimi, countless pots of warmed saki and tasty san choy bau with pork almost as good as the one we enjoyed on day one. The restaurant is buzzing. The staff are friendly and happy to help and the saki keeps coming.How lucky we don't have to drive home.
Thanks for having us Broadbeach….