"Nights and days came and passed, and summer and winter and the rain. And it was good to be a little Island. A part of the world, and a world of its own, all surrounded by the bright blue sea." ~ Margaret Wise Brown, The Little Island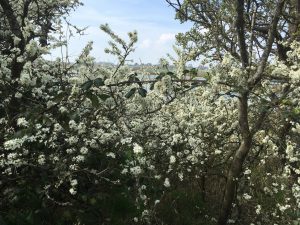 There is something mystical, magical and utterly captivating about an island. Particularly a small one like the Isle of Wight. Acquiescent in its geographical limits, yet baffling in its sense of 'otherness,' its sense of isolation from a more consequential mainland.
The Isle of Wight continues to confound me. A microcosm of the 'North Island' – England – it embraces Dover's white cliffs and Gloucestershire's wolds. It has an abundance of rural villages dotted with stone cottages bewigged in thatch. Winding country lanes are trimmed with hawthorn hedges, now covered in an avalanche of white blossom. Mile upon mile of walking paths cling precariously to the coastline, skirt wetlands, clamber up rolling hillsides, cross fields inundated with wildflowers. Of course, being an island, there are beaches galore, sandy or pebbled, and even a Brighton style pier. From almost every angle there are wonderful views across hills and valleys or out to sea. And of course everything is only a moment away…
On Sunday, on a sudden whim, we headed across the island to visit Mottistone Manor, an Elizabethan estate in the picturesque village of the same name. It is a National Trust property, although only the gardens are open to the public. The house was apparently the venue for the wedding of Benedict Cumberbatch to director Sophie Hunter in 2015.
Mottistone is only a mile and a half from the south-west coast of the Isle of Wight, tucked into a secluded valley in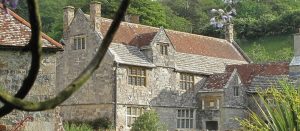 the hills below the Downs.  It is early spring, and the formal gardens are looking sparse, but will come into their own later in the year. These gardens have been redesigned using plants common to the Mediterranean and drier areas of the southern hemisphere, to ensure less water is needed to maintain them. This not only came about because a previous lady of the manor was Sicilian, but because the Isle of Wight is not self-sufficient during summer, and must bring water from the mainland, through pipes beneath the Solent.
Meanwhile, the wilder side of the garden is awash with well-known English plants: azaleas, rhododendrons and camelias, heavy with dark pink flowers. Across the grassy banks is a profusion of daffodils and narcissi. Magnolia buds are on the verge of blooming. In the orchard, fruit trees look positively bridal in white and pink blossom, the grass beneath carpeted with primroses. A hillside grove of young olive trees overlooks the kitchen garden.
The house itself is a grey stone manor reminiscent of my favourite National Trust property, Ightham Mote without the moat, and I am sorry not to get a peek inside.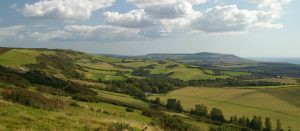 Further up the valley, we discover woodlands on the cusp of bursting into a full-throated chorus of bluebells. We plan to come back in a week or two to see them at full throttle. Leaving the woods through a kissing gate, we follow a steep, sunken path uphill. As the path emerges onto Castle Hill, we are confronted by a pair of ancient stones:  a megalithic standing stone or menhir made from local sandstone four metres high, with a smaller one lying at its foot. It is said thy were dislodged by the Saxons and, later moved by a nineteenth century squire, so that today they no longer stand where they are thought to have been originally planted: at the entrance to a nearby Neolithic burial ground, or possibly as part of a druid temple. The National Trust website suggests that 'moot' is Saxon for meeting, and it seems probable that the menhir provided a meeting point for the Saxons, and that Mottistone is a corruption of Moot Stone.
On this cold and blustery hilltop, trudging among gorse bushes, we enjoy glorious views of the Highdown cliffs and coastline towards Freshwater Bay to the north west, and St Catherine's Hill to the south east. Apparently, there are also the remains of Bronze Age barrows and an Iron Age enclosure, but we don't go in search of them today, as the wind is chilly, and drives up back down into Mottistone Gardens for a warming hot chocolate at the tea shop.
By the tea rooms, we find The Shack, once a rural retreat for architects Seely & Paget, complete with drawing boards, a basic kitchen, a small bathroom and two cabin bunks under the eaves. Built in the 1930s it is an unusual example of Modern Movement design, a precursor of the tiny house movement so popular today.  Mottistone Manor was completely remodelled the 1920s by this architectural firm. The 'Seely' of Seely and Paget was the second Baron Mottistone and the great-grandson of Charles Seely who bought the house and estate in 1861.
*
For the foodies, there are many eating experiences to enjoy on the Isle of Wight: a plethora of pubs; two vineyards and a gin distillery; armfuls of farm shops and seaside cafés, even a garlic farm. Not too shabby for a tiny island only 23 miles by 13 miles!
My favourite eating spot this week is over in the north west of the island, only a fifteen minute drive from Mottistone. Beside Thorley Brook at the back end of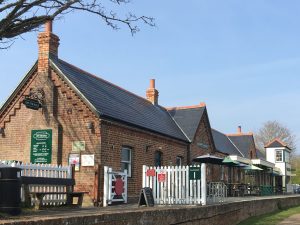 Yarmouth, is the old railway station. Once part of the island rail network, the station first opened in July 1889. Unfortunately, like many other lines on the Isle of Wight, the Freshwater-Yarmouth-Newport railway, was never a financial success, and it finally closed down in 1953. For fifty years the station building housed the Yarmouth Youth Club. It was sold in 2010, when the original building was carefully renovated and decorated with a railway theme. It opened as a restaurant in 2014. The aptly named 'Off the Rails' now provides sustenance to walkers, cyclists, holidaymakers and locals who pass along the disused railway track that is now a path along the Yar to Freshwater.
A row of banquettes in green and grey line up along the back wall to form booths, like the old British Rail compartments we haven't seen since the 1980s. I spot a child's model steam train on a roof beam, another perching on a window sill. Black and white photos illustrate the history of the Yarmouth to Newport line.  A pile of old leather cases is stacked at one end of the room, more lie on old BritRail luggage racks above the banquettes. On our table squats an antique inspection lamp.
There are several outdoor tables on Platform 1, overlooking the marshes towards Thorley. Thorley Brook provides entertainment from ducks and other water birds, and there is plenty of space for dogs and children to play.  On a summer's day, the multiple bi-fold doors across the front of the café open out onto the platform.
Open from Wednesday to Sunday, 9am-4pm, and Saturday night from 6-10pm, Off the Rails provides separate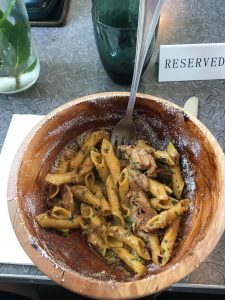 menus for breakfast, lunch and dinner with many nods to this railway themed diner: a Controller's Chowder loaded with seafood; the Yardmaster's fabulous carbonara with pork belly and freshly made pasta served up in a wooden bowl; Firebox fishcakes, moist and fresh and  rolled in charcoaled coconut crumbs to resemble coal; a Trackside fish'n'chip butty, and Furnace, a smoked mackerel bruschetta, to name but a few. Anything take your fancy? Till now, I have only popped in for lunch, but if the rest is as good as the meals we have sampled, no one will suffer from a lack of tasty offerings. I also like the fact that the kitchen does not cater to the usual notion of a kids menu full of fried food and carbs but simply provides smaller samples of the adult menu.
In addition, there are some very British events held on the premises from time to time. Fawlty Towers, Allo Allo, the Pink Panther and a Murder mystery are all on the menu this year.
Best of all, after you have eaten your fill, you can walk it off with a stroll through town or out along the cycling path. Bon appétit!
*With thanks to the National Trust website for photos of Mottistone and the Downs, and to Son #2 for the snap of his carbonara.