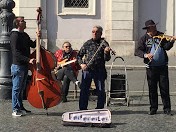 Rome again. While I have been lucky enough to visit the Eternal City several times, I always seem to land here in the heat of summer. And any city in the height of summer is hell. But this time it is winter, and walking the cobbled streets is a joy when compared to the sweltering, pulsating tourist-laden traffic of July and August.
This time we have an apartment in the burbs, about a thirty-minute walk (or a ten-minute bus ride) to the Coliseum. As we are out of the usual tourist traps, we are having great fun finding local restaurants, where the food is magnificent, the prices moderate and the service warm. The staff are amused but encouraging about at our amateur attempts to speak Italian. It's the carciofe season and artichokes as large as melons overflow from boxes on the roadside stalls. So, determined to eat seasonally, we order them at every restaurant we visit. The sky is blue and the days are considerably warmer than their northern European counterparts, although I still need a coat. We have an outdoor terrace which catches the afternoon sun, and plenty of rosemary bushes from which to garnish our sundowner gin and tonics. We amble through the city streets, keen to soak up the atmosphere, and stop whenever our legs get weary for a glass of prosecco, or a coffee break. Coffee has vastly improved since we first came to Rome together in 1991, largely because three decades later, we can now afford the coffee in Rome! I still remember the horror of buying a cappuccino near the Vatican that cost us half our daily allowance. Apparently we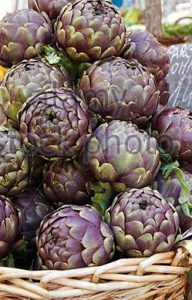 were also paying for the table. And the view.
As we have all been here before, sightseeing is not really a priority, but eating and drinking is. We indulge in both with marked enthusiasm.
Initially, I struggle to replace my amateur French with my even more amateur Italian, but smiles and windmill arm movements go a long way towards making ourselves understood. We are now experts at jumping on and off the buses, and we have learned not to drink coffee on the postcard piazzas where the prices are exorbitant.
Rome is surprisingly walkable, where every cobbled lane whispers a promise of wondrous art and architecture. I love the early mornings, before the shops open and the crowds fill the streets, and it feels like the city belongs to me. The evenings are fun, too. Although the piazzas are teeming, there is a more relaxed atmosphere as people drift out to dine at tiny tables already swamping the pavements. There is also a distinct lack of beggars and gypsies grabbing for our purses on the Spanish Steps, around the Colosseum, or by the Fontana di Trevi than there were thirty years ago. Perhaps they are just better disguised, or I look less like a tourist than I once did, laden down with my backpack and money belt!
We spend days soaking up the endless Roman ruins, the innumerable churches, the countless statues.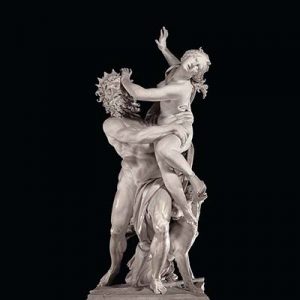 And we finally get to visit Villa Borghese. Originally a country villa in a vineyard on the edge of Rome, Villa Borghese was created in the 17th century by Cardinal Scipione Borghese, the favourite nephew of Pope Paul V, to house his art collection and his homoerotic orgies, so the legend goes. He also created several acres of park and gardens around the villa. As a patron of the sculptor Bernini, he commissioned several statues from his protégé that have become the real celebrities of his art collection, along with a number of Carvaggio paintings. A greedy and unscrupulous man, the Cardinal was known to go to any lengths to acquire the works of the most renowned artists of the day for his collection: it is a wonderfully flamboyant tale of grasping skulduggery that Shakespeare would have leapt at to furnish the plot for one of his plays. He was not above stealing the works he couldn't buy and trumping up charges against any dealers who did not accept his offers, and apparently even had Raphael's Deposition removed from an altar in Perugia.
So, he would be spinning in his grave to know that four centuries later his adored art collection would be acquired for a song from his impecunious descendants.
Napoleon Bonaparte, then Emperor of France, had first pickings from his Borghese brother-in-law, Prince Camillo Borghese, in the early nineteenth century. Napoleon requisitioned almost seven hundred paintings and sculptures from the Prince's illustrious collection in order to establish a collection of Roman Antiquities for what would become the Musée du Louvre. The Prince was initially reluctant to part with his beloved artwork, which included sculptures and bas reliefs that had been incorporated into the facade of the Villa Borghese. But Bonaparte was determined, and eventually offered almost three times the estimated price (a price that was never fully paid), and the prince caved in.
As a result of this dubious transaction, a law was passed to prevent future generations selling the collection off piecemeal. Sadly, for the family, this plan backfired when one nineteenth century Borghese financial wizard got into such dire straits that he was forced to sell off the house, land and contents to the state for a fraction of its worth.
For the City of Rome, the Romans and the tourists who were to follow, it was an absolute coup. With nowhere near as much effort as Napoleon, who would spend thousands attempting to transport his ill-gotten gains to Paris, we acquired early bird tickets to the Villa, and joined a tour group of only six, headed by an outstanding Italian guide and art historian. Armed with unquenchable enthusiasm and infinite knowledge, (name?) escorted us through the Villa to show off the highlights of this superb collection.
There are numerous paintings by Bellini, Raphael, Titian, Rubens, and Caravaggio, the most notable for me being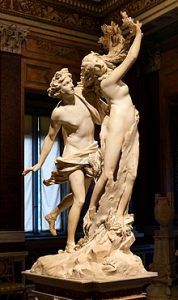 Caravaggio's Madonna and Child with Mary's mother, St Anne. Caravaggio's penchant for realism went too far for the Church authorities in this case. Depicting a barefoot Madonna with cleavage on abundant display (symbolic of her motherhood), a naked Jesus as toddler (deemed highly inappropriate at the time) and St Anne as an older woman, wrinkled and worn, the painting had been commissioned for St Peter's Basilica, but was rejected, and ended up in Borghese's private collection.
But I have a particular love of the three dimensional works: Napoleon's sister, Pauline Bonaparte, immortalized in marble as Venus by  Italian Neoclassical sculptor, Antonio Canova; Bernini's Apollo and Daphne, and Pluto and Persephone. We also saw a small piece Bernini sculpted in his early teens: The Goat Amalthea with the Infant Jupiter and a Faun is the first known work by the young prodigy.
Scipione obviously didn't spend as much time and effort on his park as he did on his art collection. Or perhaps it has just been long neglected. This is no Hyde Park. There is a lot of dirt and dust and random trees. But it is a wonderfully large space in the middle of the city, which makes it very popular with dog walkers, cyclists and joggers. We joined the crowds and wandered back into town…
*With thanks to Google images for the pics. (Except the street musicians, which is mine!)