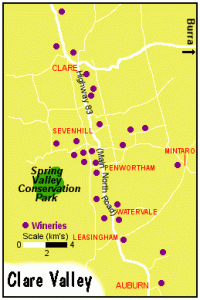 Ten years ago, I was writing a thesis on rural Food and Wine Festivals. It gave me the excuse to spend a lot of time in several lovely wine regions, like Orange in New South Wales and the Clare and Barossa Valleys in South Australia, in the name of research. Yesterday I revisited Clare with Son Number Two. It's a bit of a long haul from Adelaide for a day trip – two hours in each direction – but it was all the time we had to spare. Next time, I plan to set aside at least a week to explore the copious number of wineries that have sprouted up since I last visited in 2008.
Our prime destination, however, was an old favourite. Tim Adams Wines is a family owned winery on the edge of Clare, 130km north of Adelaide, South Australia. It is perched above the Warenda Road and adjacent to the Riesling Trail, a popular cycling track along a disused railway line between Auburn and Barinia. I had first popped in with my parents, an English guest and two small children, heavily pregnant with the third, in the winter of 1997. Expecting a boy, we had chosen the name Fergus, and were delighted to discover that Tim Adams had just released a red wine in his honour. We bought a dozen in anticipation of 21st celebrations.
Tim Adams Wines was born in 1984, a partnership between winemakers Tim and Pam Adams and local coopers, Bill and Jill Wray. Although the partnership was dissolved within three years, the Adams have gone on to make some great wines.
Arriving on the dot of noon, we began – of course – with the latest Fergus, a 2014 Tempranillo Grenache Malbec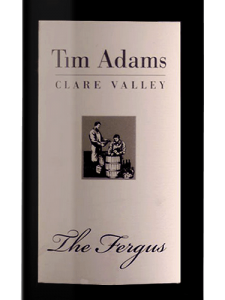 blend. The Fergus is, like our son of the same name, in its 21st year of production. It was not actually named for Number Two Son, surprisingly enough, but for an Adams neighbour. Fergus Mahon sold Tim some Grenache grapes in 1993, when there was a desperate shortage of Shiraz and Cabernet. A softer style than either of these traditional varieties, The Fergus has Tempranillo's red berry and cherry flavours that meld beautifully with Grenache's earthy spiciness. And Malbec, we are told, is the perfect additive for filling out the mid palate. Unfortunately, The Fergus only has a ten-year shelf life, so the dozen bottles we bought the year of its birth have long gone, but on this trip, we have been indulging in a few of the 2014 vintage, as the Spring weather turned unexpectedly cold, and curries and roast lamb have been making a late reappearance.
Another one for which our Fergus discovered a liking was the TA tawny port. Initially uncertain, he eventually tried a sip, after I had regaled him with boozy university tales of cheap port served in Vegemite jars. It took only a sip for him to change his tune entirely. Modelled along the same lines as some of Portugal's best tawny ports, this 20-year-old fine tawny is a lighter colour than many other Australian tawnies, and not as sweet, as, TA do not add caramel to their recipe, as many others do. Its extra maturity also adds a complexity that others fail to deliver. We were swooning with joy, as we imagined nights round a camp fire, guitars, Vegemite jars..
A 2015 Cabernet Malbec also made its way into our box. Cabernet Sauvignon is a good, consistent variety that performs well in the Clare Valley. As with the Fergus, the addition of Malbec adds to the texture and richness of the mid-palate, resulting in a full-bodied wine with expansive, chalky tanins. Twenty-four months in French oak adds complexity, and it is possible to cellar this one for at least ten years. As always, this Cabernet pairs beautifully with lamb and other red meat dishes.
And finally, for my One & Only, we tossed in a bottle of the 2011 Reserve Riesling. This complex Riesling is made from the best grapes from premium Clare Valley Riesling vineyards, which has resulted in a bright, aromatic wine with intense citrus flavours. Tim Adams has aged this particular Riesling in the bottle for five years which has added light hints of blossom and honey on toast. This wine will cellar for twenty years, and can then be enjoyed as an aperitif or with seafood. The website advises it is 'best with oysters fresh from the sea.'
Tips for lunch included Mr. Mick's Cellar Door & Kitchen, where Tim Adams and his partner Brett Schutz have established a tapas restaurant and a cellar door to exhibit a range of inexpensive, unpretentious wines in the old Stanley Leasingham winery. Here is where Tim began his winemakers apprenticeship with 'Mick' Knappstein, so keeping it in the family, we headed into town.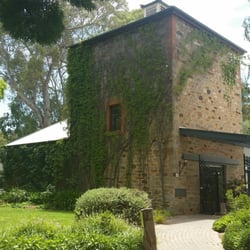 Unfortunately, the long drive back excluded me from mixing wine with lunch, but we had tasted enough at Tim Adams to feel relaxed and happy. We chose two dishes each and thoroughly enjoyed our choices. Sharing everything, of course!
First, our waitress arrived with fresh, home-made bread, soft and warm from the oven, with terrific crustiness. This was served with local Emu Rock olive oil and Mr Mick's spicy dukkha. To say we inhaled it, would not be overstating the case, and Fergus claimed another three plates full would not have gone astray.
Next, a standard pub favourite that was done to perfection: salt and pepper squid, so tender and light that we barely needed to chew, was served with an interesting orange and chilli dipping sauce.
Then, traditional albondigas, or four, fat veal and pork meatballs, which were served with braised fennel and topped with a creamy béchamel sauce. I only managed one, but SN2 was happy to clear the bowl.
Finally, the sweetest of sweet potato, roasted, and sprinkled with bacon cubes and crispy shallots, that came so hot from the oven I almost burnt my tongue. A siesta would not have been unwelcome at this stage, but unfortunately it was time to turn south if we were to have time for any further detours.
Now, surely, it's time to light the fire and pour the Tempranillo…?