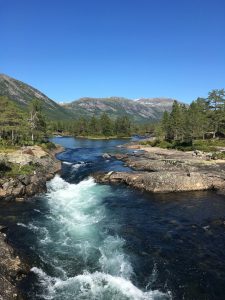 Norway in mid-summer, and those never-ending Scandinavian days, when the sun sets in the north-west for a mere blink of the eye, before rising again in the north-east. Birds chatter and chirp for as long as the sky is bright, as over-excited as spectators at the World Cup.
And we are camping.
It's a long time since we've been camping, and I am a little anxious. But we are better equipped than we were thirty years ago, armed only with our sleeping bags and a two-man tent, strapped to mountain bikes. This time, while it isn't exactly glamping, it is infinitely more comfortable than it was in the olden days. This time, we have a family-sized tent – the McMansion – with room to stand, air mattresses to sleep on, and a two-burner gas stove. The car boot is a portable wardrobe and thus overstocked with clothes and accoutrements: coffee pots, family sized frying pans and a huge wicker picnic basket. (Next time we will purge the contents of our travelling kitchen, if only to avoid playing Tetris in the boot with all the bags and boxes every time we pack up!)
As a bonus, we are blessed with three weeks of the most superb camping weather: not a drop of rain, clear blue skies, warm days, cool nights. My only complaint is the ridiculous class system that pervades every camp ground, giving priority to motor homes – mostly equipped with bathrooms anyway – and dumping the tents at the far reaches of the campsite, ensuring many a desperate midnight dash of several hundred metres to the nearest loo. In that respect, at least, I am now thoroughly appreciating my motel room near Bremen with its ensuite bathroom.
So, how to describe the majestic beauty that is Norway?
I could, like Bill Bryson, flaunt some impressive statistics: the longest, deepest fjord (205km x 1,300m); the highest waterfall (850m); the longest tunnel (24.5km).  We never found the highest waterfall, but we drove through the longest tunnel and caught a ferry across the deepest fjord.
Here, let me show you…
An overnight ferry from Denmark to Stavanger in a proper, grown-up cabin with a huge, round porthole, North Sea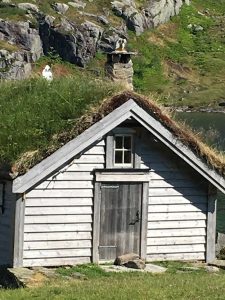 winds nearly blowing us off the deck…
A green and leafy campsite beside a lake brimming with ducks and geese and swans and children and joggers, where our tent squats on the windiest spot for miles, a busy road roaring right behind us, day and night…
A harbour lined with sailing boats and motor boats and tourist boats; bustling pubs and restaurants decked out in bunting for the soccer; pop-up stalls selling those traditional Nordic jumpers in complicated, geometric designs that last a lifetime…
An old, white-weatherboard town clambering up cobbled hills on either side of the harbour, one side trapped out for the tourists with boutiques and cafés, the other side filled with picturesque cottages trimmed with colourful summer gardens…
Heading south to wild, windy beaches and white sand dunes, where Oyster catchers clamber over the rocks and ours are the only footprints in the sand, the scent of salt and seaweed heavy on the air; hunting for light houses, in all shapes and sizes, with marble-mouth names like Obrestad, Kjeungskjær, Ytterøyane and Ytre Møkkalasset. We haven't time for them all –  there are multitudes in Norway – but we find a few…
A pilgrimage to Pulpit Rock (Preikestolen) 600 metres above the Lysefjorden, where hundreds of walkers, red-faced and breathless, clamber up the steep, rocky steps, through fairy glens of moss and marsh and around glassy mountain tarns to reach the famous look out after a 'moderately demanding' trek…
A picnic, far from the madding crowd, beside a tiny pebbled beach on a lonely stretch of water, then a nap beneath the trees, and a ferry ride home, dodging through the cluster of islands between Tau and Stavanger …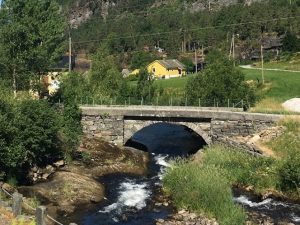 Driving north-east through Tolkien-tunnels underneath the mountains, over sky-high bridges spanning bottomless green fjords, narrow roads tightly cork-screwing over mountains dimpled with snow…
… past Tiffany-blue-and-turquoise rivers, mirror-like mountain tarns reflecting the mountains, the deafening sound of splashing, crashing cascades and waterfalls dropping like white streamers over the rocks and into the fjords below. Troll-like rock formations that bring to mind Obelix and his menhirs, lush alpine meadows polka-dotted with wildflowers, squat stone cottages with low-browed turf-covered roofs sprouting miniature roof gardens…
A medieval stave church, leaning drunkenly amid the tidy gravestones; weatherboard houses in white and red, in a sea of cherry orchards and toffee-coloured cows; lambs and goats, and stray seagulls swooping inland from the sea…
A courageous dip in a glacier-fed lake, temptingly clear on a hot afternoon, terrifyingly icy as we plunge in…
A helicopter drops to the surface of the fjord, scooping water into a bucket to douse a fire in the hills, another delivers rocks to the Sherpas repairing a footpath beside a waterfall, and yet another is sent in to rescue accident-prone summer skiers…
A peaceful campsite on a farm above a dappled dam, overlooked by mountains holding up hectares and hectares of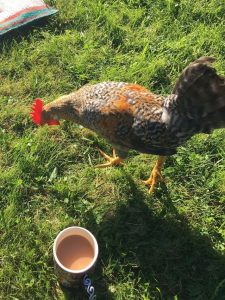 ancient glacier, where we are woken by a scolding rooster and his harem of friendly hens…
Bergen, a port town filled with cruise ships and sunshine. A plethora of fish stalls and cafés and coloured wooden houses prone to fire that have been recreated time and again over the centuries; a cosy coffee shop in a cobbled lane, a haven from the swarming crowds and the fierce sun. Giant crabs and infant oysters, salmon and eel and reindeer salami…
Flåm, a tiny town at the top of a fjord, its minuscule population bloated to bursting point by hikers and campers and cruise ships. A train chugging up the valley filled with sight-seers and selfie sticks. A wall of motor homes turning the valley into a vast car park…
And yet there are still a few quiet and solitary spots to be found: out on the fjord in a kayak, buffeted by a passing ferry, dive-bombed by nesting seagulls; on a sandy island in the middle of a fast-flowing, pebble-bottomed, glacier-mint river; on a calm, soft evening beside the marina, sipping Chardonnay; in an obscure little coffee shop overlooking the harbour for my best Scandinavian coffee yet…
An almost spontaneous meeting with old friends from Sydney, in the next valley, dining on salmon and chips and reindeer meatballs as the sun refuses to set…
And early mornings in the campsite, with a mug of tea, bird-watching, people-watching, the wildflowers thick and bright on the bank behind us, small children turning somersaults or sword-fighting with sticks…
Norway: an endless, ocular feast of natural beauty and hot, blue skies; a land of fresh air and pink, woolly sunsets; a land of fjords and waterfalls, salmon and seagulls and endless sunshine. This summer at least!