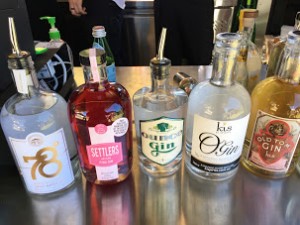 David Danby, cocktail barman turned gin distiller, loves gin for its honesty.  Director of Imperial Measures, David can be found at the hub of Tasting Australia, where he is introducing a raft of local gins, from Adelaide's Prohibition to Kangaroo Island's KIS Wild Gin, Fig Gin from Mount Lofty to Budburst from the Barossa Valley.
Danby agrees that while the language of wine relies heavily on simile to describe taste and aroma, the flavours in gin are the real deal. Be it fig, lavender, almond blossom, or even the citrus flavoured green ant, the clean, base alcohol is infused with the actual flowers, fruits, herbs and spices described on the bottle.
Originally a cheap panacea for the masses, gin was once the sole domain of the huge distilleries who marketed classic 'London' dry gins. In 1999, Hendricks became the first to produce a small batch of hand-crafted, high quality gins. Since then, there has been a plethora of new gins on the market, and the list of botanicals in each bottle weaves a magic spell.
And these boutique gins are upstaging the venerable, vintage gins with complexity, sophistication, even poetry, that make each one distinctive and unexpectedly aromatic.
The rebirth of the juniper berry has struck a chord all over the world. Today, even South Australia is on the band wagon, and there is a widespread loyalty here, for local ingredients.
Danby says drinking gin with tonic water and the balance of bitter and sweet enhances the gin and makes it incredibly moreish. Try it with water, and the botanicals 'shine through.' And then there is the fun of playing with garnishes that goes way beyond the traditional slice of lemon.
Despite the large number of local gin producers and Australia's heavy taxation on alcohol, which raises the cost significantly, Danby assures me he can barely keep up with the turnover of his own Adelaide based Ounce Gin.
Danby and his partners leapt into producing gins when they discovered that there was an inevitable shelf-life to working behind the bar until two in the morning. And while I am not fond of the over-used adjective 'passionate' it applies here, as Danby enthusiastically educates me on gin production, while the heavens open over our heads.
Imperial Measures will open its own cellar door in Thebarton very soon, and at the same time plan to introduce a second gin to its stable. In the meantime, I savour the elegant citrus and mid-palate cardamom flavours of their inaugural Ounce Gin, as we lean on the Spirit Bar at Town Square. These are, as Danby says, his eyes gleaming, 'exciting times.'
This article was originally published on the Tasting Australia website: http://www.tastingaustralia.com.au/stories/le-cordon-bleu-digest