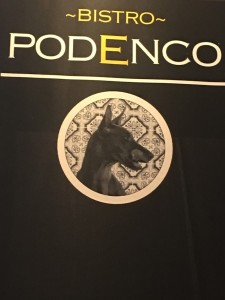 At any time of year, my favourite slice of Luxembourg City is along the Alzette River: in autumn, as the trees drip leaves, the sky drips puddles and the river swells; in winter, when the water stampedes over the weir and crystallizes on the rocks; in spring, as the crocuses nudge through the grass and downy, newborn leaves emerge; in summer, when the apple trees on the riverbank are bent double like old women, under the crippling weight of ripening fruit.
On its journey through the city, the Alzette snakes through a deep gorge, far below the eastern ramparts of the old town of Luxembourg, passing swiftly through Grund, Clausen and Pfaffenthal. Beside the river, in the shadow of the magnificent stone arches of a lofty railway bridge, is a stout, red building, crouched against the cliff. 'Hond Haus' is painted in large letters on an outer wall, for it was originally the kennels for the hunting dogs of a 16th century governor of Luxembourg, Count Mansfeld. Today, the Hond Haus houses a terrific little Spanish restaurant. In keeping with the building's origins, Bistro Podenco is named for a wiry Spanish hunting dog: the Podenco Ibicenco.
We discovered this lovely spot last summer with some good friends, and have found our feet wandering that way many times since. The service is fast, friendly and attentive: a rare combination in Luxembourg. The dining room is diminutive, so it's best to book in advance, but it is perfect for an intimate, cosy tête-à-tête with the One & Only. And on a warm summer evening, there is plenty of room on the terrace outside.
Tonight, the temperature outside was set to freeze off every extremity, so we walked into the warmth with a sigh of relief. We were given a cheery welcome by Eduardo and Susanna, and directed to a table by the window, huddling against the radiator. The restaurant has a field to fork philosophy and the menu provides a delicious array of authentic Spanish dishes, including many tempting tapas. Eduardo pointed us to the specials board, and promptly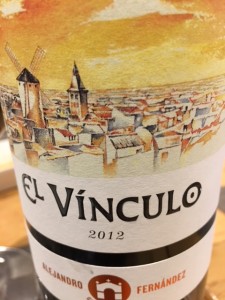 recommended at least two dishes not even listed there. He also suggested a red wine he thought we would enjoy, and was back in a blink, with a dish of large green olives and a full-bodied Tempranillo. It was perfect for warming the blood on such a frosty night. And such a beautiful label, with its traditional Castilian windmill. I have yet to see a wine list, but we have loved every bottle Eduardo has ever championed, and tonight was no exception, red white or bubbles.
Between Eduardo's stilted English and my rusty French, we managed to chat through the menu. After a lengthy discussion, we began with the best jamón ibérico, served with smashed tomato on bread, so 'you can construct it yourselves.'  This Spanish style tomato on toast (pan con tomate) is a traditional Spanish snack made with slices of barra (like baguette), ripe tomatoes, quality olive oil, bread, garlic and a sprinkle of sea salt. It is a tasty base, but we prefer the naked bread, so we can savour the jamón.
Then, Susanna brought out the pulpo a la gallega: button-sized slices of cooked octopus served on boiled potato and sprinkled in paprika and olive oil, like a sort of bruschetta marinara, that we ate in our fingers with much finger licking and messy delight.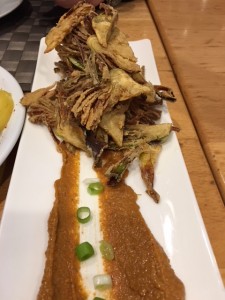 There were none of my favourite aubergine croquettes tonight – much to my disappointment – but Eduardo advised us to taste the artichaux frites. These artichoke chips, fried in batter like a heavy tempura, are crispy and moreish, and proved to be an excellent alternative. They are even better dipped in the oil from the pulpo, or the red wine gravy that has been poured over the tender and tasty black Iberian pork fillets.
Meanwhile, the restaurant had filled to capacity, and we got chatting with our neighbour, a lone American who was very pleased to have been directed down to this buzzing riverside restaurant. We exchanged travellers tales and promised to look him up if we were ever in New York.
When, like Jack Spratt and his wife, we had all but licked the platters clean, we tidied up with a slate of salty Manchego cheese, the perfect accompaniment for the last of the wine. And, for the grand finale, a rich and mellow tawny port to keep us warm on our wintry walk home.