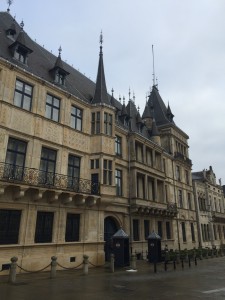 As we flew over Luxembourg last week, we were thrilled to observe that the countryside had been lightly dusted with snow.  I was reminded, inconsequentially, of that classic Aussie film 'The Castle' and Sal's dab hand with the icing sugar. As we pulled up to the terminal in our tiny prop plane, a few snowflakes skittered, teasing, past the windows, but refused to settle. We dragged on layers – woollen jumpers, coats, hats, gloves that have not seen the light of day in years – and scampered across the icy tarmac to the warm arrivals hall. "Wëllkomm, willkommen and bienvenue!"
What a very different landscape from the hot, humid concrete world of Manila. Here there are no madcap buses or jam-packed jeepneys honking furiously. No barefoot kids are begging on street corners, nor are there touts selling snacks to passing motorists. No forests of high-rise buildings stretch to the clouds like Jack's beanstalk. There are no street stalls selling balut on the cracked pavements, nor swarms of motorbikes dodging and weaving through the traffic. Brightly colours billboards, huge shopping malls or shanty towns there are none.
When we left Manila in early December, we headed for London, to catch up with friends and family and to celebrate our first cold Christmas in years. It was a strange buffer-state month of long brisk walks and boozy lunches amidst endless administrative emails, as we continued to wrap up one life and reinvent a new one, not to mention the logistics of choreographing a family of five again. So what with all the activity, and a sickly computer, this is actually the first time I have sat down to write anything longer than a shopping list in weeks. The lack of writing tools has made me feel incredibly flustered and discombobulated, as I seem to need to write about my impressions of the world around me to keep my head in order.
So here we are, in Luxembourg at last, and I have already signed up for French classes in an attempt to polish up language skills that have grown rusty and dusty from neglect. ("Mon cerreau est rouillé"). I fear I will need gallons of boot polish and elbow grease to get back to any useful standard. Thankfully the locals seem to speak reasonable English, as well as French, German and their native Luxembourgish, for which I am grateful, although, it does make me feel most inadequate!
Luxembourg, in case you have never been introduced, is a small, neat, mediaeval city, at the southern end of a small,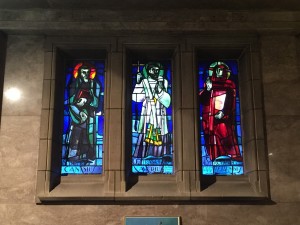 neat country of the same name. Covering an area of only 999 square miles, it is a pocket-sized land of fairy tales castles, fortresses and deep dark woods, wedged snuggly between the borders of Belgium, France and Germany. Like piggy-in-the-middle, Luxembourg has been frequently invaded, squabbled over and swapped like the properties on the Monopoly board. Its original perimeters have shrunk considerably, too, as its neighbours played snatch and grab at its borders. Over the centuries, Luxembourg has been ruled by all and sundry: Kings of France and the Netherlands, Burgundy, Bohemia and Spain, not to mention the Hapsburgs and three Holy Roman Emperors. It finally gained its independence in 1839, only to be occupied by Germany during both World Wars.
This role as a lowly pawn on the political chessboard of continental Europe obviously wore thin centuries ago, reflected in its motto 'we want to remain what we are.' Luxembourg has therefore chosen to take a lead role in modern politics, as a founding member of NATO and the European Economic Community, the United Nations and the EU. Financially, too, it has become a heavyweight, and is now almost the richest country in the world, second only to Qatar. Today, this Lilliputian realm that would fit twenty five times into Tasmania, is the last Grand Duchy in the world, with a constitutional monarchy, currently headed by the Grand Duke Henri, and a democratically elected Prime Minister, Xavier Bittel.
As you can see, I have learned a bit about my new home already, largely thanks to a visit to the Luxembourg City History Museum and a fascinating walking tour of the old town. Despite freezing fingers and toes, our group of five (four nurses and me) cheerfully followed our informative guide through the cobbled streets, soaking up the history of this charming city with its medieval fortifications balanced upon sheer cliffs, its broad,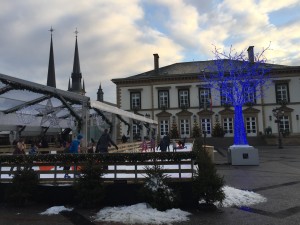 pedestrianised boulevards reminiscent of Paris, and its generous collection of Baroque and Gothic churches. And the city centre is wrapped about in a thick scarf of parks and woodland that will undoubtedly look even better when the trees are properly dressed. By the end of the tour, damp and cold, I wandered into a cheese shop to thaw out and taste a local Riesling – a worthy restorative! – from the Moselle Valley, the Luxembourg stretch.
So for two weeks I have walked the length and breadth of the city, testing my new winter coat and my stamina for chilly winds. One weekend we discovered an ice rink on Le Place Guillaume II, where we watched small kids learning to skate with the aid of plastic chairs, while their elders  huddled round the braziers and cuddled cups of mulled wine for warmth. By midweek this winter wonderland had been replaced by a twice-weekly produce market, where rugged souls braved the cold for fresh vegetables and French cheeses. We found a hot chocolate shop opposite the Palace, and sat outside with rugs on our knees, sipping luxuriously and somewhat guiltily as we watched the poor guard stomping cold feet back and forth past the tables. The cold temperatures have been challenging, but I love the ability to walk everywhere without dripping with sweat. Yet I find am already missing the Filipino smiles. The locals are perfectly friendly but they don't smile much – although, to give them the benefit of the doubt, temperatures have been consistently below zero since we arrived, so smiling isn't easy with frozen cheeks and lips! I have made a point of smiling a lot, but they stare back at me in horror, obviously thinking I am quite crazy. Ah well, perhaps I am!