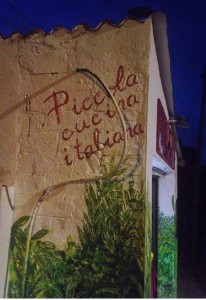 It is lunchtime. Well, four o'clock actually, but this is Spain, where 'time is an illusion, lunchtime doubly so,' to quote Einstein and Douglas Adams. The tiny garage restaurant at the crossroads is packed to the gunnels. The owner is apologetic but there is nowhere to squeeze us in, and dinner is fully booked too. He does have space outdoors for dinner, but the weather is not promising, he warns us, indicating the looming clouds. We wave off regrets and promise to try again another time.
The storm arrives early, and drenches us to the bone as we clamber frantically up endless steps and over the hill to our B&B. We arrive like the proverbial drowned rats, looking as if we have swum the last lap.  The supermercat is closed, the cupboard is bare, it has been a long day and we haven't the energy to haul ourselves into the city. What to do?
Half an hour later, the sun emerges, victorious, and there is not a sign of a single cloud. The windows are open wide, a breeze wafts through the cumquat trees and the grape vines. We drape our sodden clothes over the washing line outside the kitchen window and wonder if our shoes will ever dry.By half past eight the snacks we grabbed from the tabac at four o'clock have vanished like the clouds and we are eager for dinner. The sun is still up, the air is warm, so we decide to try the little Italian place again.
Sant Cugat del Vallès is a small town in the hills above Barcelona. Only twenty minutes on the train to the top of La Rambla, it feels a million miles from the hustle and bustle of the city. Tattoos, dreadlocks and nose piercing seems to be the order of the day. Steep hillsides are thickly coated in trees and terracotta-tiled roof tops peek out through the foliage. Fruit trees, bees and kitchen gardens abound. We almost run into a wild boar and her scrappy pack of piglets. The air is clear and calm, the roads narrow and winding like tangled wool. We have only three days, but time drifts and it feels like we have been here for weeks, as we potter back down the hill to the crossroads.
Customers gather at the door of Restaurante Piccolo Cucina Italiana for a final puff on their cigarettes before dinner.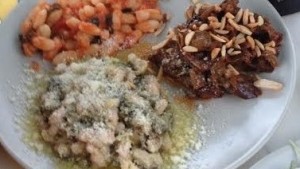 There is room for perhaps sixteen inside, and the one outdoor table has already been reserved, huddling under a makeshift pergola, like a bus shelter on the edge of the pavement. The owner is apologetic but there is nowhere to squeeze us in. There is a sense of déjà vu. But wait a moment. He will arrange another table for us, if we can wait a few minutes. We all beam.
Sure enough, like magic a plastic trestle table appears next door in the owner's front garden, decked out with cutlery, tumblers, an umbrella, two kerosene heaters (for which we will be immensely grateful when the sun finally sets), and a rescue dog called Troll, an excitable black Labrador who is delighted to have our company. We have shaken hands with Vittorio, who 'once came from Naples,' and we have agreed that a tasting menu is perfectly acceptable, especially at twenty euros per head (cash only). In fact, we are thrilled not to have to make any decisions, happy to sit back and relax and wait for whatever comes to the table. He even chooses our wine, and a waiter promptly arrives with short, squat tumblers and a bottle of sparkling red Lambrusco that tastes uncannily like bubbly Ribena, it is so fruity and full of blackcurrant. Life is looking good.
We wait in anticipation, admiring the graffiti on the outer wall of the garage, a myriad messages of appreciation for wonderful meals past. Troll entertains us with his eager antics, as we sit amongst pansies, plum trees, fairy lights and two huge motorbikes. A waiter arrives with a basket of Italian bread, the centre soft as featherdown, the crust gratifyingly crunchy.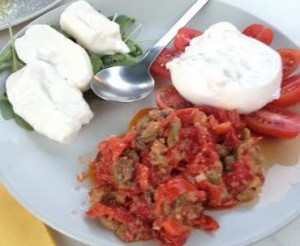 Vittorio returns with two plates of antipasti: a satisfying display of texture, colour and taste. We gather up our forks and bread and dip into an orb of creamy burrata onto which we sprinkle – sparingly – a pinch of grey truffle salt. There is a serving of tiny gnocchi mixed with spinach, pecorino and fagoli (white kidney beans),  another of fagioli in a fresh tomato sauce, and melanzane (eggplant) that looks and tastes like mince pie mix, sweet and nutty, the melanzane still slightly firm to add texture. We have never tasted eggplant like this before – neither caponata nor the melanzane fritters that we favour at our place – but I must ask for the recipe. And finally a zesty serve of red peppers, anchovies and olives that we heap onto bread and garnish with buffalo mozzarella and rocket.
The temperature is dropping, but the heaters and the Lambrusco keep us warm, and the arrival of hot pasta is timely. Vittorio leaves us some space to digest the appetizers before arriving with a bowl of white bolognese with fresh fettucine. While I am familiar with the classic ragù alla bolognese, none of us have come across ragù bianco before, but it is an instant hit, and one I will certainly try to replicate at home. Lacking the usual and liberal dose of red tomatoes, the sauce requires just a smidgen of tomato paste, the whiteness created from a blend of ricotta and parmesan cheese. The flavor is still rich, yet somehow lighter than the traditional bolognese. We have barely finished competing to scrape the bowl clean with our last pieces of bread when the next pasta dish shows up. Rigatoni and melanzane, thick with melted cheese, it tastes like moussaka, the cheese trailing from bowl to plate like spider's silk. Penultimately, a third bowl of pasta: short pasta tubes (ditalini? calamarata?) tossed together with fennel sausages in a spinach and tomato sauce. (The children may have got a mouthful.)
We aren't convinced we have room for dessert, but Vittorio insists on bringing us one to share.  Too full to argue,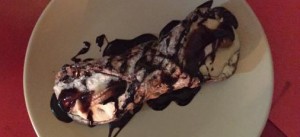 we are soon sitting, spoons in hand, before an extra-large cannolo, – that popular Sicilian pastry – this one served hot and drizzled with hot chocolate sauce. Having had more than my fair share of the pasta dishes, I am happy to leave this one to the kids, while I sip on a tiny cup of espresso that I will regret at 3am, but keeps me warm for now.
Simple, small, and delightfully unassuming, Restaurante Piccola Cucina Italiana is a novel and quite delicious experience, literally and metaphorically, that lives up to the Italian reputation for quality food and generous hospitality. We come away replete and happy, feeling we have found a new friend and enjoyed una casa lontano da casa: a home away from home.