A weekend in Cebu City. A friend's birthday. A room at The Henry. A table  at Anzani . A Sunday recovery barbecue by the pool in the friend's garden. A recipe for a super weekend.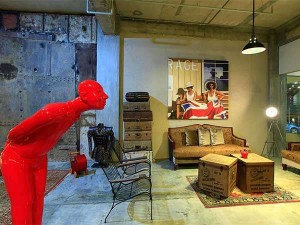 Our hotel may be a good place to start. Walking distance to our friend's lovely home in a nearby gated community, it is a complete contrast to its elegant, colonial-style sister hotel in Manila. Built in the style of an old warehouse, The Henry in Cebu City on the outside is all black paint and big windows. Inside, the hotel is brimming with an eclectic collection of modern art, quirky furnishings and eye-catching sculptures scattered around large, airy spaces. This included a rather unnerving plastic statue of a red man in the lobby. A welcome drink, a quick and easy check in, and we are escorted to the sixth floor and a vast bedroom, with two huge windows overlooking the garden and pool. We step back to admire the polished concrete floor, a super-king sized bed, a generous bathroom separated only by a curtain (not so good for the more reserved amongst us), a lovely hip bath (but no hot water) and more than enough room to swing the proverbial cat.
Two minor complaints: a kettle and tea making facilities in our room would have been most welcome. And when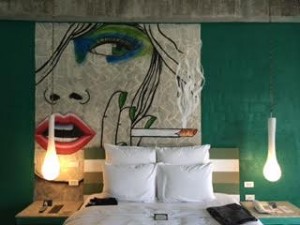 drinking the tap water is not an option, I figure it might be kind of the hotel to provide bottomless drinking water, or at least a small water cooler, not just two small plastic bottles per day. That said, the room was incredibly comfortable, the staff were friendly, and the restaurant was really very good – the One & Only took a particular fancy to their carafes of lemongrass tea. And of course the artwork and furnishings were fascinating. I particularly liked a framed violin above the dressing table. Its bow, also framed, hung on the opposite wall. There was also a brightly coloured, Andy Warhol-style mural onto the wall above the bed. And I loved the various stacks of old trunks piled around the lobby – and two 1950s cream suitcases we initially thought someone had left behind beside the elevators!
And so onto dinner at the very beautiful Anzani, set high in the Nivel hills above the city, with stunning views and a range of attractive indoor and outdoor spaces for dining. We were ushered downstairs to a table for eight in the wine cellar, overlooked by two large sketches of Sophia Lauren.
It calls itself 'New Mediterranean,' but Anzani is more a wondrous fusion of Mediterranean recipes and Filipino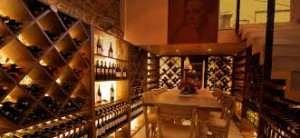 ingredients.  The menu was handed to us on a tablet, which novel, but a bit problematic, until we came to grips with the screen, which kept vanishing. Eventually we sorted it out and began to unravel the extensive menu (pages and pages) of Mediterranean-inspired dishes. I am always a little nervous about large menus – I find it hard to believe the chefs can possibly do justice to so many dishes – but tonight my doubts proved unfounded. Every dish, even the complimentary ones, came to the table in style, artistically presented and tasting sumptuous. There was a 'chipotle three-cheese fondue' and a platter of Italian meats, both generous enough to share; carpaccio of beef, swordfish or ostrich or a smoked tomato soup; numerous pizzas, pastas and risottos, and a selection of mains that included French duck breasts, Wagyu short ribs and pan-seared crocodile tail. And I am not kidding when I say I am just scratching the surface, as there were also numerous dishes that wove local ingredients (yellow fin tuna, bangus and grouper) into the mix.
We were swiftly presented with a very pretty selection of dips and nibbles to get the ball rolling, while we devoured the menu and chose the wines – wonderful fun when you can just lean behind you and grab whatever catches your eye!  Grant Burge put in a star turn, in both red and white, but the wine cellar offers all sorts of nationalities: New World wines from Australia and Argentina, Chile and New Zealand, South Africa and the States; Old World wines from France, Italy and Spain. I chose, with no apologies, a lightly wooded Grant Burge Chardonnay
I was particularly delighted with my dinner tonight. Normally I am one of those annoying people who decides too late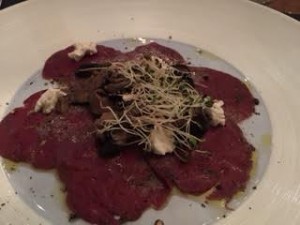 that everyone else has made better choices than me. But tonight I decided to experiment with the ostrich carpaccio, which is apparently sourced from an ostrich farm in the Philippines. Paper thin – as it should be – it was topped with crumbled goat cheese and roasted wild mushrooms.  Much to my delighted surprise, the ostrich proved to be a dark meat with gallons more flavour than the Angas beef carpaccio, and quite beautifully partnered with the goat's cheese and mushrooms. I would greedily have ordered a second serve, it was so good.
For my main course I ordered from the grill: a steak of yellow fin tuna, also a local specialty. It had been lightly marinated with a really tasty and ever-so-slightly crunchy marinade of olive oil, sugar, turmeric powder, sea salt, a glove of garlic (I assume this was a typo, but loved it anyway), freshly ground black pepper and chopped shallot. I have only ever eaten such beautiful tuna once before, and that was almost thirty years
ago. Fresh from the sea, meaty and perfectly cooked, it quite simply melted in the mouth. It was very simply accompanied by a handful of chunky chips, a small side salad and a bowl of dipping sauce that I have to admit I totally ignored, as the tuna was perfect sans sauce.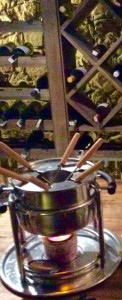 Having had some issues with the air conditioning – a more serious problem for the resident wines than for me – we adjourned upstairs for dessert and coffee. Although we all blanched at the thought of dessert, when we were presented with a platter of gelati (nine different flavoured scoops on a pretty green glass serving platter) quite a number of us were more than happy to dip in. From memory, flavours included green tea and choco mint, raspberry and mango. The rest completely escape me, but I do remember they were all delicious, and a lovely finishing touch.
And then, just in case there hadn't been enough food and drink already, our night at Anzani was followed a lovely, gentle, Aussie-style afternoon round the pool with strawberry cocktails and prawns on the barbie.
Life doesn't get much better, really…
*With thanks to Google Images and my One & Only for the photos.