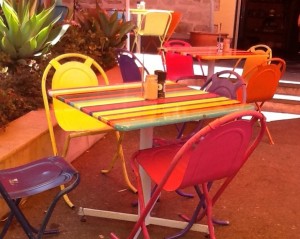 I have been 'camping' in South Australia with the family over Christmas, so I was absolutely delighted to discover a great new, character-filled coffee spot within walking distance of our temporary home in the north west corner of the city, and I have to say my feet have been wandering past almost daily since I arrived in mid-December. I am not the only one.
Named for a favourite Jimi Hendrix song, the Red House Café (not red at all, but bluestone) squats sedately between the railway line and the golf course on War Memorial Drive, the only building between Park Terrace and the Red Ochre Grill at the weir, the air redolent with the scent of eucalyptus. Once the North Adelaide railway station and stationmaster's house, this lovely old bluestone building stood empty and unloved for years. The site, on the fringe of public parklands, made it more than a little problematic to convert the station into a commercial business. Council and heritage groups were also wary of changes to the building that would have a negative impact on its heritage listing. Nevertheless, Emily Pescod and her family were determined to try.
When the station came up for lease, mum Kate got very excited, but Emily was wary. She had originally planned to open a shop for her large collection of vintage clothes, perhaps with a small café on the side, and she was worried that the site might be a bit off the beaten track. Once she had seen the building, however, she was won over by its charm, and quickly put forward a proposal.
Progress was slow. It took two and a half years from the time Emily applied for the lease until they were able to pull off a low-key opening on July 21st last year. Emily was patient with council protocol, but persistent, and her stratagem eventually paid off. The project instantly became a family affair, in which Emily's mother, Kate Russell, grandmother, Cynthia McNeil and father, Mark Deltow, have all been actively involved.
Kate described how Emily had always loved trawling op shops and vintage markets, "probably because I was such a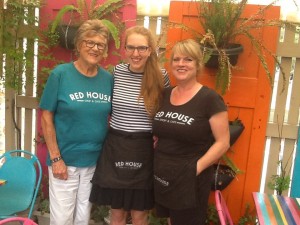 tight-arsed mother!" she laughed. As the collection grew and grew and grew, Kate eventually suggested she should try selling some of it. Emily says the hunting and gathering part has been much neglected since the café opened – but she figures she has stocked up on so many garments, she shouldn't run out for years – especially as the project had somehow morphed from the original idea into one where the café would be larger, the vintage clothes outlet smaller.
At twenty-six, Emily is a pragmatic, level-headed young woman, calm and sure with a firm hand on the tiller, as she manages her hand-picked and plentiful team of chefs and waiting staff. The team is like family, she claims, and she is "super proud" of the job they do. "I adore them all" she smiles. And the warm and friendly atmosphere is a tribute to their efforts. The large staff allows flexibility for the band of mostly casual student waiters, but Emily and her family have been working a seven-day week for months.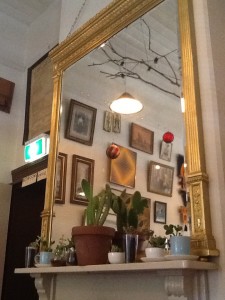 The Red House is just that: a series of small rooms and a courtyard, as well as some seating on the front verandah – colourfully striped tables and chairs with umbrellas to hide from this summer's overly enthusiastic heat. The ticket office now houses the coffee machine and the original waiting room Is the largest dining space. The original station master's kitchen has been renovated and modernized to the chefs' specifications, and there is a pretty courtyard full of potplants and sunshine the northern end. The walls are decorated with an eclectic collection of art and ornaments. There is even a bowl of golf balls in the bookshelf, that arrive daily on the front doorstep, gifts from the more wildly swinging golfers across the road. One room is choc-a-block with 50s fashions, and there is talk of an outdoor entertaining area on the southern end. It's like coming home. The staff is welcoming and friendly, and it has only taken me a week or two of showing up regularly to be treated like an old and treasured friend.
This morning, after a sumptuous brunch, I joined Kate with my coffee, to chat about the genesis of the Red House Café, with occasional asides from Granny, who does a terrific job as the official 'Meeter and Greeter.'
It is soon obvious that this is a creatively artistic family, handy with paintbrushes and saws. The furniture has been largely designed and built by Kate and Mark, who have constructed tables, painted doors and re-upholstered old chairs and bar stools. Kate said they had a lovely time collecting all the bits and pieces with which to furnish the café. Working to Emily's creative concept, it is a thoroughly eclectic collection including memorabilia from a well-timed auction at the South Australian Railway Museum. One black and white portrait of a solemn, middle-aged Victorian couple hangs above my table. Kate claims they are the stationmaster and his wife, Charles and Gertrude. After spinning a lovely tale, she confesses they don't really have a clue who the couple are, they just named them for fun, and we agree 'Charles' actually looks more like a banker than the Fat Controller.
Since they opened six months ago, the café has been evolving daily, as they have worked to overcome teething problems with chefs, air conditioning and menus. While online reviews in the first few weeks ran hot and cold, it seems everyone agreed the place had potential. Emily assures me that it's all running smoothly now, and there are barely any glitches left to iron out. After a slightly rocky start, the menu was simplified. Since then the Red House has gone from strength to strength, and Emily is about to expand the menu again.
The menu is largely tasty comfort food: mix and match a big breakfast or savour the muffins that Kate bakes daily. Emily is "really interested" in food (she gets my vote for avoiding that overused word "passionate") and spends every spare minute obsessing over cookbooks, testing recipes and planning menus. She also likes to ensure she has plenty of options for anyone with food disorders or allergies: as she says, "why shouldn't they have a good experience too?"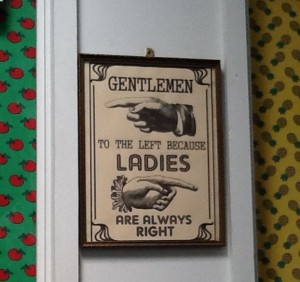 Both Kate and Mark have run their own restaurants in the past, and Emily was the bar manager at the Adelaide Oval for several years, so it would seem Hospitality is in the blood. A six week crash course in business has given Emily the extra theoretical knowledge to run the café. And she has plenty of plans for future developments.
I sit in a corner with a coffee, watching the ebb and flow of customers: young families riding in on bikes with baby seats; ladies of all ages gathering for lunch; the local constabulary wandering through in droves – partly due to Kate's previous existence working for the SA Police, partly because they think it's worth the detour. We tease them about a drug raid, but they've just come for the great coffee.
And in the height of an extravagantly hot summer, the top billing on the sandwich board out the front goes to the new air-conditioning and cold drinks – in that order! I suggest you try the milkshakes – my boys rave about them – and if you are coming for lunch or brunch or any other meal, be prepared. Bring a hearty appetite, as the servings are not for the faint hearted. And keep an eye out for the 'living' doors and the rather special collection of lamp shades…