I have adored Thai food since we landed in Bangkok in the early 90s. Fresh, flirty and brimming with flavour, it has long been a favoured Asian cuisine globally.
People's Palace has been our family's favourite restaurant since we landed in the Philippines five years ago – and I am guessing it is probably many people's favourite Thai restaurant in Makati. So there is a certain sense of preaching to the converted.  But why haven't I written about it before? Well, it is hardly a new or secret dining destination. Also, I am generally too busy dwelling on every wonderful mouthful to take either notes or photographs. But I visited it again this week with a new friend, and was reminded why I still love it so much.
People's Palace is located in Greenbelt 3, overlooking the park and chapel. There is a large, open modern dining room inside that can seat lots,  but – and it is my only complaint –  the acoustics or lack of soft furnishings mean noise levels can become deafening when the restaurant is full, which, let's face it,  it usually is. So when the weather permits, we prefer to sit outside, on the lovely, leafy, quieter outdoor terrace amongst the exotic tropical plants and the warm breezes.
People's Palace is the brainchild of Scottish restaurateur, Colin McKay, who has been whipping up a portfolio of top notch restaurants in Manila since 1996, and is obviously a bit of a magician when it comes to consistently serving up fabulous food. He also has a knack for training his staff to a wonderfully high standard – a rare trait in Metro Manila. I have never needed to complain about the quality of the food, and the waiters seem able to combine a light and friendly touch with efficiency, and will rarely keep you waiting.
My favourite dish is, and forever shall be, the prawn and pomelo salad, an iconic dish of subtle tastes and textures: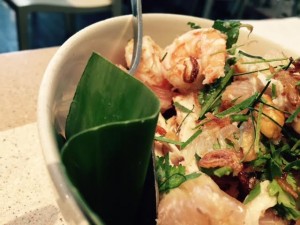 perfectly cooked, large and luscious shelled prawns; pulled pomelo (allow for a dollop of writer's license, OK?) fresh toasted coconut and fresh coriander or cilantro, which adds zest to any dish, whatever you care to call it. Pomelo is a citrus fruit native to SE Asia, something between a pink grapefruit and an orange, but of firmer, less juicy flesh.
We all have our favourites, but to be honest every dish we have eaten here is absolutely scrumptious which, oops, may not be a word generally used for serious restaurant reviews, but you get the gist. From the red curry with prawn and pumpkin to the Vietnamese spring rolls or the larb gai (that spicy minced chicken salad, perfumed with mint), every dish is fresh and beautifully presented, and so far People's Palace has never let us down.
My companion and I opted to share, which strikes me as the best way to eat in a Thai restaurant, for then there is never any fear that someone else has chosen the better dish.  Apart from discovering a common passion for the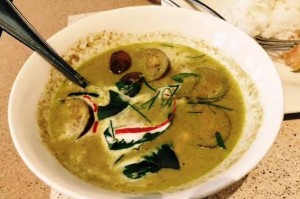 prawn and pomelo salad, we also picked green chicken curry with eggplant, kaffir lime and basil. While I am more than happy to make this dish at home, I struggle to improve on Chef Colin's recipe. Green chicken curry originates from central Thailand, where coconut milk starts to infiltrate the kitchen, and becomes more and more popular the further south you travel. Gaeng keaw wan translates as "sweet green curry", which totally neglects to mention that it can also be incredibly hot, depending on how liberal the chef has been with the green chillis.
Luckily, our kind waiter was happy to top up our rice from a big silver bowl whenever we needed it to dispel the heat of that innocuous-looking creamy green sauce. Likewise our water glasses.
And finally, we chose a pork and peppercorn stir fry with red curry sauce and long beans. Usually the dish is made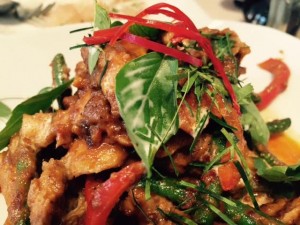 with fresh green peppercorns (they look like sea grapes), which is a traditional northern Thai recipe that was once made from wild boar, but is now just as popular with farmed pork. Unfortunately, the kitchen had run low on the fresh variety and we made do with the dried variety, having been assured it tasted almost exactly the same. We certainly found nothing to complain about. The pork was beautifully cooked, tender and spicy, and highlighted with those pungent peppercorns, and a rich, red curry sauce. A handful of al dente beans added a satisfying crunch.
But don't feel obligated to follow my lead, feel free to make your own choices. You can't really go wrong. And later, for the sweet of tooth, try the cardamom panacotta, or the mango and passionfruit pavlova – or for the more traditionally minded, there is a dish of sticky rice and mango or a Thai tapioca pudding.
And then sit back and relax, finish your wine and loosen your belt, and wonder why you always order far more food than even the hungriest teenager can devour in one sitting…
*With thanks to Sachiko for lending me her phone to take the pics, as this time I didn't even bring my camera! Hopeless.