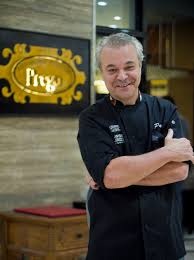 The City of Dreams, the latest casino in Manila's growing Armada, had a soft opening in Paranaque last December, amongst all the usual pre-Christmas chaos, and is now up, up and away. Spend money to make money seems to be the mantra of most modern casinos, and the huge golden egg – the 'Fortune Egg' – at the entrance would suggest the City of Dreams subscribes cheerfully to this particular maxim. Three hotels and a casino, nightclubs and bars, high class retailers, free parking and a cornucopia of dining options are all doused in glamour and glitz.
One of those dining options is Prego, an unexpected little gem on the upper ground floor. While the floors may be marble and the wine list extensive, there is a more homely atmosphere at Prego, rarely found in a casino. The rustic wooden side tables and the wood fire pizza oven on the back wall of the dining room gently dilute a little of the pomp and pizazz without.
Owner Paolo Nesi is already well-known in Manila, as Managing Partner of the L'Opera Group of restaurants: L'Opera in the Fort, which opened in Makati in 1994 and moved to the Strip a decade later, serves traditional Tuscan cuisine; Trattoria di L'Opera in the Shangri-La Plaza in Ortigas, and Balducci in Serendra. His latest venture, Prego, is Paolo's 26th restaurant, similarly focused on Italian food, but with a rather more casual, youthful approach. The menu contains all the favourite dishes from his other restaurants as well as introducing a wide selection of new ones.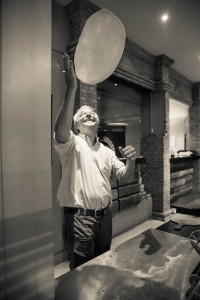 With my nineteen year old son riding shotgun, I met Paolo Nesi recently over a large plate of carpaccio and a bottle of Craggy Range Pinot Noir, courtesy of partner and old friend, David Peabody. A little craggy himself, with silver-grey hair, a big beam and crinkly eyes, he greeted us warmly and pulled up a chair. Having anticipated a half hour interview after the lunch rush, I was delighted when he settled in to join us for lunch, and, with minimum encouragement, launched into his life story. Garrulous and engaging, his stories made fascinating dinner table conversation.
While Nesi has had no formal training – he refuses to call himself a chef – he has been submerged in the culinary world since he was very young. He was born in the seaside town of Castiglione della Pescaia in Tuscany, which overflowed with tourist in the summer months. There he learned his culinary skills from his nonna in the family restaurant, developing an instinctive talent for cooking. At nineteen he left home and set himself up in Denmark. From there he moved to Bangkok – he now speaks Thai fluently – and opened the first L'Opera. At the second one, in Laos, he met his Finnish wife. When she was later posted to the Philippines, he followed, and opened a third L'Opera in Makati when decent Italian restaurants in Manila could be counted on one hand. Twenty one years later, L'Opera is still a firm favourite, but these days Nesi divides his time between Prego, the original L'Opera Group trio and teaching at Enderun Colleges.
"When you are a chef, you are a chef twenty four hours a day," he said matter-of-factly, adding that he often wakes up with a new idea for his menu. "People are so obsessed with recipes," he complains, "but the recipe is nothing!" Turning to my son, Callum, he advises "You must learn the fundamentals, but never be afraid to be creative." His advice to any aspiring chefs is that you need to enjoy cooking for other people, not just for yourself, and the things you like, but to find pleasure in making other people happy with what you cook. He adds that you need to come out of you comfort zone and always push the boundaries. "If you don't make mistakes," he says, "you are not trying hard enough."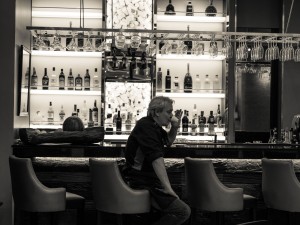 Paolo is not only a talented cook, but a trained sommelier (AIS-WSA) and WSET Educator. He uses these skills to teach Beverage Management at Enderun Colleges. He also likes to keep up with all the latest trends, and is currently exploring molecular mixology with his students. What on earth is molecular mixology? I ask him. He explains. At length. Molecular gastronomy focuses on the deconstruction, or reconstruction of food. According to Nesi all cooking is about molecular changes, be it a mayonnaise, a cake or a vinaigrette. Molecular mixology involves drinks, and changing the molecules of a particular liquid to a new form or texture, using methods such as smoking with nitrogen, caramelization or foaming. He describes an innovative G&T where the tonic comes in a capsule and the gin is frozen in an ice cube. He invites me to join one of his classes, and I agree enthusiastically.
We talked a little of his experiences in the Philippines. He loves it here, and enjoys a lot of the local food, especially crispy pata served with champagne (his own speciality). He suggests Filipino chefs need to work on presentation to make local cuisine more tempting to the eye. "Presentation enhances the dining experience" he says firmly.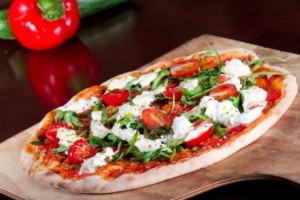 While Manila has been his home base for many years, Paolo could never be accused of resting on his laurels. He travels extensively, and has opened restaurants in countries as far flung as Fiji and Rome. He dreams of opening another in Sydney, preferably on Darling Harbour. He likes the Australian attitude to food, he says, and the way they have embraced both European and Asian culinary traditions. He even waxed lyrical about South Australian wines, which of course won him brownie points from me!
Somewhere in the middle of all this riveting dialogue, we order more lunch. Or rather, Paolo orders for us, so we are saved the difficulty of choosing between the wild boar spaghetti sauce, the duck-filled ravioli or the Maccheroni alla Calabrese. Instead we are presented with tender steaks topped with a generous sliver of seared foie gras and shrouded in a creamy truffle sauce. They are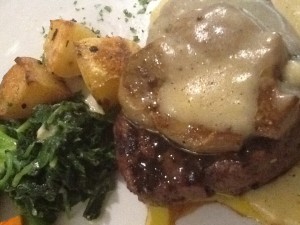 accompanied by a collection of perfectly al dente vegetables: carrots, broccoli and asparagus, a spoonful of spinach and cubes of roasted potatoes. Paolo complains they have overdone the sauce – it should be just a little on the side – and is taken aback by the arrival of extra condiments. "What is this?" he asks querulously of the waiter. Mustard and horseradish is the apologetic response. A very English addition, I laugh, but perhaps a little unnecessary with the sauce. "I have never eaten horseradish," Paolo states dismissively, and we proceed to devour our steaks, slighting the condiments in favour of the dreamy truffle sauce. Apparently the foie gras is usually inserted into the steak – a surprise gift like the silver coins in a Christmas pudding – but he wasn't sure if we would like foie gras, so it came instead as a garnish.
Another generous break is needed before we can think about dessert. Callum and I agree to share the tira misu. "And you must try the pannacotta too" insists Paolo. So we do, with childish delight, passing the plates around between the three of us, murmuring with joy at the lightly frozen tira misu, and the lusciously creamy pannacotta, topping them off with tiny cups of strong espresso.
It was a real gem of a lunch in a somewhat unexpected location. Yet the restaurant is attractive, the service professional and the food fabulous. So it is hardly surprising to hear that Paolo Nesi won an award from the Italian Ministry for what he has done to promote Italian food, wine and culture abroad. Buon appetito!
*First published in ANZA News, July 2015. And with thanks to David Peabody for sharing the beautiful photos of New Zealand photographer Richard Brimer. (The pizza is courtesy of Google, the steak is my not-so-professional snap of our lunch!)