A Thames Valley Journal: Part 1
`DUCKS' DITTY' 
All along the backwater,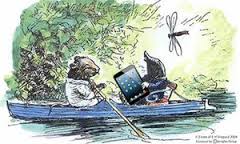 Through the rushes tall, 
Ducks are a-dabbling, 
Up tails all!
Ducks' tails, drakes' tails, 
Yellow feet a-quiver, 
Yellow bills all out of sight 
Busy in the river!       
~ Kenneth Graham, Wind in the Willows
Hedgerows, brimful of nettles and hawthorn and blackberries and cow parsley. A lazy river laden with canal boats and motor boats and barges and kayaks. Riverbanks hemmed with rushes, and overflowing with geese and cormorants and terns and ducks a-dabbling. Arching bridges and deep locks and flint-studded churches and tiled farmhouses appear like magic around every bend. Baskets of brightly coloured petunias hang from the eaves of ancient pubs. Skipping through water meadows wreathed in the scent of wild orchids and dotted with buttercups. Trudging muddy paths through gentle, mizzling rain…
Last week we went on an adventure in Kenneth Graham country. If you haven't read Wind in the Willows, I am talking about the Thames Path, which runs west to east from its source at Cricklade in the Cotswolds, through the Thames Valley, on into London and out to the North Sea. We only had a week, so we mapped out about a hundred kilometres from Oxford to Windsor, and will save the rest for later.
It's a long time since we last did a long walk like this, and I was soon feeling my age (about a hundred and three), due more to the unexpected weight of my pack than the actual walking, which was relatively smooth going. However, we made it a little easier on our elderly selves by adopting the luxury of a Bed & Breakfast every night. This way, we could look forward to a hot shower, a pub meal, a decent sleep, and a big breakfast to give us the 'oomph' we needed to get moving again in the morning.
When you are hiking, breakfast rapidly becomes the most important meal of the day, one we would discuss with all the attention of connoisseurs. Suddenly a quick coffee and a bowl of cornflakes was not enough to keep us going till lunchtime, and we became dedicated to the Full English Breakfast.
I have to admit, it's not usually on my list of food cravings. I am not an enthusiast of eggs or fried food for breakfast; such generosity of calories generally gives me a stomach ache. When you are about to walk 7 ½  miles (12kms) before lunch, however,  there is nothing worse than blood sugar levels dropping too low for you to see straight, as you stagger the last 3 miles to the next food supply. So for once in my life I was prepared. Mostly. My One & Only was already carrying half the contents of my backpack, he did not need the threat of having to carry me as well.
Day 1: Oxford to Sutton Courtenay via Sandford Lock and Abingdon
We began our walk at the Osney Bridge, on the northern skirts of Oxford, passing a lock, a row of Victorian terraced houses and two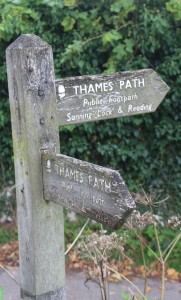 pubs in the first two hundred meters. The sky was dripping like a rusty tap as we finally left the canal behind and reached the main river and the Folly Bridge, where we stood to admire the view of the famous Christ Church gate-tower, designed by Sir Christopher Wren and encasing its equally renowned bell, Great Tom. It is pretty much all we saw of Oxford as we wandered off along the river path opposite Christ Church Meadow, and past the numerous college rowing sheds and clubhouses.
The steady drizzle that had accompanied us all morning finally receded, and the sun emerged, as we paused at the very pretty Iffley Lock to watch a couple of canal boats passing through, the owners chatting happily with us as the water rose in the lock and the boats floated out and onwards to Oxford.
For those of you unfamiliar with locks, this system, devised during the industrial revolution, allows boats to pass up and down river between stretches of water on different levels. After the boat has entered the high-walled, water-tight chamber between two sets of lock gates, the lock keeper will shut the gates and turn the windlass or lock key. This will open the valve to either fill or empty the chamber of water depending in which direction the boat is heading. When the water level equals the external water level, the gates will open and the boat will pass out of the chamber and back onto the canal or river. In the UK there are a number of lock 'flights:' stairways of locks that actually allow a boat to climb a hill.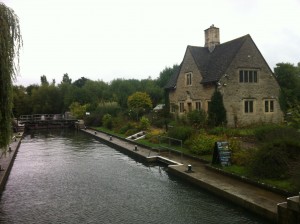 In the past, a lock keeper and his assistant had a full time job maintaining the lock and its surroundings, and would inherit a small house to accompany the job. Today these cottages – many over 200 years old – are still beautifully maintained by the lock keeper, but the assistants are mostly volunteers now, usually retirees with an afternoon or two a week to spare. They are often more than happy to pass the time of day with walkers.
Recently the future of lock keepers' cottages was at stake, as it was suggested that up to a third should be sold off or rented out to reduce costs. The idea was scrapped after lock keepers and riverboat captains raised concerns about river safety.
In Sandford-on-Thames we found another pretty lock cottage, beside an old watermill transformed into housing, and a low-ceilinged pub on the edge of the millstream, where we indulged in pints of lime-and-soda and large baked potatoes heaped with salad and Coronation chicken, peeking through the floor-level mullioned windows, eye to eye with a pair of swans gossiping on the millstream.
The afternoon delivered a steady drizzle as we dodged and weaved (wove?) along a narrow, muddy channel moonlighting as the Thames Path. The backs of our legs were splashed with mud, but our raincoats proved their worth, and we were mostly oblivious to the sodden sky, simply enjoying the abundance of wildflowers, ducks and geese along the riverbank, kestrels swooping and wheeling about the stubbly fields.
The sky was gun-metal-grey in Abingdon, but we enjoyed the stretch
of broad, firm towpath under the Abingdon Bridge-of-many-arches, past St Helen's Church and the 15th century alms-houses across the water. A string of canal boats were lined up, bumper-to-bumper on the riverbank, jealously guarding their prime views of this glorious medieval town.
Our path then disappeared back into the fields, the river hidden by tall hedges, and it was not until we had detoured around the back of Culham and across the bridge, that we spied it again. A nasty accident on the narrow stone bridge delayed us, as we lent our mobile phones to those involved, but eventually we arrived, decidedly footsore, in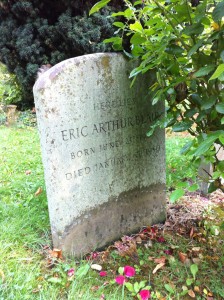 Sutton Courtney. Here, we stayed at a sweet little B&B on All Saints Lane, which, not surprisingly, we found behind the cemetery. Here lies the tomb of Herbert Henry Asquith, Prime Minster of England during the First World War. George Orwell is also buried here, though you will look fruitlessly for his grave, until you learn that his real name is Eric Arthur Blair. We dined at the first of many 'Swan' pubs we would discover along the Thames, and next morning we ate breakfast in Susan's sunny kitchen overlooking a pretty walled courtyard, afterwards sharing the leftovers with her elderly, deaf-as-a-doorpost Highland terrier.
Day 2: Sutton Courtenay to Moulesford via Wallingford and a Taxi
Our second day was much brighter and sunnier, as we trekked through a variety of attractive Thames villages to Wallingford, a lovely old medieval market town at the foot of the Chilterns.
We paused for a coffee at The Barley Mow at Clifton Hambden, which is, according to writer Jerome K. Jerome (more of him later) 'the quaintest, most old world inn up the river….its low-pitched gables and thatched roof and latticed windows giving it quite a story-book appearance.' Indubitably.
The path pottered on and eventually introduced us to the tiny hamlet of Little Wittenham and St Peter's, the parish church with its 14th century bell tower. Here we sat peacefully on a bench beneath the lime trees, looking out at the Iron Age fort on Castle Hill, and chatting with a lovely couple who had just traded in a sedentary retirement for life on a barge with a dog. We would discuss this alluring fantasy at length as we continued walking.
After skirting Dorchester-on-Thames, the path suddenly swung us up onto a busy, noisy main road, and we grumbled nearly as loudly as the trucks, as we dodged empty drink cans that had been bounced off the hedge by passing motorists. Ducking back across the main road, past a dark, rather dingy little pub, we found the path again, pottering down Wharf Road past Wisteria Cottage and others of similar floral ilk, before squeezing its way between garden fences and out onto the driveway of the stately Shillingford Court. We crossed the bridge at the end of the lane, by now on a single-minded mission for lunch. The unimaginatively named Shillingford Bridge Hotel made up in welcomes for what it lacked in character – at least from reception staff. And we were more than happy with our baked potatoes, which set us up for the last five miles into Wallingford.
Arriving in Wallingford in the late afternoon, we crossed the broad stone bridge, bedecked in huge baskets of pink and purple petunias.  Narrow, cobbled streets and alleyways eventually wended their way out into a wide market square bordered with shops and an impressive, 17th century arcaded Town Hall, where we gratefully stopped for coffee. Once seated, we rapidly decided the last three miles were beyond our weary feet and aching shoulders. As I went searching for information about local buses, I found, instead, a string of taxis lining up around the square… OK, a little lame, but as our driver careered through the hedge-rowed lanes, chewing up the miles we might have been walking, we sat smugly in the back, smirking at the rain.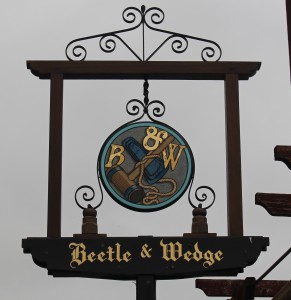 Our destination, The Beetle & Wedge, was a boathouse restaurant and
old ferry house accommodation tucked in beside the river at Moulsford. It is a stunning setting, and we were given a luxurious bedroom complete with deep, claw-footed bath perfect for sheer indulgent soaking, before dining magnificently with friends we hadn't seen in about eight years.
All the more disappointing then, that our riverside breakfast was utterly mediocre. A platter of berries and melon looked really colourful and inviting, but every piece of fruit was sour. Our full English breakfast was a travesty of barely-red tomatoes, raw fried potatoes and cold toast. The poached eggs had been hard-boiled in brown malt vinegar because they had run out of the white wine variety – a totally unappetizing look. I sent it back with a request to leave out the vinegar and the plate returned with undercooked malted eggs. I gave up. The tea, at least, was hot. Still stomping crossly, but armed with a pint-sized copy of 'Three Men in A Boat', our ears ringing with apologies for breakfast, we set off.
Day 3: Moulesford to Pangbourne via Goring & Streatley
Our morning was a gentle meander through water meadows and into the Goring Gap, a geological feature where the river cut a narrow cleft between the chalky Chiltern Hills and the Berkshire Downs in the last ice age.
We paused for morning tea and browse through a divine little art gallery on the High Street of the twinned villages of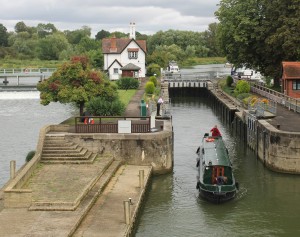 Goring and Streatley. I wandered down memory lane with glee, having worked here, briefly, way back in the eighties. Clutching hands across the river, over a weir and a lock, both villages boast a collection of lovely pubs, thatched cottages and old churches. That day the river was teeming with boats queuing for the lock, and we joined the locals at Pierrepont's delightful little café with its delicious selection of homemade cakes, scones and cookies, its walls papered in menus from well-known English restaurants.  I was loathe to pick up my backpack and move on.
However, the path, ducking beneath shady trees, past the 12th century church, a large old house that once – maybe still? – belonged to George Michael from Wham, several country estates and under the vast iron railway bridge (one of Brunel's apparently), was a joy. Fishermen were lying fishing lines from niches between blackberry bushes. Boats drifted by. Buttercups tossed their heads at the sun. We took advantage of several kissing gates – or did they take advantage of us? – to catch a few kisses, before clambering up through beech woods to a long ridge above the river, where the beech nuts crunched satisfactorily beneath our feet.
Eventually the path dipped down to a road that swung steeply down into Whitchurch, past a seemingly endless array of heavenly old stone houses and cottages, pulling up beside a truly old-fashioned pub full of solitary old men quietly sipping a pint of the best bitter and talking about sport. A ham and cheese sandwich sent us on over the 'weak bridge' into Pangbourne, where our little loft room was Polly Pocket-sized with a deeply sloping roof, but kitted out IKEA-style, with everything we needed. The next morning there was no full breakfast, just a self-serve tea and coffee, juice and a variety pack of Prince Charles' own muesli beneath the steep eaves. I was rather off eggs after that morning's experience at the Hedgehog & Hammer (o sorry, the Beetle & Wedge), so I was perfectly happy with such regal simplicity. Pangbourne has a history that goes back to the 9th century. More recently, it was the retirement home of Kenneth Grahame, author of 'The Wind in the Willows' who died here in 1932. Illustrator E.H. Shepherd was reputedly inspired by the local landscape to draw his now famous pictures for the book. And there was another 'Swan' pub on the river for dinner…
*In recognition of E.H. Shepherd's beautiful illustrations and my One & Only's beautiful photography.