"Wine is constant proof that God loves us and likes to see us happy." Benjamin Franklin.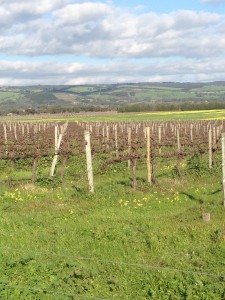 McLaren Vale lies less than an hour's drive south of Adelaide in South Australia. Originally a region of small farming communities, orchards and pink almond blossom, these days its fields are crowded with grape vines from which arise some of Australia's best known wines such as Wirra Wirra, Leconfield, Coriole and Chapel Hill, to name just a few. Earlier this month I went awandering, like Toad of Toad Hall, along 'the open road, [and] the dusty highway' with my parents and a dear cousin from Sydney. We visited a couple of beautiful wineries and lunched in a well-known restaurant on a rise above Leconfield Estates.
Our first stop was Pertaringa, a small, boutique winery tucked down a bumpy lane amongst the gum trees. In the foothills of McLaren Vale, the name Petaringa actually means 'belonging to the hills' in the local indigenous language. It was founded in 1980 by winemaker Geoff Hardy, who left the family business, Thomas Hardy and Sons, to strike out on his own.
At a smidgen past eleven o'clock in the morning, it was probably a little early for wine tasting, but we didn't let that stop us, happily sipping on a crisp Sauvignon Blanc and a fabulous Shiraz, proudly and unapologetically christened 'Over the Top' to reflect Hardy's aim to make the best and finest of wines.
By now, well into the groove, we drove down the road to the home of the Black Sheep of McLaren Vale, Hugh Hamilton. Like the Hardys, the Hamiltons have had a special place in the region for six generations, having planted some of the first vines in South Australian in 1837.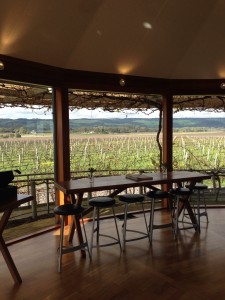 Hugh Hamilton is a winemaker with a quirky sense of humour that is reflected in the names he has chosen for his wines (otherwise known as 'the flock' ), and reflecting his rather obvious belief that he is the odd-one-out in the family. These include the Floozie, a Sangiovese Rose; the Rascal Shiraz; a Scallywag Chardonnay (a favourite word of my grandmothers to denote a mischievous soul), and the Oddball Saperavi, from a grape relatively new to Australia, but ancient history in Georgia, that makes a full-bodied red wine dripping with tannin.
The cellar door at Hugh Hamilton's winery has the most amazing views, breath-takingly displayed by its theatre-in-the-round set, built atop an old water tank. We leant on the bar, chatting to the lovely sommelier and alternating between the delectable wines and the equally moreish, home-grown kalamata olives, or dipping bread into Hamilton's own olive oil and dukkah.
At last we decided it was time for lunch. On the recommendation of an old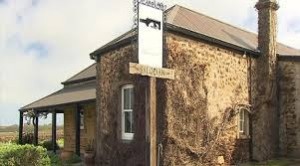 friend, we headed for the Salopian Inn, and wow! let me say, it would be well worth the effort of making a trip this deep into the southern hemisphere simply to dine at this little gem of a restaurant. Described by a reporter from The Australian as something between a restaurant and a pub, the Salopian Inn dwells in a beautiful stone homestead built in 1851, overlooking a vast expanse of vines stretching to the horizon. Chef Karena Armstrong offers an eclectic menu that changes more regularly than the seasons, to accompany the huge wine cellar and a lengthy list of exotic gins – who knew there were so many gins in the world?
Having snuggled into a bench seat under the window, we checked out the wine list and the menu. Service may not have been swift, but we knew we were in good hands. Our two waitresses, both Sarah, were welcoming, chatty and quietly confident, more hostesses than servers, making us as comfortable as if we were eating at home – without having to slave in the kitchen.
Mid-winter in South Australia made it a little too far on the cool side to contemplate G&Ts. Instead, we opted for wine by the glass, so we could all try something different: a locally made Heirloom Shiraz, a Coriole Fiano (a strongly flavoured grape variety from southern Italy, fairly new to McLaren Vale) and an herbaceous Adelaide Hills Sauvignon Blanc. The food menu reflected an array of international culinary influences from China to Europe, and Australia to the Middle East, so it was decided we must all choose something different.
After some discussion, my mother picked a light lunch of Asian style dumplings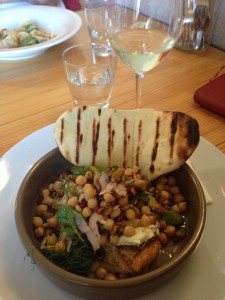 filled with crab and prawns in a gently sweet sauce of ginger and soy dressing. Dad preferred to go Italian  and chose a bowl of fluffy potato gnocchi that conjoined with a surprisingly light and utterly mouth-watering gorgonzola, leek and chestnut sauce. My cousin decided that the wintry weather demanded a rump steak, which duly arrived accompanied by dauphine potatoes, mushrooms and a perfect truffle sauce. As I sat on the fence between the fish and lamb shanks, one of our Sarahs recommended that I try the snapper, lightly fried with crispy skin, and served with a generous salad of kabouli chick peas (otherwise known as garbanzo beans), almonds and pomegranate seeds and a large piece of grilled flat bread. And, as a final touch, we also ordered the roasted celeriac, fennel and pear salad with feta cheese. Sharing forks full of food across the table, conversation revolved solely around the subject of the food. By the time we had finished we were joyfully replete, and wandered, full to bursting, home through the vines.
 *Adapted from an article written for Inklings, July 2014.
With thanks to my gorgeous cousin Jennifer for her photography skills, and to Google Images for the picture of the Salopian Inn.